The NHL preseason starts in just a couple of weeks and teams are handing out tryouts to veterans without deals, prospect tournaments are getting underway and training camp is close to kick off. For most players it's a time to focus in on the season, but a few younger players are still in negotiating mode, waiting to come to terms on a deal.
With Chicago finally creating the cap space for Marcus Kruger, Micheal Ferland getting a two-year deal and defenseman Stefan Elliott getting traded to Arizona and inking a new deal this week, the number of restricted free agents (RFAs) without a contract heading into camp is small, but time is running out and the stories could get big.
Here's a look at the four RFAs who are currently without a contract and where they stand today.
The 2013 Calder Trophy winner is still without a contract. The 22-year-old is coming off his entry-level deal after scoring career-high marks last year with 15 goals and 39 assists. (He scored 14 goals in the lockout season through 48 games.) He lead the Cats in points by 10.
Part of the hold up? Huberdeaureportedly wants term. Lots of talk early in the summer had pegged agreeing on term as the hold up. That slowed things down. However, reports from early September indicate that the term question has been put to bed and now it's about a dollar figure.
Though there's been little being revealed of how things are going with negotiations, Dale Tallon said on Friday that he's confident the two sides will come together on a contract before camp starts.
#FlaPanthers Dale Tallon confident Jonathan Huberdeau deal will get done before camp opens.

— George Richards (@GeorgeRichards) September 11, 2015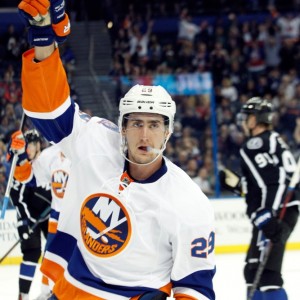 Nelson has a unique situation. Not just because he had a breakout year last season, but because the Islanders have a ridiculous policy, which states that if a RFA isn't signed by day one of camp, that they'll have to
sit out the entire season
.
With the Islanders poised to be a contender this year, they'll either sign Nelson before camp or the rule won't be enforced. There's just no way to justify that policy in an instance where the RFA in question is a major offensive contributor to the team with the potential for another big growth year.
After a 26-point campaign in 2013-14, Nelson broke out for 20 goals and 42 points last season.
No update on Brock Nelson. Less than a week for him to sign. #Isles

— Arthur Staple (@StapeAthletic) September 11, 2015
John Tavares says he expects RFA Brock Nelson to be in training camp for the start: "I'm not too concerned… I believe it'll get done."

— Craig Custance (@CraigCustance) September 9, 2015
The 26-year-old center was issued a qualifying offer by the Jets in June. He spent the entire season in the AHL last year as an alternate captain of the St. Johns IceCaps, putting up 16 goals and 26 assists in 66 games.
He's only found his way into nine NHL games so far, all in the 2013-14 season, and will turn 27 in January. He's unlikely to make a major impact on the team and with an "A" on his jersey, it seems like the organization is comfortable with him in the AHL. The lack of a deal shouldn't be alarming to Jets fans.
Acquiring Hamilton from San Jose at the trade deadline last season was a nice depth move for Colorado. Particularly because the depth comes at center, which isn't always isn't to get in place.
At 23, he's found his way into 29 NHL games, including 17 with the Avs after the trade. He didn't light up the league before or after the trade, scoring just a single goal in those 17 games while averaging 7:32 of ice time. But as an affordable RFA who can play a depth role, he was a solid addition. (Though in a small sample, his possession was worrying with a -2.7% CF%Rel for a 39.2% CF% with 9.9% ZSO%Rel.)
There has been some speculation that Hamilton hopes to get a better deal than his qualifying offer, but nothing has been confirmed about the negotiations here.
There's under a week until many teams have players reporting for training camp. RFAs are able to sign deals after camp starts, even though a situation like that is rare. An offer sheet, particularly for Huberdeau and Nelson, isn't out of the question, but it's a very unlikely scenario for any of these RFAs.
RELATED: Isles Must Maintain Policy in Nelson Debacle
Dustin Nelson writes about news and the Minnesota Wild for The Hockey Writers.