It's been a few days since we've seen the Chicago Blackhawks in action. Is anyone else feeling a little antsy? Well, never fear! It's not this past summer, and the Hawks didn't just get kicked out of the playoffs in the first round.
No, that was then, and this is now. For right now, Chicago simply has a bit of a break after a busy four-game week. The 2017-18 season is new and young, and the sky is the limit. The Hawks are currently 4-1-1 on the season, and they take on a division foe in the St. Louis Blues tonight.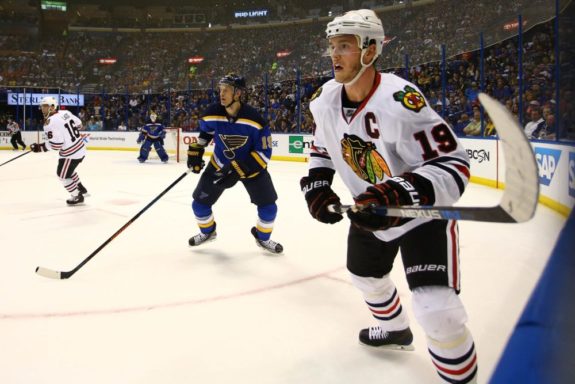 What an appropriate matchup to feature for a Wednesday Night Rivalry! In preparation for this contest, we were fortunate enough to reach out to our very own Cristiano Simonetta to learn a little more about our opponent.
Gail Kauchak: The Blues started their season 4-0, even with three of those games on the road. They went on to drop their last two contests down in Florida. How do you feel about their start so far?
Cristiano Simonetta: If you told Blues' fans their team would be 4-2 out of the gate, they'd be elated. With Steen, Fabbri, Bouwmeester, Berglund, and Sanford out of the lineup, I was worried they'd struggle to put up points at the beginning of the 2017-18 campaign. Their wins over the Penguins and the Stars showcased their offensive talent (nine goals), but they need more production from the guys up front.
Through six games, only four forwards have scored goals; they all play on the top-six. Mike Yeo wants to see his third and fourth lines generate scoring opportunities, but so far, it hasn't been enough. Still, it's a fine opening stretch that the Blues want to build on as they get set for the Blackhawks at home.
GK: The team lost long-time Blue Kevin Shattenkirk at the trade deadline last season. Would you consider this a big loss, or has he already been replaced?
CS: While it was well-known Shattenkirk was being shopped around the league for the past three seasons, and it opened up a massive hole on the Blues' defense when he eventually was traded last February. The emergence of Colton Parayko has turned the loss of No. 22 into a breakout opportunity for the 24-year-old. He's averaging almost 22 minutes per night against some of the opposition's top lines, but still has room to grow. His CF% is 40.3% at even-strength, but the Blues' defensive struggles aren't pinned on him by any means.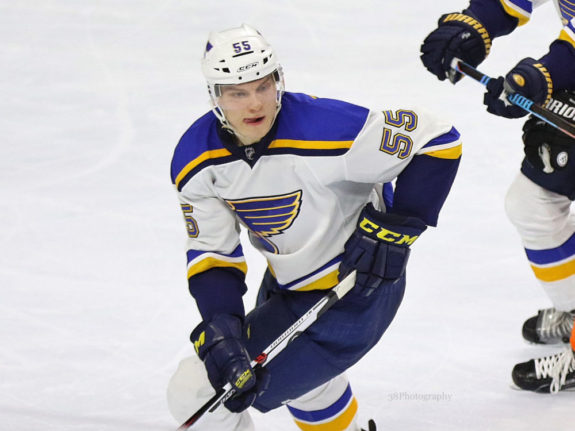 Parayko is a staple to the St. Louis blue line and has done a stellar job of substituting for Shattenkirk on the second pairing's right side over the past eight months. He'll be involved early and often against Chicago. 
GK: Can goaltender Jake Allen carry the heavy load this year? For that matter, can ex-Blackhawk Carter Hutton be a viable backup?
CS: If you asked me last January, the obvious answer would be no. During the last 23 games of 2016-17, however, Allen rebounded and re-instilled faith in his abilities. He went 15-6-2 over that period of time, stealing several games in the process. Allen then propelled St. Louis past the Minnesota Wild in the first round of the playoffs, posting an astounding .953 save percentage in five games. The Blues are currently allowing 35.5 shots per game, so the 27-year-old has been tested already in the young season. They allowed 28.4 last year.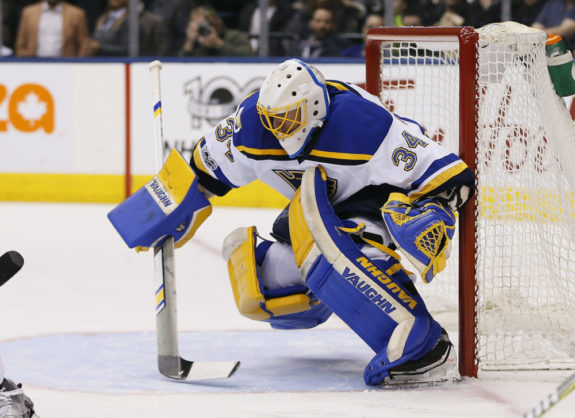 If anything were to happen to Allen, mentally or physically, Hutton can man the fort when his number is called. He proved it with the Predators in 2013-14 after Pekka Rinne went down, and last year in St. Louis when Allen struggled. He delivered a gem against the Rangers in his only start of the year so far, stopping 32 of 33 shots. 
GK: Mike Yeo took over coaching for Ken Hitchcock in February last season. How do you feel about the Blues' new head coach?
CS: I admire his willingness to break the Blues away from a rough-and-tumble brand of hockey, but I'm not sure it'll hold up with this depleted roster. There's no question Hitch's firing rejuvenated the club, but Yeo's connection to his players sets him apart from his predecessor. He's active on the bench, encouraging guys with pats on the back or brief discussions during the game.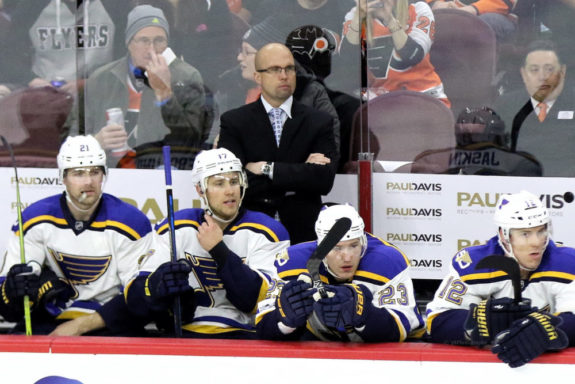 Yeo's impact was immediate, particularly on the road as the Blues finished 14-4-1 last season away from Scottrade Center with him at the helm. In his seven-year coaching career at the NHL level, he's failed to advance to the conference final. In St. Louis, his defensive structure meshes well with the team, led by captain Alex Pietrangelo and Parayko on the back-end. Unlike Hitchcock, Yeo gives younger players an opportunity to flourish with the top guns. Samuel Blais made his NHL debut on Saturday, playing alongside Jaden Schwartz and Brayden Schenn on the second line.
GK: The Blues have been dealing with a rash of injuries, some quite severe. They are currently missing forwards Robby Fabbri and Zach Sanford, as well as defenseman Jay Bouwmeester. Can they overcome these losses?
CS: They'll overcome the long-term injuries of Sanford, Berglund and Fabbri during the regular season, but the playoffs are a completely different animal. Fabbri's two-way speed and skill is fit for the postseason; he didn't rack up 15 points in 20 playoff games in 2015-16 by accident.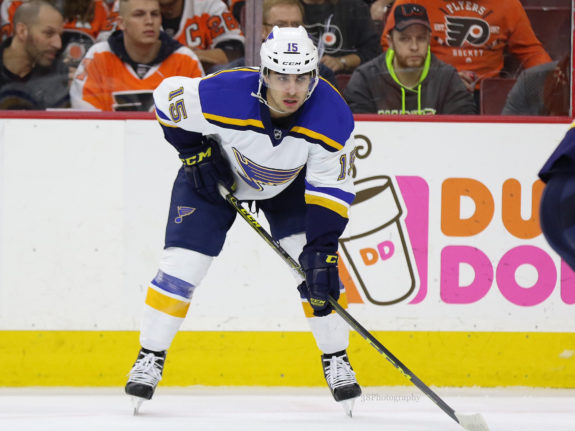 Against the Predators, it was evident the Blues lacked a sense of urgency to attack the net. Allen can make as many saves as he wants to, but it will be all for naught if the team in front of him can't score consistently. Despite the addition of Schenn, St. Louis doesn't have enough offense to be a legitimate Stanley Cup contender. If they are able to add a pure goal-scorer at the trade deadline and get back to full strength (excluding Fabbri, obviously), then I may be changing my mind.
GK: As division foes, the Hawks and the Blues meet four times in the regular season. Interestingly, they don't meet again after tonight until late March, and then twice in early April. The two points on the line tonight could be pretty important come playoff time. What's your prediction for tonight's first matchup?
CS: When it comes to the "Black and Blue" rivalry (we're still calling it that, right?), expect fast-paced action with a touch of physicality blended together for a terrific hockey game. Affairs at the Scottrade Center between these two teams tend to be more high-scoring than match-ups at the United Center. As a result, I think the Blackhawks will get off to a fast start, notching the first goal or two. Look for Patrick Kane's line to be humming, especially with linemate Nick Schmaltz scheduled to return. St. Louis will battle back to tie the game late and force overtime. I'll say Blues 4-3 in OT, with Schenn scoring the GWG.
---
There you have it, boys and girls! The Blackhawks' short hockey hiatus is over. Thank you to Cristiano Simonetta for his insight regarding the Blues! These two teams meet tonight for a Wednesday Night Rivalry. As Cristiano eluded, it should be a terrific hockey game!
Gail Kauchak has covered the Chicago Blackhawks as a content writer since 2014. She previously wrote for Fansided's Blackhawk Up, and has been part of The Hockey Writer's team since 2017. It's not always easy to balance life's responsibility's with one's passion, but Gail's doing her best to make it happen. Quote to live by, "Follow your dreams, and good things will happen." Wait, maybe it's "Good things happen when you shoot the puck!" You get the idea.
Follow Gail for her unique commentary about this storied franchise. And be sure to catch her and the rest of the Blackhawks' crew on their weekly Blackhawks Banter show, as well as follow her on Twitter.