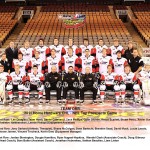 The Kelowna Rockets will play host to the 2012 CHL Top Prospects game and the action is right around the corner.  Next week, the top draft eligible players from the Western Hockey League, Ontario Hockey League and Quebec Major Junior Hockey League will suit up in a two day event starting Tuesday, January 31st with a Skills Competition and ending Wednesday, February 1st evening with a Top Prospects game.  NHL management, scouts, media personnel and fans will flock to lovely British Columbia to take in the showcase game featuring many future NHL draft picks.  Unfortunately, it appears that many of the best top prospects slated to participate in the 2012 CHL Top Prospects game will be sitting in the stands after this draft class has been hit hard with injuries.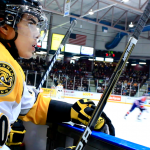 Potential first overall pick, Sarnia Sting's Nail Yakupov is set to return to action this weekend in OHL play but will not risk playing in the Top Prospects game.  Nail's teammate Alex Galchenyuk has started skating and is nearing a return date but there's no chance that he plays before we turn the calendar page to March.  Belleville Bulls' Malcolm Subban, the top ranked goaltender, has been removed from the roster as he nurses a groin injury that has sidelined him since late December.  The infirmary registry does not end there as both Slater Koekkoek (Peterborough Petes) and Morgan Rielly (Moose Jaw Warriors) will miss the remainder of the season with shoulder and knee injuries, respectively.  Matia Marcantuoni of the Kitchener Rangers will miss the remainder of the season and the Top Prospects game as he suffered an injury earlier in the month.  Unfortunately for Matia, he is a player who has been slipping in the draft rankings and could have really used the Top Prospects game to improve his draft stock.  Over in the QMJHL, it appears that Charles Hudon will also be held out of the competition as he tends to an injured wrist.  However, It's not all grim as Martin Frk of the Halifax Moosehead has returned from a concussion and should lineup in the two day event.  Kelowna will also welcome forty of the best draft-eligible players and it's expected that Prospera Place will be rocking.
The Top Prospects game has become a hot bed for NHL scouts as they prepare their team draft rankings and marks one of the last opportunities for prospects to show how they measure up against their draft-eligible peers.  The injury curse that has seemed to haunt the 2012 draft class has certainly opened up opportunities for several players to be added to the rosters and showcase skills they have to offer.  Last week, the Canadian Hockey League announced the replacements for injured stars Nail Yakupov, Matia Marcantuoni (Kitchener Rangers) and Jarrod Maidens (Owen Sound Attack)  and three WHL players were thrilled to get the call.  Mike Winthers of the Prince Albert Raiders has been red hot over the past few months scoring 16 goals and 27 points over his last 18 games and will gladly lace up his skates. Tim Bozon of the Kamloops Blazers and Seattle Thunderbirds winger Branden Troock were the two other injury replacements on forward and Calgary Hitmen Chris Driedger will replace Malcolm Subban in net.
Team Cherry (named after CBC HNIC star Don Cherry) will be looking to improve after losing to Team Orr (named after former NHL great Bobby Orr) seven to one last year.  The game provides a great opportunity for players to have fun and get to know players competing in other CHL leagues but at the end of the day the player is there to impress NHL scouts.  Last year, Ryan Nugent-Hopkins represented the WHL's Red Deer Rebels and was the player of the game for Team Orr registering two assists as the team captain.  Nugent-Hopkins' strong performance at the 2011 CHL Top Prospects game certainly did not hurt his draft stock as he entered the game ranked 3rd among North American skaters by CSS, trailing Gabriel Landeskog (1st) and Sean Couturier (2nd), and eventually become the 2011 NHL Entry Draft's first overall pick by the Edmonton Oilers.
Everett Silvertips defenseman and captain Ryan Murray received word that he would act as the captain of Team Cherry and he looks to build on a strong World Junior Championship performance.  Murray will look towards Brendan Gaunce of the Belleville Bulls and Halifax Moosehead Martin Frk as they will serve as alternate captains for Team Cherry.  Conversely, forward Colton Sissons of the Kelowna Rockets will captain Team Orr while Mikhail Grigorenko (Quebec Remparts) and Tanner Pearson (Barrie Colts) act as alternate captains.
Team Cherry will be coached by Mark Reechi and his assistants Ryan Huska (Kelowna Rockets Head Coach).  Team Orr's bench boss is former Maple Leafs' coach Pat Quinn who will turn to Vancouver Giants Coach Don Hay for assistance.
The full rosters are listed below followed by a few players I will be watching (more closely) to either improve their poor first half performance or simply to see if they can maintain their current draft stock.  Enjoy the game!
CHL TOP PROSPECTS TEAM ROSTERS 
Team Cherry Roster
Coach:  Mark Reechi
Goaltenders:  Matthew Murray (Sault Ste. Marie/OHL), Brandon Whitney (Victoriaville/QMJHL)
Defensemen: Cody Ceci (Ottawa/OHL), Mathew Dumba (Red Deer/WHL), Nick Ebert (Windsor/OHL), Brett Kulak (Vancouver/WHL), Ryan Murray (Everett/WHL), Damon Severson (Kelowna/WHL)
Forwards:  Tim Bozon (Kamloops/WHL), Martin Frk (Halifax/QMJHL), Brendan Gaunce (Belleville/OHL), Coda Gordon (Swift Current/WHL), Charles Hudon (Chicoutimi/QMJHL), Scott Laughton (Oshawa/OHL), Andrew Ryan (Halifax/QMJHL), Gemel Smith (Owen Sound/OHL), Dominek Volek (Regina/WHL), Thomas Wilson (Plymouth/OHL),  Mike Winther (Prince Albert/WHL), Daniil Zharkov (Belleville/OHL)
Team Orr Roster
Coach:  Pat Quinn
Goaltenders: Chris Driedger (Calgary/WHL),  Francois Tremblay (Val d'Or/QMJHL)
Defensemen: Gianluca Curcuruto (Sault Ste. Marie/OHL),  Matthew Finn (Guelph/OHL),  Olli Maatta (London /OHL),  Adam Pelech (Erie Otters/OHL),  Derrick Pouliot (Portland/WHL), Griffin Reinhart (Edmonton/WHL)
Forwards: Andreas Athanasiou (London Knights/OHL), Francis Beauvillier (Rimousk/QMJHL),  Raphael Bussieres (Baie-Comeau/QMJHL), Radek Faksa (Kitchener/OHL), Mikhail Grigorenko (Quebec/QMJHL), Tomas Hyka (Gatineau/QMJHL), Scott Kosmachuk (Guelph/ OHL), Branden Troock(Seattle/WHL),Tanner Pearson (Barrie/OHL),Colton Sissons(Kelowna/WHL), Chandler Stephenson(Regina/WHL), Lukas Sutter(Saskatoon/WHL)
DRAFT STOCK WATCH
Players Who Need a Strong Showing:  Injuries, poor play or unable to meet lofty pre-draft year expectations have left these players with question marks and a good showing versus the CHL's Top Prospects could help out their draft stock.
Nick Ebert (Team Cherry/Windsor, D), Martin Frk (Team Cherry/Halifax, F)
Gianluca Curcuruto (Team Orr/Sault Ste. Marie, D), Andreas Athanasiou (Team Orr/London, F), Raphael Bussieres (Team Orr/Baie-Comeau, F), Tanner Pearson (Team Orr/Barrie, F)
Players I Want to See In Action Against Top Peers:  High praise/scouting reports combined with elite skills will have me tuning in to the game to see how these players compete against the best draft-eligible players.
Matt Murray (Team Cherry/Sault Ste. Marie, G), Mathew Dumba (Team Cherry/Red Deer, D), Cody Ceci (Team Cherry/Ottawa, D), Brendan Gaunce (Team Cherry/Belleville, F), Gemel Smith (Team Cherry/Owen Sound, F), Thomas Wilson (Team Cherry/Plymouth, F), Daniil Zharkov (Team Cherry/Belleville, F – sleeper)
Matt Finn (Team Orr/Guelph, D), Derrick Pouliot (Team Orr/Portland, D), Griffin Reinhart (Team Orr/Edmonton, D), Colton Sissons (Team Orr/Kelowna, F), Mikhail Grigorenko (Team Orr/Quebec, F)
CHL LEAGUE REPRESENTATION (not including injured players):
QMJHL – 9
OHL – 16
WHL – 15
Follow @rossyyoungblood on Twitter for all your hockey prospect needs.