This particular off-season for the Colorado Avalanche could make or break the team. The new era of Joe Sakic and Patrick Roy at the helm will be entering its fourth year. They've done a good job in most areas, turning this franchise around from the gutter and moving it in the proper direction.
They will face key decisions this summer however, in order to keep the organization facing the right way. The Avalanche have their plate full and the subject of Tyson Barrie immediately comes to mind before anything else.
Tyson Barrie
Barrie was an excellent draft pick for Colorado, stealing him in the third round, 64th overall in 2009. He has been hands down the Avs best offensive defenseman since the golden years, and that was a while ago. Not just on the Avs either, Barrie is one of the NHL's best offensive defenseman, piling up 153 points in 264 regular season games. Barrie is up for a new contract and should cost a big chunk of change to keep him, but absolutely worth it.
Many wonder why the hell Barrie would even be on the trading block. He is the only Avalanche defender that is offensively minded, and just flat-out their best transition player on the back-end because of his elite skating and puck skills.
http://gty.im/513168340
So why is he being rumored to be on the trading block? Simple, because of his affiliation with his agent and Newport Sports(same agency that represents Ryan O'Reilly), and because of the fact that he is up for a new contract and hasn't signed one as of yet. That is it.
There's been no word from either Barrie or the Avalanche on talks, and that's to be expected with this team. Let's hope they are slowly but surely gaining ground on those talks, and Avs fans can rest easy. If Sakic and Roy can't get him signed to a reasonable price, they are in for a multitude of more difficult decisions regarding their team, and perhaps even cast doubts on their ability to keep this ship afloat.
Get the kid signed!
The Goalie Conundrum
This goalie conundrum is more of a good problem to have than anything else. The Avalanche have two great goalies in Semyon Varlamov and Calvin Pickard. Varlamov, the consensus number one currently makes $5.9 million per year. We all know what Varlamov can do when on his game, he's a special talent.
Then we have Pickard, an awesome prospect who just returned(along with Matt Duchene) from winning Gold at the IIHF Championship in Russia. Packard was the back-up to Cam Talbot but the couple of games he did play, he was excellent. You could argue that he would have done just as well or even better than Talbot had he got the starts. Pickard is up for a contract renewal being a RFA this year, and should see a slight raise.
The question is, how do the Avalanche value Pickard and Varlomov? Do they want to keep that tandem together for a while longer, or is Pickard ready right now to become a number one goalie in the NHL? And if he is, would he want out of Colorado to get more playing time? Or, does management value Pickard and his much lower cap hit over Varlamov, thus perhaps explore a possible trade?
These are all tough decisions for Sakic and company to make. The best course of action would be to sign Pickard and keep that tandem for at least one more year to better make that call. So yes it's a good problem and not one Avalanche fans should worry too much about, if at all, for the time being.
Missing Links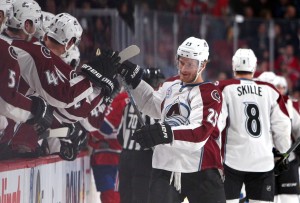 In order for Sakic and company to keep this new era moving in the proper direction is to consistently make the playoffs. Though for that to happen, changes need to be made, and missing links need to be found. This past year, Colorado did a great job in adding to the depth of the team which I have gone over countless times. So what's missing?
First and foremost, defense should be atop the Colorado wish-list. Preferably someone to play alongside Erik Johnson. After that, a right-winger(or two, depending on Mikkel Boedker) is needed. Jarome Iginla is slowing down every year, and while he can still shoot the puck extremely well, his foot speed has left the Avs wanting more. Iginla has one more year remaining on his contract, one wonders what happens with him.
Top prospect Mikko Rantanen, who can play right-wing but is left-handed, will most likely make the team full-time next season. That would see the top six consist of Boedker(if kept), Duchene, Mikhail Grigorenko, Gabe Landeskog, Nathan MacKinnon, and Rantanen. That's five left-handed shots, MacKinnon being the only right-handed player of that group. Does Sakic and Roy see this as a problem? If they do, Boedker could be testing the market, and/or Grigorenko could slide down to the third line in order to make way for a right-wing. Maybe this is an issue one Alexander Radulov could fix(nudge nudge, wink wink, say no more).
It will be a fun summer for Colorado fans. There are plenty of solid options about. The Avalanche aren't far away from putting together a very solid team that will compete in the post-season on a regular basis again. They also have another 10th overall draft pick to look forward to where they will certainly add another top-notch prospect to their system.
Whatever moves and decisions are made, they must make the playoffs next year, anything less should be considered unacceptable.