The Colorado Avalanche don't have the long and storied history that some NHL franchises boast, but they have been pretty good since relocating to the Rocky Mountains before the 1995-96 season. During their time in Colorado, the Avs have won three Stanley Cups, and have gotten acquainted with many fan favorites along the way.
Related: THW's Retired Numbers Collection
If their recent success is any indication, the Avalanche will have to make more room in the rafters in the near future. Currently, however, six players have had their numbers retired. Here's a look at each of those pillars of the franchise:
19 – Joe Sakic
The greatest player in Avalanche history was the first to get his number retired by the club, seeing his jersey secured in the rafters on Oct. 1, 2009. Joe Sakic led the Avalanche to their first two Stanley Cups, and leads the team in almost every offensive category. Sakic boasts the most goals (625), assists (1,016), points (1,641), power-play goals (205), shorthanded goals (32), and games played (1,378) in franchise history. He was inducted into the Hockey Hall of Fame in 2012.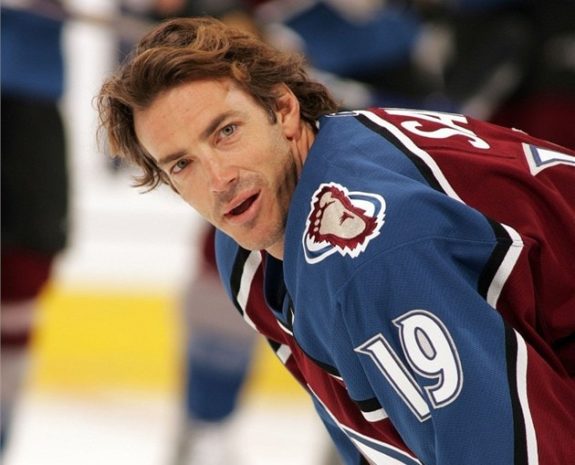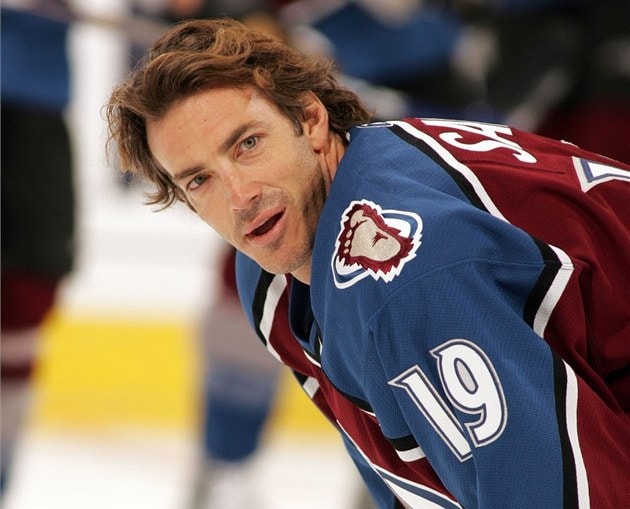 Drafted by the Quebec Nordiques with the 15th pick of the first round in the 1987 NHL Entry Draft, Sakic had already been selected to five of his 12 All-Star Games when the team relocated to Colorado before the 1995-96 season. They famously won the Stanley Cup in that first campaign as the Avalanche – with Sakic taking home the Conn Smythe Trophy. He led Colorado to their second Cup in 2001 – adding the Hart Memorial Trophy, the Ted Lindsay Award, and the Lady Byng Memorial Trophy to his personal trophy case.
Related: What Joe Sakic Means to the Avalanche
---
Latest News & Highlights
---
Sakic also had his fingerprints all over Colorado's third Stanley Cup victory. Acting as the team's president and general manager in the run up to the title, Sakic was integral in securing solid contributors through the draft and multiple trades. Notable deals include a 2019 swap with the Toronto Maple Leafs that brought Nazem Kadri to Colorado, and another that brought goaltender Darcy Kuemper to the Avs from the Arizona Coyotes. There is no one more immersed in Avalanche history than Sakic, which makes it deserving that his jersey was the first in team history to get lifted to the rafters.
21 – Peter Forsberg
Peter Forsberg played almost his entire career with the franchise – but he didn't start out that way. Taken by the Philadelphia Flyers with the sixth overall pick in the 1991 NHL Entry Draft, he was a critical piece in one of the most famous trades in NHL history. On June 30, 1992, he was sent from Philadelphia with five other players and a first-round pick to the Nordiques for Eric Lindros. That helped create the Legion of Doom for the Flyers, but Colorado did alright, too.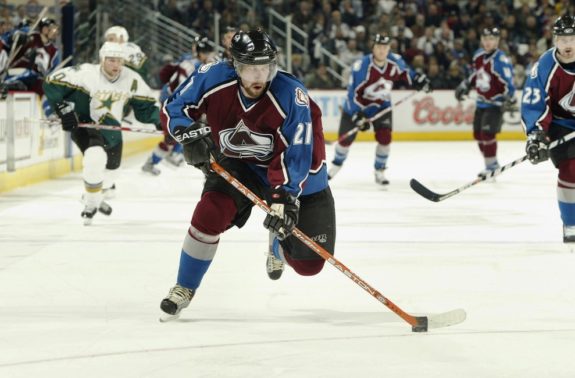 Forsberg played almost 600 games for the Avalanche across 11 seasons, racking up 217 goals and 755 points. He won the Calder Trophy as the league's top rookie in 1994-95 – the team's last season in Quebec. He later went to five All-Star Games and won the Hart Trophy and Art Ross Memorial Trophy in a magical 2002-03 campaign. That season, he led the NHL with 77 assists and 106 points and topped the league with a plus-52 in plus/minus.
Related: Peter "Foppa" Forsberg: A Biography
Forsberg is also a decorated international player. Along with winning two Stanley Cups with the Avalanche in 1996 and 2001, he also won gold medals at the Olympics and IIHF World Championship. That makes him a member of the Triple Gold Club, and he is the only Swedish player to have won each of the three competitions twice. He famously scored the gold-medal-winning goal in a penalty shootout in the 1994 Olympic games in his home country – an effort that made him the first hockey player to be put on a Swedish postage stamp. His jersey was retired by the Avalanche on Oct. 8, 2011, and he was inducted into the Hockey Hall of Fame in 2014.
23 – Milan Hejduk
Milan Hejduk might be the most underrated player in Avalanche history. He played his entire career in Colorado, and only Sakic scored more goals in an Avalanche uniform. Hejduk's 375 career goals are technically fourth on the franchise list, behind Michel Goulet (456) and Peter Stastny (380), but those two piled up their numbers in Quebec. That said, he is still one of the greatest Avs players no matter how you slice it.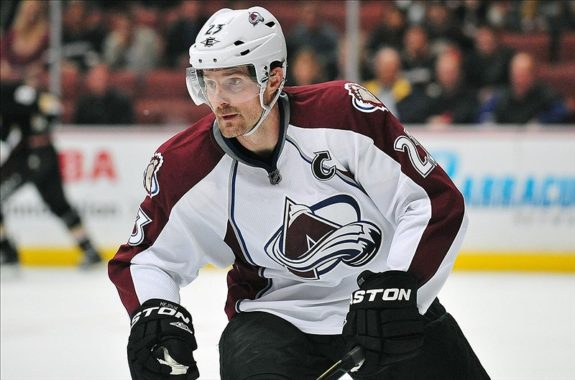 Hejduk is the only Avalanche player to win the Maurice "Rocket" Richard Trophy – leading the NHL with 50 goals in 2002-03. However, he finished 12th in Hart Trophy voting that season, despite being fourth in the NHL in points. Forsberg won the Hart that year, and it wasn't the first time Hejduk missed out on an award because of a stellar season by one of his teammates. In 1998-99, Hejduk led all rookies in assists (34) and points (48) but missed out on the Calder Trophy when teammate Chris Drury took home the award.
Related: Milan Hejduk Belongs on List of Colorado Avalanche Superstars
That doesn't diminish what he meant to Colorado. Of the six players with their numbers retired, only Hejduk and Sakic played their entire careers with the franchise. When Colorado won the Cup in 2001, he was the playoff leader in assists with 16. Hejduk is also one of four captains in Avalanche history – wearing the "C" in 2011-12 to bridge the gap between Adam Foote and Gabriel Landeskog. He retired after the following season, and his number was retired on Jan. 6, 2018.
33 – Patrick Roy
Maybe the most volatile player in Avalanche history, Patrick Roy is also easily one of the most memorable. The fiery goaltender backstopped both of Colorado's first two Stanley Cup runs, winning 262 games in seven-plus seasons with the club. His career 2.27 goals-against average, .918 save percentage, and 37 shutouts still lead the team.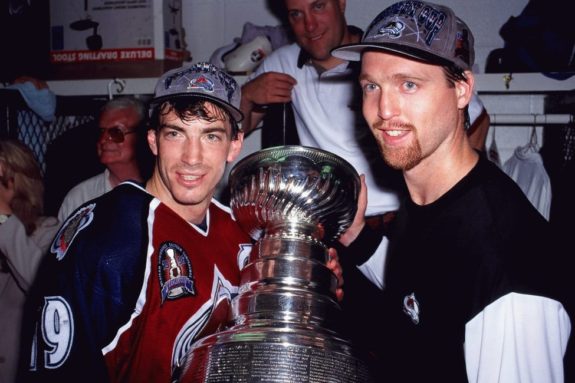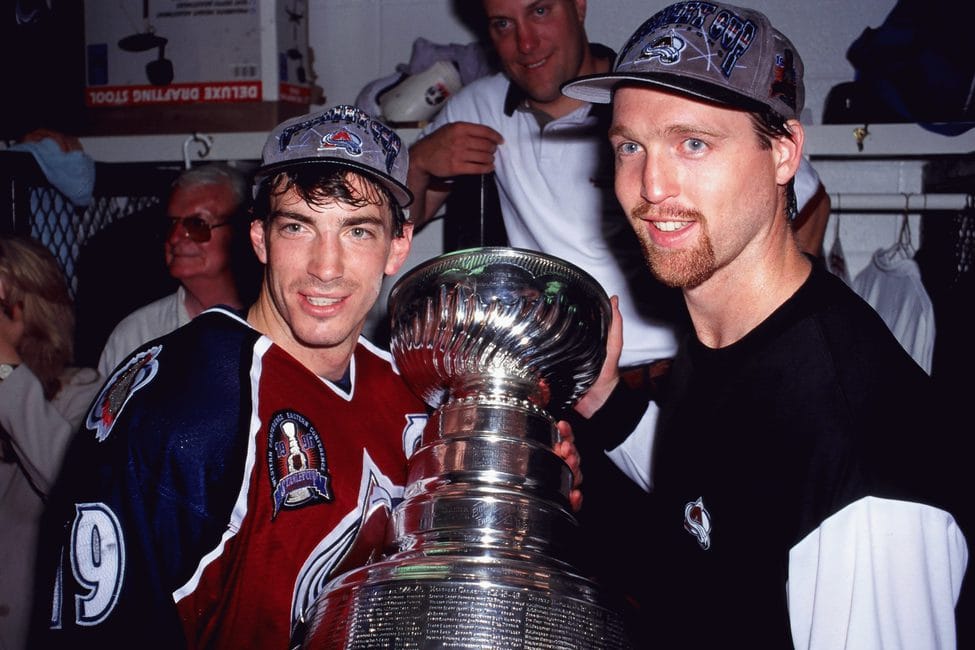 Roy played his first 11-plus seasons with the Montreal Canadiens, winning three Vezina Trophies, a pair of Stanley Cups, and a pair of Conn Smythe Trophies. He looked to be a fixture with the Habs for the rest of his career until a dust-up with coach Mario Tremblay brought his time in Montreal to a screeching halt. The result was a trade to Colorado midway through that 1995-96 season that will likely be talked about in hockey history for eternity.
Related: Patrick Roy: A Legendary Legacy
All told across his 19-year career, Roy played in 11 All-Star Games, won four Cups, three Conn Smythe Trophies, three Vezina Trophies, and five William M. Jennings Trophies. He is the only player to win the Conn Smythe three times and did it in three different decades (1986, 1993, 2001). He's also the only Avalanche player to win the Vezina Trophy, and only Martin Brodeur won more games (691) as a goaltender in NHL history than Roy's 551 victories. He was inducted into the Hockey Hall of Fame in 2006, and his number was retired by the Avs on Oct. 28, 2003.
52 – Adam Foote
A heavy-hitting defenseman, Adam Foote was an instant smash hit with Avalanche fans from the first time he hit the ice in Colorado. His first four seasons came with the Nordiques, but he scored a goal and had six penalty minutes in his debut in an Avs uniform, and the fans were hooked. He only scored 308 points in his NHL career, but his impact was felt off the scoresheet – and mostly against the boards. He was a ferocious checker and racked up at least 90 penalty minutes in six different seasons.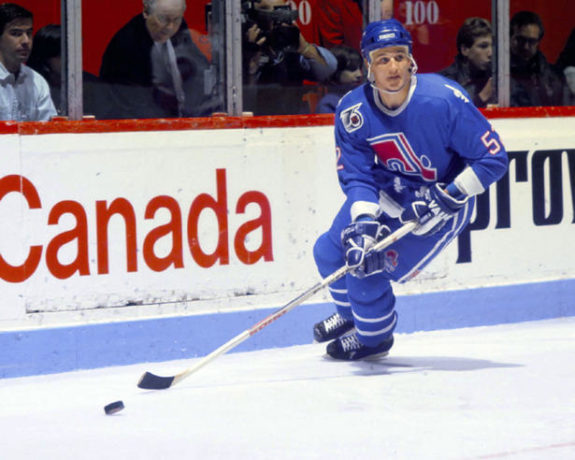 Foote was front and center in the brawls surrounding the heated Avalanche-Detroit Red Wings rivalry in the late 1990s-early 2000s – where he dropped the gloves in notable fights against Vladimir Konstantinov and Brendan Shanahan. The bad blood from the rivalry with the Red Wings still continued to boil even after he retired.
Related: Colorado Avalanche All-Time Starting Lineup
Foote won two Stanley Cups with Colorado and was the first Avs player to captain the team after Sakic's retirement. He signed with the Columbus Blue Jackets in 2005, where he played for three seasons. He returned to Colorado in a 2008 trade and remained with the Avalanche until his retirement in 2011. His 760 games played are the most by an Avalanche defenseman. His number was retired on Nov. 2, 2013.
77 – Ray Bourque
Despite only playing in Colorado for two seasons, Ray Bourque is one of the most celebrated Avalanche players of all time. After famously playing two decades with the Boston Bruins without winning a Stanley Cup, he was traded to the Avalanche on March 6, 2000. While Bourque and the Avalanche didn't win the Cup that season, the longtime defenseman didn't have to wait much longer to do so, as Colorado won its second Stanley Cup in franchise history in 2001 – with Bourque finally getting his hands on the sport's top prize.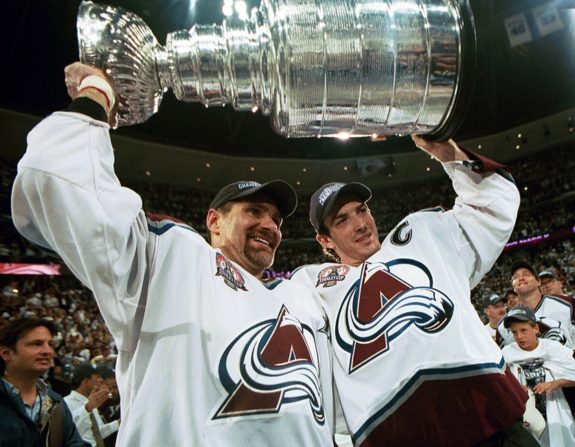 Bourque played only 94 regular-season games and 34 playoff games with the Avalanche, but definitely left a mark. He scored 14 points in his 14 regular-season games after coming to Colorado in 2000, adding nine more points in his 13 playoff games that season. In 2000-01, his only full season with the Avs, he was named to the All-Star Game, took second in Norris Trophy voting, led all Avs defensemen with 52 points, and gave everybody the fantastic memory of watching him hoist the Cup.
Related: Ray Bourque: A Long Way to the Stanley Cup
Bourque will always be remembered as a Boston Bruin first, but his brief time with the Avs was a memorable time that wrapped up a legendary career. Three days after winning the Cup, he returned to Boston with it for a rally that was attended by 20,000 fans. He announced his retirement shortly after the season, and the Bruins and Avalanche both promptly retired his number. The Avs sent it to the rafters on Nov. 24, 2001, and he was inducted into the Hockey Hall of Fame in 2004.
Who's Next?
The Avalanche are going to have to make room in the rafters for at least a few of their current roster of players. Nathan MacKinnon and Cale Makar are both bona fide superstars. Makar has already won pretty much every accolade possible for a defenseman, except for a Hart Trophy. That's not out of the realm of possibility for both Makar and MacKinnon – who both have a lot of time left in their careers and show no signs of slowing down.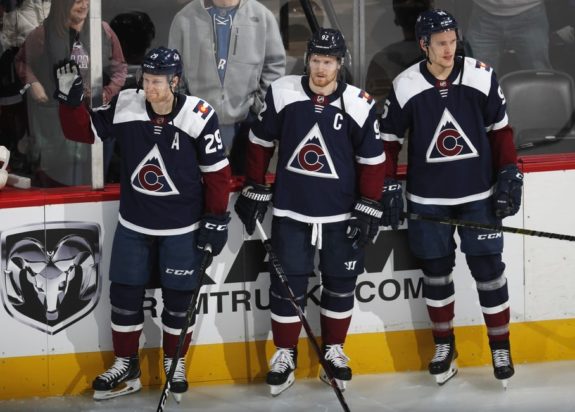 Gabriel Landeskog is another player that is practically a lock to have his number hanging in Ball Arena one day. Practically since the moment he was chosen second overall in the 2011 NHL Entry Draft, he has captained the team. He's worn the 'C' on his jersey for more than a decade, and could hold onto that role for the next decade. Every other player to captain the Avalanche has had his number retired, and it's hard to imagine that trend stopping with Landeskog.
Related: Avalanche's Landeskog Can Become an All-Time Great Captain
One of Landeskog's partners on that top line might also find his jersey hanging in the rafters someday. Mikko Rantanen has emerged as one of the franchise's top goalscorers in recent memory and also has plenty of time left in his career. He's already ninth in goals in Avs history, despite turning only 26 during the 2022-23 season. Of course, nothing is promised to any of these players, but this era for Colorado could see multiple players being added to the six mentioned above.
Lifelong storyteller and experienced hockey reporter that has covered everything from major juniors to the NHL. Worked for various newspapers across Minnesota and North Dakota, and now covering the Colorado Avalanche for THW.