Christian Ehrhoff and the Los Angeles Kings agreed to a one-year deal while goalie Peter Budaj signed a professional tryout contract with the team this last week to bolster the depth of the Kings roster. But the timing and relevance to these deals draw uncanny comparisons to successful moves Kings GM Dean Lombardi has done in the past, signing a veteran defenseman coming off a concussion to help solidify the blue-line and a veteran backup goalie being offered a professional tryout when goaltending should not be a question.
A Low-Rish/High-Reward Veteran Defenseman Coming Off an Injury
In 2010, following a first round loss to the Vancouver Canucks, Lombardi would sign veteran defensive defenseman Willie Mitchell. Mitchell was limited to 48 games the season before after suffering the third serious concussion of his career. With 12 years of NHL experience at the time and Lombardi's awareness that there is a risk involved with any player signed, Mitchell solidified a Kings' defense and helped the team eventually win two Stanley Cups.
With the announcement of Ehrhoff and the Kings agreeing on a one-year deal on Aug. 23, the signing immediately draws comparisons to that of Mitchell's. Ehrhoff only played 49 games last season due to a concussion, but has 10 years experience in the NHL and has been to the Stanley Cup Finals before with 73 games of playoff experience.
And while age and injuries could have been a considered a warning sign for Mitchell, and the same warning signs can be applied to Ehrhoff, Ehrhoff was cleared to play in April and has had a clean bill of health, according to his agent. Ehrhoff only missed three games the year before while playing with the Buffalo Sabres and has only missed 20 games the last three seasons.
Ehrhoff has not played a full 82-game season since 2006-2007 with the San Jose Sharks, but has still played in 78 percent of the 868 games available for him to play in. To have over 740 games of NHL experience is a great accomplishment in the NHL and at just 33 years of age, the efficient puck-moving defenseman should be able to provide the Kings with a top-four defenseman they desperately needed. Signed at only $1.5 million is an incredible bargain considering other veteran defensemen like Francois Beauchemin and Kevin Bieska were signed to contracts worth over $4 million per year this offseason.
Backup Goalies Competing for Backup Goalie Positions
In the inevitable loss of budding young goalie Jonathan Bernier in the summer of 2013, the Kings acquired a serviceable backup goalie in Ben Scrivens along with other assets (a second-round draft pick and Matt Frattin) in a trade with the Toronto Maple Leafs. Scrivens had played 32 games with the Maple Leafs before being traded to the Kings and before the 2013 season, was thought as the sure backup to play behind Jonathan Quick until Lombardi invited goalie Mathieu Garon to training camp on professional tryout basis before the season started.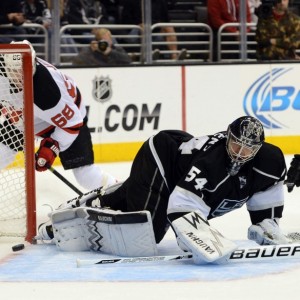 Much like Garon had done that year and years before, Budaj has settled into the role as a backup goalie and is trying to establish himself back into the NHL as Dustin Tokarski has taken over the role as backup goalie for reigning Vezina, Hart, Ted Lindsay and William M. Jennings Trophy winner Carey Price in Montreal where Budaj played last. Budaj will have an uphill battle competing for a job against a younger and more-invested Jhonas Enroth.
Enroth, much like Scrivens before the start of the 2013, was sure to be the backup goalie playing behind Quick at the start of the season. Enroth and the Kings agreed to a one-year/$1.25 million deal on the first day of free agency and has put up modestly good numbers in his time with Buffalo and Dallas.
And much like Scrivens did, Enroth will have to beat out an older, more experienced goalie for the backup role before the start of the regular season. The competition was a challenge Scrivens accepted honorably as he won the backup job out of preseason and Garon was released in late September before the start of the season. Scrivens put up great numbers in Los Angeles with a save percentage of over 0.931 and a 1.97 goals against average in 19 games before being traded to Edmonton.
At the beginning of August, much of the Los Angeles Kings 23-player roster looked to be set. On defense, one of Jeff Schultz, Jamie McBain and Derek Forbort looked to be competing for the sixth defenseman that would begin the season on the Kings' opening night. Now with the addition of Ehrhoff, the Kings top-six looks much more formidable. Enroth was already written on the white-board in the coach's office as backup goalie, but now that Budaj will see time at training camp and most likely preseason, Enroth will have to prove it to the coaching staff (and management) that they can rely on him.
With an entire offseason to rest and prepare for the upcoming season after missing the playoffs, the Kings are in a position they have not been in since 2009. But with the recent additions of Ehrhoff and Budaj, it is nostalgic reminder that Lombardi and staff are looking for affordable ways to improve a championship team, even if it is less than a month away from training camp.