There weren't many bright spots with the New Jersey Devils last season, but with training camp just around the corner, there is optimism as there always should be. Every team should come into the season with the belief that they have just as good of a chance as anyone else to win the Stanley Cup.
The Devils will be no different, but they will need a lot of things to go their way for them to have any conceivable chance of even getting to the post-season, let alone the Cup Finals. We know Cory Schneider will be great in his second year as the Devils starting goaltender, however the The aspect of their game, which could go either way, is with the excess of young defensemen coming up, and whether they will be able to produce.
Last season, the Devils defense finally turned into what should be their top-6 for the next couple seasons. Andy Greene is the Devils rock, he's always making great plays, and he's capable of playing over 20 minutes every night. Greene isn't the question; the question is how will guys like Adam Larsson, Damon Severson, Jon Merrill, and Eric Gelinas will contribute to a crowded top-six.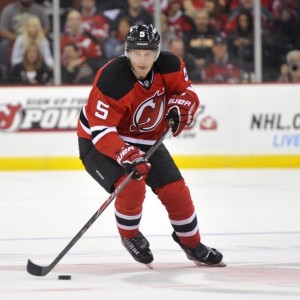 New Jersey signed Larsson to a big six-year contract this off-season, which is a relief, because if finally shows that the organization is willing to commit to the former top-5 pick. Last year was Larsson's make or break season, and he definitely made the most of his opportunity posting 24 points in 64 games to lead the defense in scoring. The big question is how will Larsson develop under new head coach John Hynes. We aren't sure, however, it will certainty be better than the relationship Larsson had now San Jose Sharks head coach Pete Debeor, and, considering that Hynes is the youngest coach in the NHL, it might make establishing a connection with Larsson much easier.
We also aren't sure of how Hynes will get along with Gelinas, Merrill, and Severson. There is only so much ice time that Hynes can distribute if he's already dedicating over 20-23 minutes a night to Larsson and Greene. Just from looking at last year, it's clear that Merrill had a bit of a sophomore slump, his smooth play from the season before wasn't there in the same light, and he actually finished the season as a minus 14. There isn't a much stock in plus-minus as their used to be, but if you're over or under 10, than there is something you're doing as a player to help dictate those numbers. Point is that Merrill should have a bounce back season under Hynes leadership.
On the other hand, hopefully what happened to Merrill doesn't happen to Severson. The chance of him having a slump is there for sure, but Severson just needs to get himself on stable ground after having to deal with an injury for almost half the season. He came back towards the end of the year and played well, but the Devils were already out of it at that point. Hopefully we will get a chance to see him play in meaningful games this year, but the chances of that with the offense this team has is doubtful.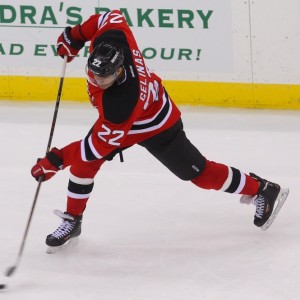 Finally, there's Gelinas, who seemed like the odd man out throughout much of last season. Ray Shero signed him to a 2-year bridge deal, so there's still time until they need to make a real decision on Gelinas. The consensus though is that Gelinas will be in their bottom-six with John Moore, who signed a 3-year deal on the first day of free-agency. Moore was a very good depth signing for the team, as he played well with the Rangers in the three years with the team, before being traded to the Arizona Coyotes in the Anthony Duclair trade.
Also don't rule out one of the Devils prospects making the team out of camp like Severson did last year. The player I'm referring too is 2013 second round pick Steve Santini. Santini has played for Boston College the past two years, and he's turned into one of the better defensive prospects in the NHL. It also didn't hurt that his defense partner at BC was 5th overall pick in 2015 Noah Hanifin. The jury is still out on whether Santini has a real shot to make the team because half of his sophomore season was taken because of a wrist injury Santini had to undergo surgery, which caused him to miss the World Junior Championships where he would have been the captain of team USA if he played.
There are a lot of if's with the Devils young defense coming into training camp. We aren't sure if Larsson can continue his major success from last season. Will Merrill and Severson workout as the teams second pair? Can Gelinas finally stick in a defense corps full of young defensemen, and how will John Moore fair in his first season on his new deal. Put all that along with whether Santini, among others, will have a shot at the team, and it's going to be a lot of handle for Hynes. If there's one positive to all this though, than thank the lord for Andy Greene.
Subscribe to our Devils stories to get email updates every time a new story is published.
Corey Spina is a New Jersey Devils staff writer for The Hockey Writers. You can follow him onTwitter, @CSpinaTHW.
Corey Spina lives in Wayne, New Jersey. He is a senior at Centenary College, and is majoring in Communications/Journalism. Corey is in his second season covering the New Jersey Devils for The Hockey Writers, he completed a sports journalism internship with TAPinto, and he is the Host/Producer of the Sports Buzz on WNTI.org.