It was one of the best World Championship tournaments in recent years. There were several highlight reel players who decided to join their home countries to battle for gold. The goaltender positon was also strongly manned featuring experienced starters such as Mike Smith, Pekka Rinne, Ondrej Pavelec, Cristobal Huet, along with NHL goalies Sergei Bobrovski, Jhonas Enroth and Reto Berra. It would have been no surprise if one of those named was the most impressive goalie in the tournament, but none of them have been as tremendous as Connor Hellebuyck of Team USA. Connor who? No doubts most World Championship viewers didn't know that name before the tournament. Well, they most certainly do now.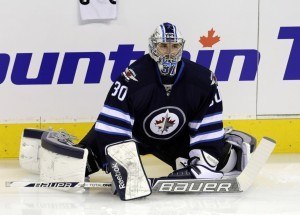 The twenty-two year old from Commerce, Michigan was one of the best goalies with very impressive 1.37 GAA and outstanding .948 SVS%. Therefore it was a no brainer he was selected into the All-Star team. He led a very young US team to the bronze medal with a stellar performance in the bronze medal game against the host Czech Republic where his team won 3-0 despite being outshot 16 to 39. Earlier in the tournament he had several other strong appearances getting the start 8 times and backing up Jack Campbell in only 2 games.
More on his Worlds performance
While his numbers in the tournament are sensational, maybe the most impressive thing about him was how calmly he played and how experienced he looked. He was the backbone of his team and carried them deep into the semifinals despite facing the third most shots of all goalies.
Size, calmness and maturity key for success
He has perfect size listed at 6'4 and is a modern goaltender with good potential to become a starter at NHL level one day. Despite his size he is very agile and has quick legs. His calmness is very impressive for a 22 year old. Off the ice he is very calm too and his responses are always thoughtful.
He played two seasons NCAA hockey with UMass-Lowell with outstanding numbers (1.37 and 1.79 GAA as well as 952 and .94.1 SVS%) and won several honours such as NCAA Hockey East Tournament MVP titles, NCAA East first All-American Team, NCAA Goaltender of the Year and many more. It was obvious he was ready for the next step and needed a bigger challenge to develop his game. Drafted in 2012 in the fifth round he was a slightly blooming talent. But in spring 2014 the Winnipeg Jets signed him to an entry level contract and planned to have him play AHL for the St. John's Ice Caps.
His chances in Winnipeg
In this season Hellebuyck played the majority of the St. John's Ice Caps regular season games. He was backed up by the experienced Peter Budaj who had nineteen games and young Eric Comrie who played in three games after finishing his season in the WHL. In the Jets final regular season game he had the chance to back up Michael Hutchinson against the Calgary Flames while Ondrej Pavelec got a night off. The Jets now have a rich goalie portfolio with the experienced Ondrej Pavelec as their projected starter, and Hellebuyck, Hutchinson and Comrie three goalies that are all 25 or younger. After Pavelecs best season in his entire NHL career he will probably get the starter status for the coming season. But the question remains who will back him up and start the season with the Jets. Nineteen year old Eric Comrie will start the season in the AHL. Michael Hutchinson played almost 40 games giving Pavelec some nights off and might have a small advantage over Hellebuyck because of this. However, the strong performance of Hellebuyck at the Worlds will give his chance for NHL games a big push! One more thing that might pay off for Hellebuyck is the fact that Hutchinson is becoming a restricted Free Agent. There has been rumours out there that a team looking for Goaltending could be interested in trading Hutchinson. But the fact is that Hutchinson had a very good year and it remains questionable if the Jets are really look for a potential buyer.
It's Connor #Helleybuck again. A new star-goalie emerges now also on international stage! What a goalie! #USAHockey

— Thomas Roost (@thomasroost) May 17, 2015
The question of whether Hellebuyck will make some NHL games or not is probably depending on a strong pre-season camp. If he can confirm his good performance from the Worlds in the pre-season for the Jets and stay healthy, he has good chances to get a few NHL starts next season.  At least he can count on the confidence of the Jets fan base and the hockey fans in Winnipeg are already looking forward to the new season with lots of potential on the goaltender position, something which doesn't happen each year in the capital of Manitoba.