On June 18-20 2017, the NHL's 31st team and first expansion team since 2000 will get the opportunity to draft a team. This team is being based in Las Vegas, and is equipped with a 17,500 seated area and a state-of-the-art practice facility. In addition to the expansion draft, Vegas will get to pursue free agents for an excessive amount of time before July 1 (They can talk to unrestricted free agents before the expansion draft as well as the weeklong period before free agency opens July 1), and will pick no lower than sixth overall in the draft, as they have the same odds as the third worst team in the NHL.
When he was hired as the general manager of the Vegas club, George McPhee said that he would like his club to compete right from the git-go. In the 2017 NHL Entry Draft, other than phenomes Nolan Patrick and Timothy Lilgren, there aren't many prospects I can see making an immediate impact. And although many expect the Vegas squad to be rife with veterans, when I did a mock expansion draft a while back it was actually the opposite.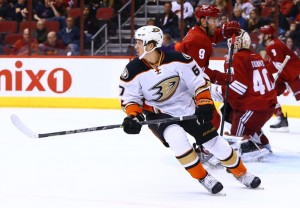 Yes, there were some older players, but the team was filled with generally young players who are just realizing their potential, like Rickard Rakell, Klas Dahlbeck, Jesper Fast, Brayden Schenn, Ryan Murray, Stephen Johns, Frank Corrado, Reid Boucher and Jared Spurgeon.
The one gaping hole on my roster was down the middle, where I had Schenn, Marcus Kruger, Eric Fehr and Mark Letestu as my centers. That is not very strong at all. Getting Nolan Patrick could fix all that, but there is only an 11.5 percent chance (if the lottery odds stay the same) that happens. So, would Vegas trade for an impact player, presumably a centre man? Here are five players I think Las Vegas could target with their first round pick:
The Players
Matt Duchene, C, Colorado Avalanche
Duchene has been subject to trade rumors since it was reported the Ottawa Senators had inquired about Duchene way back in November 2015. Duchene said in an interview last week that there would be changes if the Avalanche didn't have a good 2016-17, and he didn't know if he'd be part of those changes.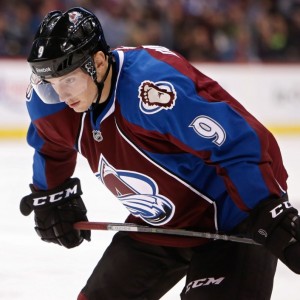 Well, if Vegas were to offer a top six pick in exchange for Duchene and maybe a little extra, the trade would probably go through.
Duchene, 25, is a speedy center who can play first line minutes. The third overall pick in 2009 had 30 goals and 59 points in 76 games this season.
Vegas' first rounder could also fetch another piece in this trade, maybe a second or third rounder or a bottom-six player.
Alex Galchenyuk, C, Montreal Canadiens
Galchenyuk has yet to prove himself as a No. 1 middle man, but he has shown flashes of brilliance in the past. You could see the improvement in his game this season, as the 22-year-old jumped from 20 to 30 goals.
If Vegas loses the lottery and gets the sixth overall pick,  this would be a fair one-for-one deal. But if they get a top-three pick, Vegas would likely be demanding more in a trade with Montreal.
Tyler Johnson, C, Tampa Bay Lightning
It's going to be hard for the Lightning to keep Johnson, a restricted free agent, next summer. They also have Ben Bishop (who will likely be moved), Ondrej Palat and Jonathan Drouin to sign. After exploding for 72 points in 2014-15, Johnson took a step back in 2015-16, putting up only 38 points in 69 games.
However, the 26-year-old was great in the playoffs and personally I don't believe he's a flash in the pan. If he was traded for a high pick like Vegas will have, maybe it's Johnson plus a veteran like Braydon Coburn going the other way.
Nikolaj Ehlers, LW, Winnipeg Jets
Before you call me crazy, hear me out. With Patrik Laine joining the Jets this season and college hotshots Kyle Connor and Jack Roslovic coming up the pipeline, Ehlers could possibly become available after just two seasons.
Because Ehlers has not proved himself to be anything of an elite forward yet (although he had a reasonably successful rookie season), Vegas could probably fetch Ehlers plus a centre like Alexander Burmistrov or Marko Dano along with him.
It doesn't make sense to trade Ehlers for another young forward, but a top-six pick should be good enough for the Jets to get a solid, young defender, which they could use.
David Krejci, C, Boston Bruins
Because Krejci is on the older side of things at 30-years-old, I would think Las Vegas would also want a second or third round pick coming back along with Krejci.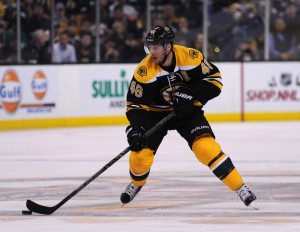 Krejci had a great year last season and has shown no signs of slowing down. Also, the Czech's hefty $7.25 million cap hit shouldn't be a problem, at least for the next few years. The Bruins could use a high pick to get a young forward or defender, either of which they could use.
Do you think there is a chance the NHL's new team in Las Vegas will trade their first round pick, and who would they target?
Born a hockey fan, I am a journalist who has been writing for nearly 2 years. I love covering all NHL teams, and own the Instagram account @hockeynews.ig