The NHL 17 closed beta has dropped, serving as our first look at what the developers at EA Canada have worked on over the past year.
In a series of beta reviews, we start with one of the game's most popular game modes, EA Sports Hockey League.
What They Promised
During the lead up to the beta release, EA focused on their additions to team customization.
Through arena upgrades, different color palates and jersey customization, NHL 17 appeared to be giving the consumers the most expansive and in-depth version of EA Sports Hockey League to date.
On top of that, they looked to reward the players for grinding and leveling up their player. Once again, you can not upgrade your player's attributes, but you can unlock unique gear and goal celebrations, amongst other things.
Player customization has also been upgraded with a huge increase in face models and hair and facial hair options.
The gameplay, in general, was advertised to be much improved, with smarter AI, better hitting physics and a more realistic hockey experience.
What They Delivered
So far, I have played 35 games of EA Sports Hockey League, and it appears as if they have hit the mark with almost everything that they promised us.
The new customization is unlike anything we've seen from NHL. The arena customizations make you feel more in control of the team and reward you for putting more time into the game.
You start in a small community rink with no fans and very basic jersey options with no logo on the front. The more you play and upgrade your team rank, the more things get opened up to you.
From the small arena, you go to larger community rinks, junior arenas, and then a plethora of different NHL-style rinks. All of these are unlocked by racking up playing time and wins with your club. From there, you can customize the ice, the boards, the stantions, the color palate of seats and walkways, goal and victory songs and your team's entrances, just to name a few.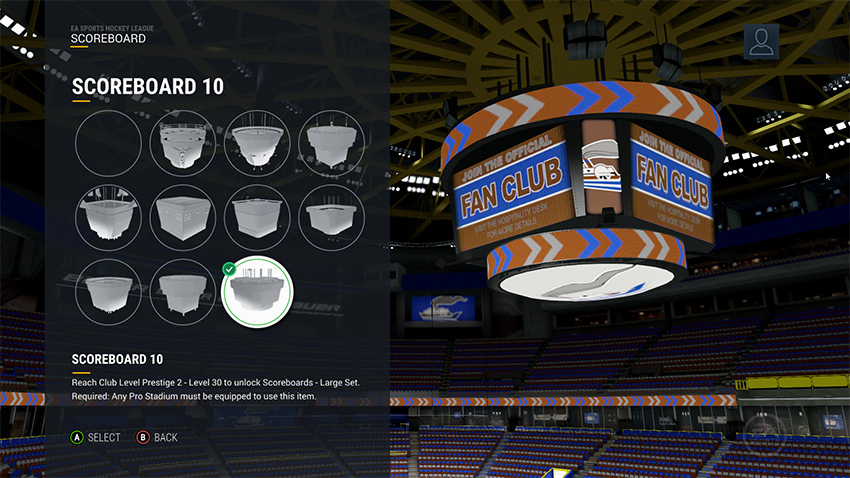 The same goes for the jersey options. You're left with very few customization options for your club's jerseys outside of what color you want them to be. The more you level up your team, the more jersey and logo options you are presented with.
Just like in NHL 16, you can not manually upgrade your player's attributes and are left to choosing from preset player types, but this year, you are given more options, like the Jumbo Playmaker and the Hitting Sniper.
Last year, the Power Forward build was, far and away, the best player type, until it was nerfed down. There will likely be a more favored player type once again in NHL 17, but expect EA to do its best to take care of it relatively early on. So far, I have been a big fan of the two-way forward. Playing primarily as a center, the two-way player build gives me the ability to be reliable on both sides of the puck without giving up offensive skill or skating ability. It's also a force to be reckoned with in the faceoff circle.
In terms of gameplay, it also looks like NHL 17 will be a big step forward from NHL 16.
One of the most annoying gameplay miscues from last year's game was AI defense and their lack of anything resembling awareness. They would grab the puck and lose it on the back of your own net and, on rare occasion, would even put the puck in your own goal inadvertently.
This year, it is different. The AI defense makes smarter plays with the puck on their sticks and they don't make frequent, egregious turnovers in their own end. They are better at getting the puck out of the zone, but they still aren't perfect. Don't put too much trust in them, because, every now and then, they will let you down. If you are running a five or six-man team, then you don't need to worry about this, but if you have at least one defenseman controlled by the computer, it can get chippy at times.
In terms of defensive zone coverage, the AI defense tends to be hit and miss. At times, they will cover the front of the net pretty well and intercept passes, but other times they will let pucks go right through their sticks and allow easy one-timer goals or they will just blow their coverage and leave men wide open.
The physics engine is a big improvement in terms of hitting. This applies to all game modes, but it is definitely applicable to EASHL.
In last year's game, you could lay a huge body check to an attacking forward, but they'd lay on top of the puck and ultimately regain control. This is much less common this year as you are able to actually get the puck back after a big hit, on most occasions. This leads to a more satisfying experience when you lay the boom and send a player off his feet.
The gameplay, as a whole, feels much faster. Your players have more speed to them and they don't tend to feel fatigue as quick.
The addition of more realistic net-front battles is also a plus. Tapping the Y (Xbox) or Triangle (Play Station) buttons will instigate a net-front battle if you are in good position in front of the net. This works both on offense and defense. If you want to gain position on a defenseman on offense, this is an effective way of doing so. Providing a screen can make the difference between a point shot that is easily gloved down by a goalie and a point shot that is sent flying past a goalie who didn't even know that a shot was released.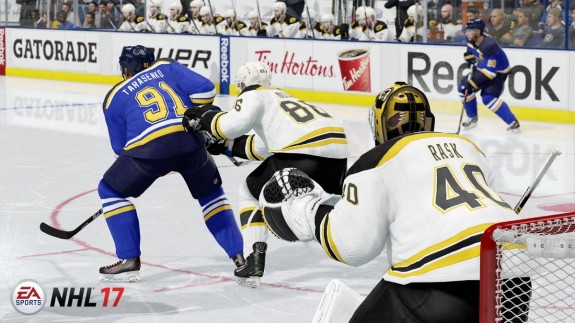 There are issues with the net-front battles, however. They can tend to last too long and ultimately take you out of an offensive possession. If you decide to pass the puck to a player in a net-front battle, they will continue to jar for position instead of going for the pass. In turn, the puck will just slowly glide past the player and make you think about what could have been.
Another tweak to the gameplay comes in the form of board battles. One of the nagging issues in past games was the frequency of board pins from computer defenders. This year, it happens much less frequently, giving your player much more room to work with along the boards. Also, if you are pinned against the board for too long, the defender will be called for holding more often than not.
Cheap goals have been a downfall in online game modes for EA's NHL installments, and it continues to be an issue this year. If you go on your player's forehand, skate to the middle of the circles, then snipe the puck short-side, it will go in eight times out of ten. That is the easiest way to score right now, as it was for a lot of NHL 16.
It's not a game-breaking issue, but it is an issue, nonetheless. There are a plethora of ways to get the puck into the net, but when you run into a player or team that solely relies on this way to score, it can get very frustrating.
NHL 17 Delivering on What was Promised
My experience with EA Sports Hockey League through the beta has been overwhelmingly positive.
The customization options bring a breath of fresh air to a franchise that had been growing rather stale and the ability to unlock different arena and player customization options makes the grind worth the payoff in the end.
The gameplay feels faster and more offensive, which leads to a more fun and exciting gameplay experience, especially if you're the one throwing up three goals and picking up the big win.
All-in-all, EASHL in NHL 17 looks to be a massive improvement over what it was in NHL 16.
Keep in mind, this is still just the beta. While a vast majority of what we are getting in the beta is what we will get in September when the game drops, there are still some minor issues that can and will be fixed by EA.
If I was forced to give EA Sports Hockey League a letter grade, it would be an A-minus. Outside of some minor gameplay issues, the game mode is vastly improved compared to last year's product. EASHL is fun to play, and once your club starts to get on a nice winning streak, you won't want to put the controller down.
Have you been playing the NHL 17 beta? What are your thoughts on EA Sports Hockey League?