Arizona Coyotes center Martin Hanzal has one more year remaining on his current five-year contract, but he may not receive a contract extension before the start of this season according to general manager John Chayka.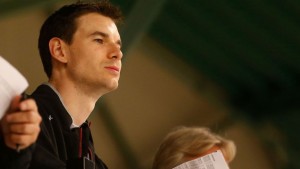 "If there was something that made sense, we would probably take a closer look at that because Marty's been a good player for us, but maybe it's not a bad thing to get into the season and see how things play out," Chayka told Arizona Sports on Thursday.
Chayka's approach to Hanzal's contract extension differs from former Coyotes GM Don Maloney who had hoped to sign the talented forward before the end of this offseason.
A native of Czechoslovakia, the 6'6″, 226-pounder was chosen by the Coyotes with the 17th pick in the 2005 NHL Entry Draft. In his nine-year NHL career, Hanzal, 29, has skated in 557 games and registered 287 points and has been plagued by injuries.
Despite his success, Chayka may want to see how Hanzal holds up after the start of next season before the organization decides to offer him a contract extension. During the 2014-15 regular season, Hanzal underwent season-ending back surgery after Maloney reported his back had gotten progressively worse in recent seasons.
In the 2015-16 season, Hanzal returned to the Coyotes and played in 64 games tallying 13 goals and a career-high 41 points.
Steven is a lawyer and writer with a passion for the game of hockey. He's the Lead Writer covering the Tampa Bay Lightning with THW. He's also been press credentialed through the Lightning since 2016. His work has been published at The Fourth Period, LightningInsider.com, Bolt Prospects, The Sports Daily Network, U.S. College Hockey Online and College Hockey News. He's had radio appearances on TSN 690 in Montreal, Lightning Power Play Live and multiple podcasts to give insight and analysis on the team. He can be reached on Twitter @StevenDiOssi and by email at sdiossi@gmail.com.