After over two decades of playing with the Arizona Coyotes (formerly the Winnipeg Jets franchise), Shane Doan's playing career with the Coyotes is over. The team announced Monday that they would not be offering their long-time captain a new contract for the 2017-18 season, effectively ending his tenure with the team that dates back to the 1995-96 season.
OFFICIAL: #Coyotes Issue Statement Regarding Shane Doan https://t.co/EEiyA2ANdb

— Arizona Coyotes (@ArizonaCoyotes) June 19, 2017
Statement From the Coyotes
The statement on Doan on the Coyotes' official team website, written by team owner, chairman and governor Andrew Barroway, reads as follows:
After serious consideration, we have decided to not offer Shane Doan a contract for the upcoming season. The time has come for us to move on and to focus on our young, talented group of players and our very bright future. This was a very difficult decision given what Shane has done for the Coyotes and his unparalleled importance to the organization. With that said, this is necessary to move us forward as a franchise.

On behalf of the entire organization, I would like to sincerely thank Shane for everything he's done for the Coyotes on and off the ice the past 21 years. Shane is a Valley icon who had an incredible career and was one of the best captains to ever play in the NHL.

Shane deserves an enormous amount of credit for keeping the Coyotes in the Valley and for growing the game of hockey in Arizona. He is beloved by our fans, corporate partners and the media and has been a tremendous leader for us in the community, and a great role model for kids. We wish him and his family all the best in the future. He will be a member of our Pack forever.
Impressive Playing Career
Playing his entire career to date with the Coyotes franchise, Doan as been the model for what every NHL player should strive to be. A true leader on and off the ice, Doan has done his best to not only command respect with impressive play, but with his general demeanor as well. With 402 goals and 972 points in 1,540 games, Doan has proven to be one of the better players of a generation. Consistency is probably the best word to use when describing the veteran as he went nine straight seasons from 2000-01 until 2008-09 scoring at least 30 goals and recorded at least 50 points in 11 of 12 seasons from 1999-00 until the 2011-12 season.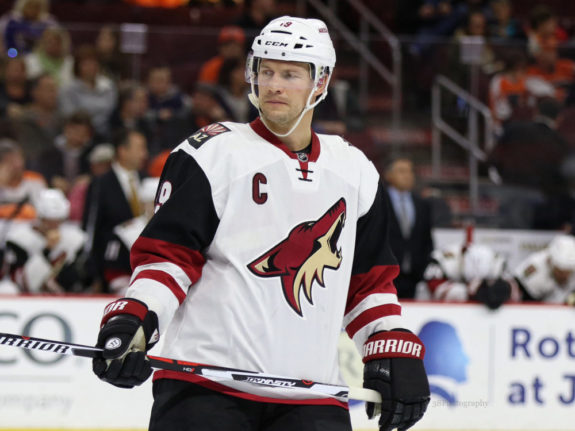 While Doan didn't have the best season at age 40 last year, scoring six goals and 27 points in 74 games, he's still only one season removed from a 28-goal, 47-point season in 2015-16. Reports as of late have stated that Doan is leaning towards playing another season. Those reports, however, were made prior to this announcement by the Coyotes. Still, according to Pierre LeBrun, there are likely still teams that are interested in Doan's services.
If Doan does retire, however, he could find himself remaining with the Coyotes franchise in a front office role as LeBrun mentions – even if that retirement doesn't necessarily come this year. It's rare to see a player last an entire career with one franchise in today's era of sports, but Doan has done so to this point. Whether or not he finishes his career with that distinction will only be known once Doan makes his intentions clear.
Brandon Share-Cohen has covered the NHL and various professional sports for seven years. Working with The Hockey Writers, Brandon works extensively on covering the Boston Bruins in addition to his role as the News Team Lead.