Anyone expecting Sidney Crosby to announce his retirement during Tuesday's press conference—as so many of the Canadian media seemed to try to goad out of the 24 year old—came to the presser with unrealistic expectations.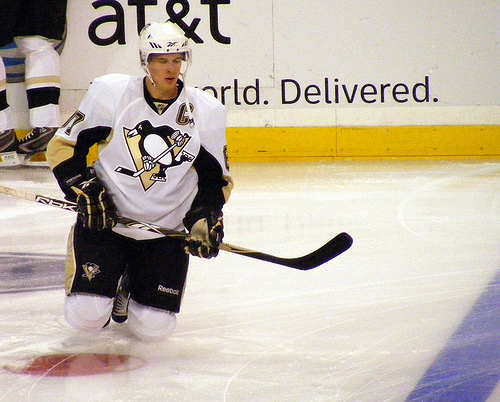 The media session provided only what fans and reporters should have known all along—that Crosby won't return until he is fully healthy, that the recovery process has been unpredictable and ever-changing, and that he, like all of us, will have to wait.
And wait.
And wait.
The months-long recovery process for post-concussion syndrome is nothing new to the NHL, but the absence of the league's marquee player and the resultant media hurricane have made Sid's case a clinic in irresponsible journalism.
For the myriad articles guessing the top-ten reasons why Crosby will retire and tweets citing unnamed sources who may not even exist, Paul Hunter of CBC National News provided one of Tuesday's best examples of how silly the rumors surrounding Sid's injury have become:
Hunter: "…I have yet to hear an absolute—and I recognize that that's part of the problem with these kinds of injuries—but I wonder if, given that, you're willing to say what so many people are thinking, because of the stakes involved here and the importance of this kind of injury, which is that there remains a possibility that you will never play in the NHL again?"


Crosby: "Mm-hmm. Pretty slight one."
Hunter's was only one of a handful of questions which tried to extract a bombshell from Crosby, but the reality persists that there are no bombshells with these kinds of injuries. Flanked by concussion specialists Dr. Micky Collins and Dr. Ted Carrick, Crosby and Penguins' GM Ray Shero were able to reinforce the party line—that injuries like Crosby's just require patience.
"It makes sense that with where [Crosby's] injury was, it's going to take a while to rehabilitate this," said Collins.
Though the discussion will never be put to rest, the decision seems to have been made that Crosby will return whenever he is 100 percent recovered, a decision that team officials have reiterated time and again since early this year.
Knowing now that Crosby "isn't even close" to resuming full-contact practices, the team will have to hit training camp and the preseason under the assumption that Crosby won't be a part of the team.
Thankfully for the Penguins, preparing for the beginning of the season without their star pivot will be made easier by the team's strengths in other departments.
For the forseeable future, this is Evgeni Malkin's team
Lost in so much of the discussion surrounding Crosby is the fact that the Penguins have two superstar centers on their team. Malkin, like Crosby, is more than capable of being a dynamic scoring threat, and will be tasked with doing so this season.
After two straight seasons marked by nagging injuries, inconsistent play and a dearth of suitable linemates, Malkin figures to enter the 2011-12 season as well-armed as he's been since 2007-08. The Penguins' From Russia With Love series illustrated how hard Malkin has worked this offseason, both to recover from a knee injury which took him out of the 2010-11 season in February and to regain his Conn Smythe form of two years ago.
Close friend Sergei Gonchar and Penguins Strength and Conditioning Coach Mike Kadar have both stated that Malkin's summer workout regimen has been as demanding and disciplined as they've ever seen from him.
When the season begins, Malkin will be flanked by the team's best wingers. James Neal figures to play Malkin's right side, providing the kind of scoring touch on the wing that Malkin hasn't enjoyed since playing with Petr Sykora several seasons ago. For Neal, playing with Malkin will be a tremendous upgrade over Mark Letestu.
Chris Kunitz figures to keep his spot on the first line left wing, where he was on pace to score 30 goals last year before injuries derailed his season as well as Crosby's. Though he and Malkin have never spent any considerable time on the same line, Kuntiz' play in front of the net should help create the kind of traffic Ryan Malone used to create as Malkin's winger before he signed with Tampa Bay.
Dan Bylsma is an award-winning coach, and will get the most out of what he has to work with
If last season's 106-point finish proves anything, it's that head coach Dan Bylsma knows how to extract the best results from the unlikeliest of sources.
A candidate to be cut or traded at last year's training camp, Tyler Kennedy became the team's best scorer after a one-on-one session with Bylsma. An optional skate which only Kennedy attended ended up being the hour-long, one-on-one turning point of his season.
While Marc-Andre Fleury and the defensive corps helped to keep the team together while injuries decimated the forwards, it was Bylsma's ability to make a patchwork lineup keep pace in the Eastern Conference that led him to win the Jack Adams Award as the NHL's best coach.
Even with Crosby out, Bylsma will have a lot more healthy pieces to begin this season than he did to end the last one. His uptempo style and relentless demands of backchecking and defensive responsibility will keep the team on the winning side of games more often than not.

The Penguins' have one of best defensive groups/defensive structures in hockey
Anchored by Kris Letang and Brooks Orpik, the Penguins' defensive staff is among the best in hockey.
Unlike last year, the team's top-seven defensemen are all returning players and will be familiar with their teammates and expectations. Last season, only Letang and Orpik were carryovers from the 2009-10 unit.
Familiarity should breed success, as should personnel. Zbynek Michalek and Paul Martin make up one of the best second-unit defensive pairings in hockey, and Ben Lovejoy, Deryk Engelland and Matt Niskanen figure to be pushed for a roster spot by super-prospect Simon Despres during the upcoming training camp.
Couple the blueline personnel with the team's total philosophy of defense (in which backchecking and hard work are held in higher regard than offensive flash), and the Penguins are likely to finish in the top-six of total defense once again.

Marc-Andre Fleury seems primed to have a career year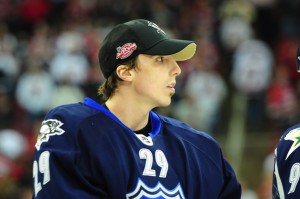 One of the biggest beneficiaries of last year's excellent defensive group was goaltender Marc-Andre Fleury, who enjoyed one of his best statistical seasons even after a horrid start to the year.
If the returning group of defensemen manages to stay healthy and resumes their stellar play of a year ago, Fleury can only benefit from them.
Though inconsistency is a term that Fleury has been unable to shake in his short but successful career, the pieces seem to be in place to lend a measure of consistency to his game this year. It was Fleury who was named Team MVP last season, thanks to his stretch of Vezina-quality play in the last few months of the season.
With very little turnover in front of him and the expected healthy returns of a number of skilled forwards, Fleury will be in prime position to have the best statistical season of his career, and perhaps eclipse 40 wins for the first time.

One injury is less significant than ten
Even though Crosby is unlikely to begin the season on the active roster, it will be more important for the Penguins to field a complete roster than an injured one featuring their captain.
The Penguins endured nearly 400 man-games lost to injury last year, yet still managed to finish with 49 wins, 106 points and within two points of the Eastern Conference's first seed.
Malkin, Kunitz, Jordan Staal, Orpik, Michalek, Letestu, Dustin Jeffrey, Matt Cooke, Eric Tangradi, Arron Asham and others missed significant time with injuries last year. If the Penguins can get through this season without enduring an incredible rash of injured scratches like the one they experienced in 2010-11, they'll be in excellent position to retake the Atlantic Division title, with or without their captain.
James was a Penguins contributor at THW and SB Nation Pensburgh and owns the Pittsburgh sports blog Slew Footers.