Like so many professional athletes will tell you, your draft day to the big leagues is a huge moment for not only yourself but also those who have supported you along the journey. Just to grasp a taste of what it's like to perform at the highest level would be rewarding enough for so many who have dreamed of playing in the NHL.
Related: Ranking the NHL's 31 Starting Goalies – 2020 Postseason
For the Tampa Bay Lightning, and their starting goaltender Andrei Vasilevskiy, winning the Stanley Cup this season was a childhood dream that became a reality, but despite Vasilevskiy starting all 22 Stanley Cup playoff games, backup goaltender Curtis McElhinney still had a big part to play in helping his team win the Cup, too.
176th Overall
McElhinney was drafted by the Calgary Flames 176th overall in the sixth round of the 2002 NHL Entry Draft in Toronto. That year, the first overall pick was Rick Nash, followed by Jay Bouwmeester at No. 2, while Ryan Whitney was selected third overall. After McElhinney was drafted by Calgary, the London, Ontario native continued playing hockey and pursued an education at Colorado College.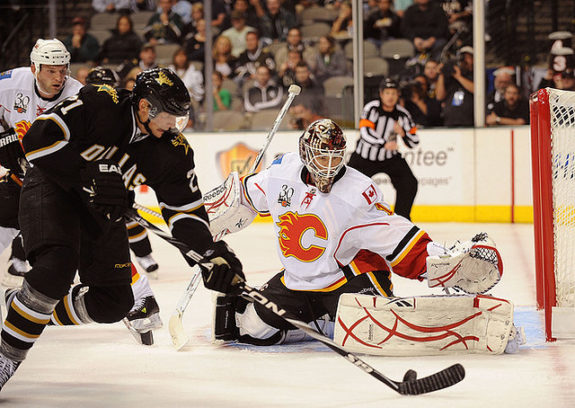 In his four seasons with the Colorado College Tigers, McElhinney posted an impressive 62-15-8 record. He was also given the nod to the Western Collegiate Hockey Association All-Star Team in 2003 and 2005, as well as NCAA Second and First All-American Team selections in 2003 and 2005.
Time in Calgary
McElhinney's first NHL game was in relief of Flames starting goalie Miikka Kiprusoff on Oct. 22, 2007, against the Sharks, and his first NHL win came the season after, on April 11, 2009, in a 4-1 game against the Edmonton Oilers.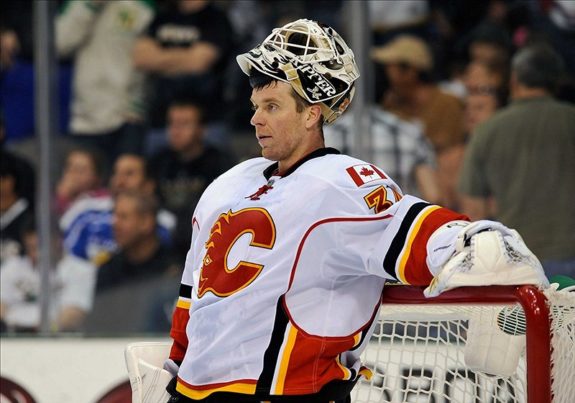 McElhinney's playing time in Calgary was brief, largely because Kiprusoff carried such a heavy load of games started every season he played in Calgary. Out of Kiprusoff's nine seasons with the Flames, there were only two seasons where he didn't start 70+ games out of the 82-game schedule. The lack of playing time may have seemed hard on McElhinney, but the two netminders built a very solid relationship during their tandem days.
"One of the things I have in common with Kip is we both like fishing, so we have a little distraction there that we can talk about besides hockey," McElhinney said (from 'Flames' McElhinney used to backup role', CBC, 04/14/09). Having a stress-free tandem is important to a team's success, and it was McElhinney's determined attitude that landed him his next NHL job via a trade to the Anaheim Ducks. (from 'McElhinney traded for Toskala,' Calgary Herald, 03/03/2010)
California Dreamin'
It was in Anaheim where McElhinney started seeing his ice time increase. Of course, being traded always comes as a shock, but he knew the change of scenery was for the best.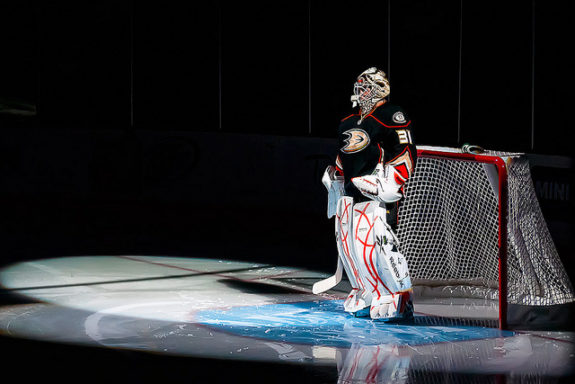 "Surprised, shocked if anything. It obviously was a tough situation. It's difficult playing behind Kip (Miikka Kiprusoff). He loves carrying the load and he does very well with it but I think this is a good thing. I'm looking forward to it as a good opportunity" said McElhinney. He posted a 5-1-2 record with the Ducks in 2009-10, after it took 14 games to earn his first NHL victory while with Calgary.
Sweet Revenge
On Feb. 11, 2011, a capacity crowd packed into the Saddledome to watch the Flames take on the visiting Ducks. When I looked down at the ice from my section 202 seats, I noticed a familiar face in the crease during the pregame warmup. None other than former Flame, McElhinney was starting for the Ducks, and the result couldn't have shocked Flames fans more.
McElhinney backstopped 21 saves on 25 shots, as he and the Ducks defeated Kiprusoff and the Flames 5-4 in overtime. McElhinney was greeted by his family and friends on the Saddledome's concourse, and I will never forget his smile following the hugs and laughs he shared with them. What a feeling it must have been to defeat his good friend Kiprusoff, and his former team, in the building where his career began.
So Close in Carolina
McElhinney has suited up for eight different NHL teams during his career. Although he can sleep easy knowing his name will be engraved onto the Cup, he came very close to another Stanley Cup Final appearance in 2018-19. The Carolina Hurricanes were a very optimistic team in 2018-19, and McElhinney was another one of their big surprises.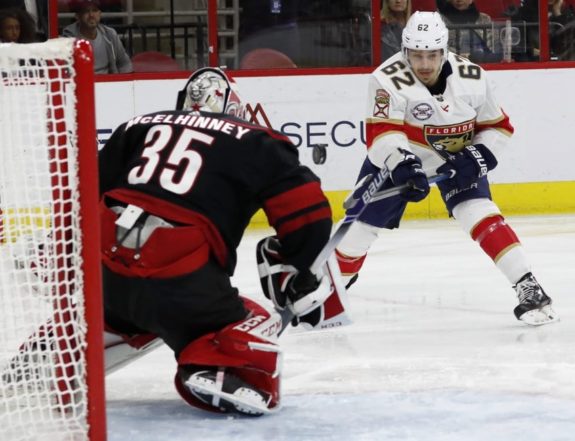 He had a .912 save percentage (SV%) with the Hurricanes, and a regular-season record of 20-11-2, while going 3-2 in the playoffs. The Canes took a big step that season by making it all the way to the Eastern Conference Final before losing to the Boston Bruins, but McElhinney received high praise for his contributions from David Marcoux, the former goaltending coach of the Flames and Hurricanes.
Low Risk, High Reward
When the Lightning signed McElhinney to a two-year, $1.3 million contract, they knew exactly who they were getting. He had spent a large portion of his NHL career from the best seat in the house, the bench. He has been in the league for 12 seasons but has only started 186 games. When you're backing up keepers like Kiprusoff, Jonas Hiller, and Petr Mrazek on a nightly basis, you learn how to carry yourself professionally.
Related: Best NHL Goalies of the 1980s
Of course, every backup wants more playing time, but instead of complaining, he pushed forward. Despite not seeing any ice during the playoffs this past season, its no doubt that McElhinney's presence was felt throughout the Lightning's locker room during their magical run to capturing a championship, as the 37-year-old proved to be a welcoming addition to the Bolts roster.
---
---