Though he'll never be known for being a great defensive defenseman, Trevor Daley was a respected leader on and off the ice for the Stars. Prior to this month's
blockbuster trade
, Daley knew only one NHL home, Dallas.
The Stars named Daley an alternate captain back in February 2013. He and veteran Stars forward Vern Fiddler were the alternate captains last season.
What exactly does an alternate captain do?
An alternate captain typically demonstrates leadership attributes and is usually a future captain or veteran presence who supports the captain. Alternate captains are also allowed to speak with referees about rule interpretation when the captain is not available, or not on the ice.
Candidates to Wear Stars "A"
Jason Spezza is a former captain of the Ottawa Senators. Spezza was also appointed alternate captain of Team Canada by Stars (and Team Canada) GM Jim Nill prior to the 2015 World Championship which Canada won.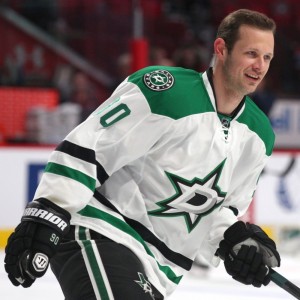 Spezza was often under the microscope wearing the "C" for the Senators. He didn't have to deal with that last season but perhaps the "A" supporting the Stars young captain Jamie Benn would be suitable to Spezza.
Patrick Sharp wore an "A" for the Stanley Cup champion Chicago Blackhawks last season. He has three Stanley Cup rings. He also had to work his way into a full-time NHL player, shuttling back and forth from the minors to the NHL, when he came up with Philadelphia.
Johnny Oduya has worn the "A" back when he was an Atlanta Thrasher. Nill has gushed about Oduya being a perfect role model for the younger defenseman. Oduya would also mean someone besides a forward having a letter. Oduya has the Cup rings and is also Scandinavian like many of the Stars defensemen.
Longshots to Wear Stars "A"
Alex Goligoski wore an "A" in college with the Minnesota Golden Gophers. He definitely led by example last season. Goligoski played hurt most of the year and still led the Stars defense in games played, assists and ice time. However, he could be a contract casualty in a couple of years when the salary cap catches up with the Stars.
John Klingberg is coming off an exceptional rookie season and is an unlikely choice here, but it is clear the Stars are grooming him as their number one defenseman. He's also signed for seven years. He was an alternate captain in Sweden for Frolunda HC.
Cody Eakin is a critical all-purpose forward for the Stars. He's only 24 though, and since the captain Jamie Benn is only 26, my guess is they will go with someone older and with more skins on the wall. Eakin has worn an "A" and "C" during his junior days in the WHL.
Antoine Roussel would clearly be the choice if the "A" stood for agitator or animal. The fearless forward's journey started in France and continued with various minor league stops before developing into a key forward for the Stars. His on-ice discipline has improved, but still occasionally has lapses. Let's revisit this one after a couple more seasons.
Who would Stars fan's choose?
Subscribe to our Stars stories to get email updates every time a new story is published.
Ed Sarno is a Dallas Stars staff writer for The Hockey Writers. You can follow him on Twitter @Edtexmass09