The Dallas Stars finally found a way to score on goaltender Robin Lehner – after he blanked them for nearly two games – and came away with a 3-2 overtime win over the Vegas Golden Knights in Game 3 of the West Finals. Alexander Radulov ended the game just 31 seconds into overtime when he ripped a shot past Lehner that rang off the post and found the back of the net.
With 16.7 seconds left in the second period, it was Jamie Oleksiak who snapped the Stars lengthy goalless streak (157 minutes and seven seconds) when he used the shake-and-bake move to finally solve Lehner. That was Dallas' first goal since way back in the early stages of Game 1.
In the third period, Vegas tied it thanks to Shea Theodore's power-play blast and then tied it again when Mark Stone was able to tip a shot past Stars netminder Anton Khudobin. Those goals were sandwiched around a wicked five-hole shot from Dallas captain Jamie Benn that gave his team their second one-goal lead of the game.
That was all just setting the table for Radulov to don the hero cape before many of the fans had returned to their seats (at home) or before they flipped the channel back from the season-opening NFL game. 
Here are our three takeaways following a Game 3 triumph that saw Dallas take a 2-1 series lead over Vegas, and move two wins away from the Stanley Cup Final.
1. Alexander the Great
If the Stars go on to win the Stanley Cup (yes, there are still six wins to go) Radulov's goal will likely be remembered as a defining moment of their run. There have been many of those moments already so far, but Dallas probably didn't deserve to win Game 3. Vegas was thoroughly outplaying them, and outshooting them but it was the Stars who hit the jackpot in overtime and regained the series lead.
"I got into the zone and I just close my eyes and shoot it," replied Radulov when asked about if he tried to shoot far side on the winning goal during his postgame availability. His answer had his teammates (Benn and Khudobin) unable to contain their laughter, but as much as hockey stats are tracked and scrutinized and oft times over-analyzed it just shows that a lot of it comes down to luck and bounces.
Both teams entered overtime undefeated this postseason – Dallas 3-0, Vegas 2-0 – but only one remained unblemished after Radulov's heroics. On the winning goal, Benn started the play in his own zone, passing to Joe Pavelski in the neutral zone and he found a streaking Radulov on the opposite side of the ice. The rest is history.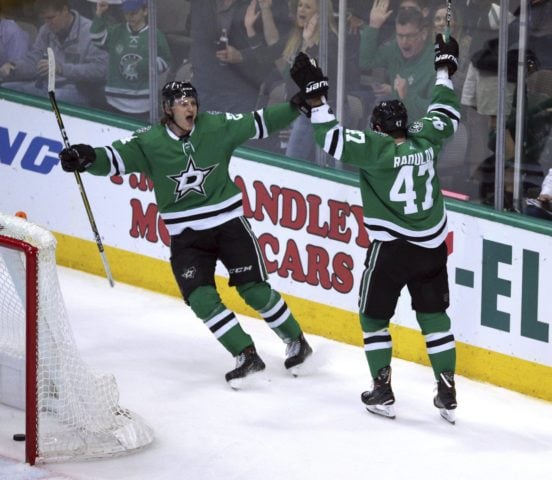 The 34-year-old Russian winger has had some big moments during these playoffs, and this was his fourth game-winning goal since Game 4 (also in overtime) of their opening-round series against the Calgary Flames. He hasn't shown up on the scoresheet since his two-goal performance in Game 7 vs. the Colorado Avalanche, but every time he has scored this postseason the Stars have come away with a win. Radulov now has eight goals and four assists in 19 games in these playoffs. He is the third player in Dallas Stars history to score an overtime goal in a Conference Finals game, joining Jamie Langenbrunner (1998) and Joe Nieuwendyk (2000).
2. Doby & the Defense Never Rests
Khudobin finished the game with 38 saves but it felt like he saves the Stars' butts 3,800 times in Game 3. It wasn't their best game defensively at all, but a win is a win and at the end of the day they won as a team. The Golden Knights thoroughly outshot Dallas in the first (12-4) and third (18-4) periods, but once they got to overtime the Stars needed just one shot to end it. He kept them alive time after time in the third period. Like we mentioned after Game 1 if there is a Conn Smythe Trophy discussion – Khudobin has to be in that conversation.
Related: 3 Takeaways From the Stars' Game 1 Win
"We're not in overtime without him," interim head coach Rick Bowness said of his goaltender after the game during his media availability. "We had two great periods and then all of a sudden we're taking back-to-back penalties and giving those guys life, and they took advantage of it."
"We talk a lot about bending and not breaking, and a big part of that is your goaltender. He was fantastic tonight," added Bowness. "He made some huge saves. We don't win it without his play."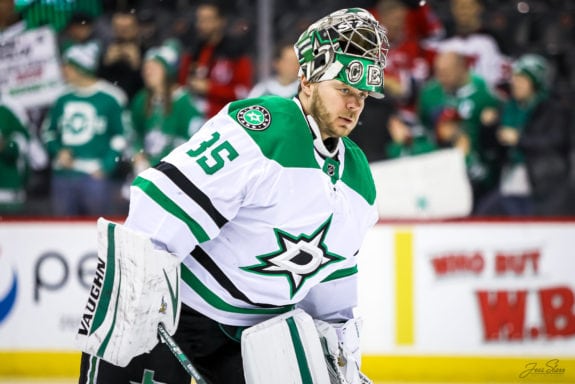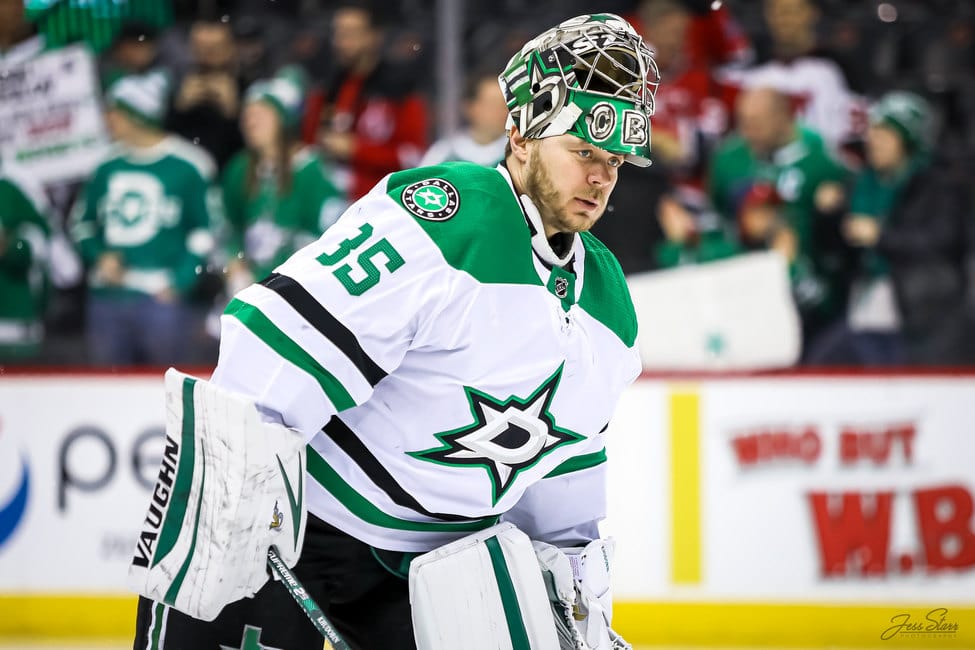 They may have given up a power-play goal in the third period, but the team in front of Khudobin was blocking shots left and right all night, whether it was on the penalty kill or at even strength. Jason Dickinson, Oleksiak, and Andrej Sekera each had three blocks, and as a team, they finished with a total of 21. 
The Stars also outhit the Golden Knights 55-42 in Game 3 and only one player for them (Esa Lindell) didn't register a hit. Dickinson led all players in the game with eight and Miro Heiskanen was right behind him with seven.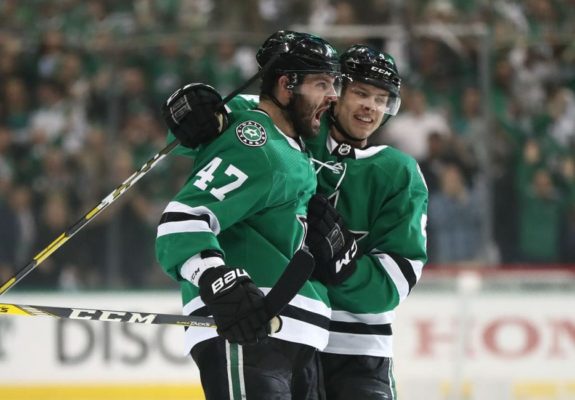 Of the 57 goals that the Stars have scored this postseason, defensemen have a point on 42 of those following Game 3. Heiskanen assisted on the game's opening goal, which gives him 22 points (5g-17a) this postseason – that leads all Dallas players and is tied for third in the NHL behind Nathan MacKinnon (25) and Brayden Point (23).
29-year-old defender Joel Hanley has played in only 46 career regular-season games and five playoff games in his career. Four of those playoff games have come since Sept. 4 (Game 7 vs. Colorado) and in Game 3 he picked up his first career playoff point on Benn's goal that gave Dallas a 2-1 lead with 12:25 left in regulation.
3. Big Bad Benn
After going pointless in the three round-robin games that the Stars participated in, Dallas' captain has put up 16 points (6g-10a) in 16 games. In four of those sixteen games Benn was held off the scoresheet, but none of them were in back-to-back games. So after he and the entire team was held without a point in Game 2, you just knew that he was going to have an impact on Game 3.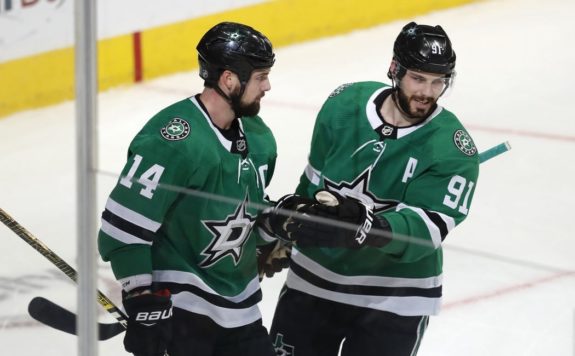 Coming into Game 3 the Stars had only scored one goal in two games, so Bowness reunited his top line of Benn, Radulov, and Tyler Seguin and got the results that he wanted. "They've been together a lot the last couple of years and you go to them and you say, 'okay, it's time to get this thing rolling.' We challenged all of our veterans. We can't be counting on and relying on our younger guys to carry the offense." 
Six shots on goal, five hits, four quality scoring chances, one goal, one assist. That was Benn's stat line in Game 3. Message received. Pretty, pretty, prettay good if you ask us. 
Up Next
The Stars will look to take a 3-1 series lead over the Golden Knights when the puck drops on Game 4, which will be Saturday, Sept. 12. Game 5 will be Sept. 14 and if necessary, Game 6 will be on Sept. 16.
---
---
Dan Rice is in his 9th year of reporting for THW & has covered NJ Devils home games for 15+ years at various websites. He began his journey working for legendary broadcaster/writer Stan Fischler from 2002-04 & completed an internship at the ECHL; he also has been writing features for the NWHL (nwhl.zone) website since 2016.