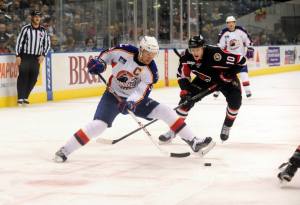 In hockey, the role of Captain is pivotal to a team's success. No matter if they're first in the league or dead last, the captain's role is crucial on the bench and in the locker room. The Anaheim Ducks top affiliate in the American Hockey league, the Norfolk Admirals, couldn't have asked for a better captain than 32-year-old center Dave Steckel. Steckel's talents have led him to play 425 games in the NHL spanning four teams. The Ohio State Alumnus has the resume to back the C on his jersey.
Norfolk's Head Coach Jarrod Skalde talked about why he decided to give Steckel the C this season saying, "It was an obvious choice. I think with Dave's experience, his knowledge and his natural leadership, he commands respect from his teammates, coaching staff, and everybody. It was a natural decision that Dave's our leader. He practices hard and plays hard. He's a good person and a good family guy that has a lot to offer our younger guys and everyone else on our team."
Anytime you get to wear the captain C in hockey it's an honor and something you don't take for granted because you are a leader and others players will hopefully follow in your footsteps. Skalde mentioned that Steckel was excited when he notified Steckel that he will no longer be wearing an A, but would start the next game with a C on his chest, "He was excited. It's an honor to wear that letter on your jersey at any level. For Dave it's an honor for him and a thrill for him and it's something that he cherishes and something he takes very seriously."
Wearing a letter means extra responsibility on and off the ice, but the letter does not change Steckel's game as he shared, "It's always surprising when you get an accolade like that. I was fine with an A, but if you know me, a letter doesn't really matter to me. It's how you go out there and play."
The biggest part of Steckel's job is to lead by example on the ice.  " I lead by example and I think that's most important. When you lead by example, there are still times to talk and when it's time to talk I think guys take notice more often," noted Steckel.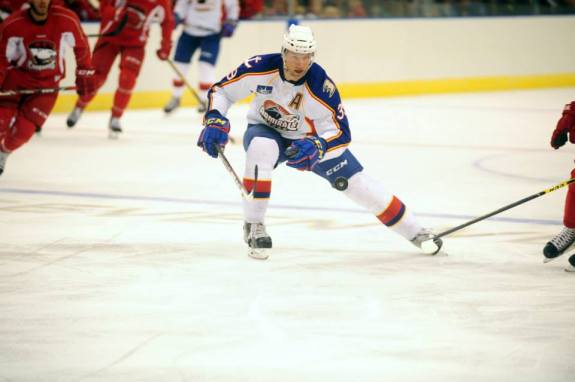 While Steckel admitted he likes to lead by example, his Coach sees him as a vocal leader; as well as; a player who leads by example, "He can be both. Dave competes. He enjoys the game and he loves the game. He's not afraid to be vocal. I think it's a great combination that he has with his leadership ability," stated Skalde.
As of December 2nd , 2014 the Norfolk Admirals are in the cellar of the Eastern Conference with 16 points. Sitting in last place is not ideal for any team and a part of Steckel's duties is to keep the team honest and hold them accountable for mistakes. "We have to learn from our mistakes. You have to watch tape and you have to watch yourself out there. We're making a lot of simple mistakes that can be corrected. I just come to the rink every day and remind myself that the sun is going to come up and we're going to be playing hockey, " said Dave.
While no one knows what the future holds for the Admirals, one thing is for certain given his resume and leadership abilities Steckel will make a great Captain.
Ted grew up in Virginia. Warren has a passion for the AHL and dishes out articles about the Norfolk Admirals and the AHL. Follow him on Twitter @bauerhockeydude