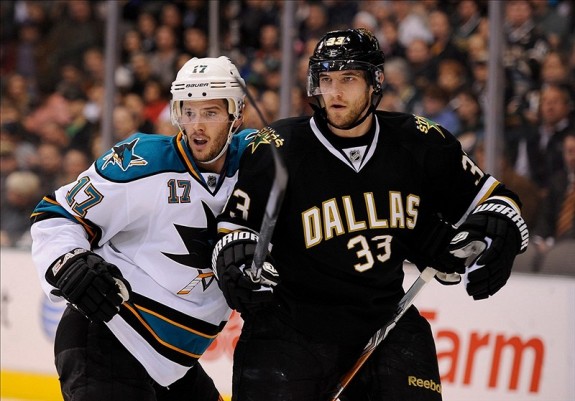 When it comes to winning hockey games this season, the Dallas Stars know that they aren't going to do it by means of sheer hockey talent alone.
Sure, Jamie Benn is a budding superstar, a gamebreaking player with enough skill to dance through an entire opposing team, just like this. Tyler Seguin and Ray Whitney can work magic with the puck, but the two players are at opposite ends of their careers, with neither in their prime playing years.
Beyond that, there isn't a lot of "wow" factor on the Dallas roster. The Stars don't have the luxury of having an embarrassment of hockey riches that a team like the Chicago Blackhawks, Pittsburgh Penguins, or others do.
However, that certainly doesn't mean that the Stars can't be a strong team this year. Far from it. They just have to go about it in a different way, a way that Stars fans might have gotten their first glimpse of on Saturday night.
On Saturday the Stars picked up their first win of the season, edging out the Washington Capitals by a final score of 2-1. While a 2-1 win may not seem like much, the Capials have one of the league's most dynamic offenses, led by reigning NHL MVP Alexander Ovechkin, but were held to only one goal and 26 shots in the game, and notably only six shots in the final period while down a goal.
How did Dallas do it? A closer look at the time on ice stats for the team starts to tell the tale.
Out of the Stars' 18 skaters for the game, only two players had over 20 minutes of ice time: Alex Goligoski with 20:50, and Brenden Dillon with 20:38. Even more interestingly, the least amount of ice time was played Ryan Garbutt, who had 12:27.
That's a difference in ice time of only 8:23 between the team's #1 defenceman (or the closest thing they have to one…more on that later) and one of their 4th line wingers, which is a very telling number when it comes to what could be the key to Dallas Stars' season: depth.
What the Stars lack in amazing talent, they more than make up for in terms of great or pretty good talent. As evidenced on Saturday night, the Stars appear to be a team capable of rolling four lines and activating all six defencemen, a strategy that they are likely to continue trying out as the season goes on.
Benn, Seguin and Erik Cole make up a solid, if not spectacular, bonafide top line. Whitney, Cody Eakin and Alex Chiasson make up a second offensive line that is at it's worst capable, but at its potential best dangerous, depending on whether or not the impressive development of Chiasson and Eakin continues at its current pace.
Beyond that, though, is where things get interesting. The Stars have a nice looking 3rd line consisting of veterans Shawn Horcoff and Vern Fiddler, paired with 18 year-old rookie Valeri Nichushkin, who has looked better than expected at the defensive side of the puck. But if that's the 3rd line, consider the trio of Garbutt, Rich Peverley and Antoine Roussel as line 3B, as they were one of the best overall lines against the Caps and were given the ice time to show it, even more minutes than line "3A."
The catalyst to the "3B" line is Peverley, who played 16:49 in his Stars debut, despite missing all of the preseason and Dallas' season opener because of a procedure to correct an irregular heart beat. To put that into context, Benn played only 1:09 more at 17:58.
Peverley, acquired in the offseason as part of the Tyler Seguin trade, is a strong two-way presence capable of playing anywhere from the 1st line down to the 4th, as well as on the powerplay or the penalty kill, and is a Stanley Cup winner from the 2011 Boston Bruins. Having that kind of player on your "4th" line gives a coach all sorts of options.
The same story exists on the blueline. Five of Dallas' defencemen averaged over 20 minutes per night last season – Goligoski, Dillon, Stephane Robidas, Trevor Daley and Sergei Gonchar – and those same five are capable of doing the same this year. While they lack a truly elite, all-around defender, the sum of the parts can create an admirable whole.
Adding to the defensive depth, 28 year-old Jordie Benn, who wasn't even a lock to make the team out of training camp, has also looked good thus far going back to the preseason, and is generating positive feedback from his coaching staff.
"Jordie has stepped in and we haven't been worried about using him one bit," said Stars assistant coach James Patrick, as quoted by Mark Stepneski over at the Stars' official site. "He skates well, he's probably got the hardest shot of the D on the team and with his mobility he can play at both ends. We've been pretty happy with his game. There's still a lot of room for growth playing at the defensive end, but he's competitive and he works at it. We're happy with the way he is playing."
The Stars' depth goes hand-in-hand with what new head coach Lindy Ruff is trying to instill with his new club. Since he was hired Ruff has been preaching the mantra of aggression, hard work and responsible two-way play, asking  for maximum effort from his players on every shift and at both ends of the ice, a recipe that worked in frustrating the high-powered Capitals. It's a tough system to implement when you have players logging gargantuan, Ryan Suter-esque minutes, but a lot easier when shifts are short and minutes are evenly distributed.
While they might not have the highlight-reel talent of some of the league's more prolific teams, the Stars are going to try to find whatever ways they can to be successful: even if it's one way split into 18 or more parts.
The NHL regular season schedule was released on Friday. Check out our partners at TiqIQ for the best deals on Dallas Stars tickets for all 2013-14 games.
Derek Neumeier primarily covers the Dallas Stars, but also other various topics related to the sport of hockey. A Journalism graduate of Mount Royal University, Derek also writes for Defending Big D, and has done previous work with the Edmonton Oilers as a communications intern and Hockey Canada as a freelance writer. You can follow him on Twitter at @Derek_N_NHL