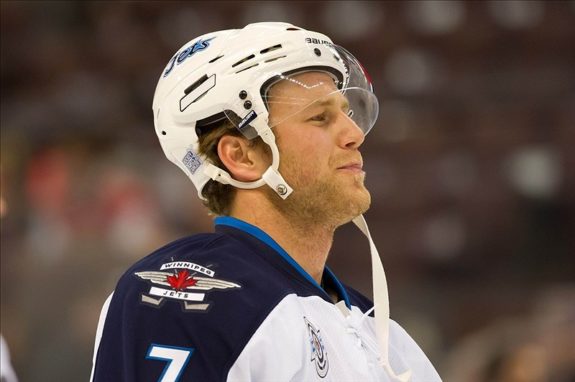 In the event of a full season lockout, teams could be at a crossroads when resigning players. But for some players with NHL contracts, there's been an opportunity to play at the AHL level during the lockout. Depending on when free agency could begin, teams will not have a considerable amount of time to begin negotiations with pending unrestricted free agents. One player who could fit into that scenario is Winnipeg Jets defenseman, Derek Meech.
Meech, 28, has been playing for Winnipeg's AHL affiliate, the St. John's IceCaps this season. He's brought some solid veteran leadership and NHL experience, most notably for the Detroit Red Wings. Meech was mainly a depth defenseman for Detroit during the Red Wings Stanley Cup run, filling in on the last pairing when needed. Although he didn't spend much time on the Red Wings blue line during the playoffs, the smooth skating defenseman played 49 regular season games for Detroit during the 2009-2010 season and posted two goals and four assists on the year.
This is Meech's second season with the Winnipeg Jets, signing with the newly moved franchise in the summer of 2011. He was born and raised in Winnipeg and couldn't pass up a chance to play for his hometown team. He only played in two games in the NHL last season, due to injury. He was given a chance to return to Winnipeg this season and resigned on a one year deal. He'll have a chance to earn a spot on Winnipeg's blue line if and when the lockout ends.
But for now, Meech will play for the IceCaps of the AHL as he looks to prove himself as a primary blue line option for Winnipeg. He's been the most productive defenseman for St. John's this season, contributing one goal and six assists through 11 regular season contests. Although surrounded by a few young and upcoming defenseman including Zach Redmond and Paul Potsma, Meech has earned premium ice time including time on the IceCaps power play.
Last night, St. John's defeated the Hershey Bears 2-1 and Meech had quite a game, tallying the winning power play goal in the third period, to go with a secondary assist on St. John's first goal of the game. Meech blasted a shot from the point following a great feed from John Albert on the man advantage. The IceCaps had a four minute power play chance, but finally buried one home at the end of the 5-on-4.
"It was a great play by Johnny Albert," Meech said of his power play goal. "He came down the wall there and I just yelled out to him I was there and he made a good pass to me. Their guy came out on me and I just got it by and I was lucky enough to get it in off the post."
"It's obviously a little bit frustrating when you not scoring on the power play," said Meech. "In the end, Johnny Albert we made a good play up the ice and it was a little bit desperation there because we needed one. We found a way in the end."
"Anytime you going through any bit of a tough go you want to get out there and prove you can play well and get two points," Meech said of picking up a win at the end of a grueling five game road trip.
Meech will hit unrestricted free agency once again this offseason and could have multiple options if he stays healthy and produces this season at the AHL level. He's proved he can provide some offense at the blue line, recently tallying 37 points in the 2010-2011 campaign for St. John's. Although a small frame at 5'11", Meech can play on the third defensive pairing for an NHL club at a premium price. Winnipeg will have a chance to resign him, but with other young talented defenseman, Jets management could head another direction.
You can follow Matthew on twitter @m_speck and email him at mspeck21@yahoo.com with any questions or comments.
Matthew Speck covers the Washington Capitals organization for The Hockey Writers. He provides coverage of both Washington at the NHL level and prospect related content. Matthew also covers local sports for the Lebanon Daily News in Central Pennsylvania. You can email him at mspeck21@yahoo.com with any questions or comments.