Coming into the current season, it had yet to be seen whether Derick Brassard would live up to his potential as a former first round draft pick and finally seize a role as the Rangers 2nd line center. With the loss of Brad Richards due to a compliance buyout, it was anticipated that the Rangers would rely on the youthful Brassard to fill the role and blossom as a top-6 forward.
Things then took an unforeseen turn when Derek Stepan, the team's top center, went down with a broken leg early in training camp. Brassard was thrust into a first line role. Fortunately for the Rangers, Brassard seized the opportunity and responded well. Forming chemistry as of late with line mates Martin St. Louis and the NHL's leading goal-scorer Rick Nash, Brassard has put up a promising 9 points in his last 8 games after going pointless in the first two games of the season.
It's a positive sign for the Rangers, who welcomed Stepan back into the fold last week, and now have two legitimate top line centers in the lineup. For Brassard, his start has quieted expectations for the 27-year-old who signed a substantial $25 million deal this past offseason to stay with the Rangers.
 Junior Stardom & Heightened Expectations  
The Hull, Quebec native, playing for the Drummondville Voltiguers of the Quebec Major Junior Hockey League, had a phenomenal year leading up to the NHL Entry Draft.  He was ranked by Central Scouting as the 4th best North American skater eligible putting him ahead of such future stars as Phil Kessel, Claude Giroux, and Bryan Little.
With 116 points in just 58 games, Brassard was lauded for his great playmaking ability and was noted as having perhaps the "greatest on-ice vision" of any player in his draft class. That's some awfully good company and pretty strong words from scouts when you think that along with Kessel, the '06 draft class also included Niklas Backstrom and Jonathan Toews. Brassard was even awarded the Mike Bossy Trophy signifying him as the QMJHL's best professional prospect.
When Columbus selected him with the 6th pick in the NHL Entry Draft, Blue Jackets fans began to envision a one-two punch between dynamite winger Rick Nash and the playmaking center Brassard. While they didn't get what they had quite hoped for, Brassard was a respectable two-way center with great offensive upside. Unfortunately, for much of his time in Columbus Brassard dealt with injury problems and an under achieving Blue Jacket team.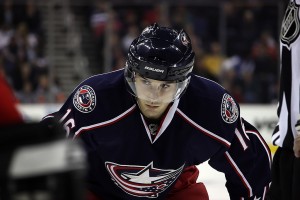 As the 2012 lockout-shortened season trade deadline loomed, then rookie GM Jarmo Keklainen was poised to shake things up and change the energy of the Columbus franchise that had been to the playoffs only once in their entire history. In a bold move, the Rangers acquired Brassard, along with John Moore and Derek Dorsett in exchange for the lethal Marian Gaborik.
 Change of Scenery
That trade seemed to be a turning point for Derick Brassard and it appeared to have ignited a fire inside him. While he put up a respectable 11 points in the last 13 games of the season, it was the playoffs where he really shined. Playing in his first NHL Playoff series, Brassard seemed to feed off the heightened pressure and helped lead the Rangers to a first round victory over the Washington Capitals. It was here he really showed flashes of being a top-line player for the Rangers. Although the Bruins proved too much for the Rangers in the next round, Derick Brassard firmly supplanted himself in the minds of Rangers fans and once again, amplified expectations for his play in the coming season.
Often starting as a third-line center, behind Brad Richards and Derek Stepan, Brassard had a difficult time providing point production in the early going last season. It took him 25 games before he registered his 10th point through the learning curve adjusting to then new Head Coach Alain Vigneault, who had been hired in the offseason. While he only registered 45 points over the course of the season, Sean Hartnett from the Daily News noted, his value and on-ice contributions far exceeded what his point total could prove.
In last season's Rangers' run to the Stanley Cup Finals Derick Brassard proved to be an invaluable piece to their lineup notching 12 points and two game-winning goals throughout the postseason. He had a positive effect on the Rangers' exceedingly mediocre power play, putting up 18 points with the man advantage, second to only Brad Richards.
After the gut-wrenching defeat in Game 5 OT, it was time to look towards next season. Brassard, a restricted free agrent who has never put up more than 50 points in any one season, was due for a new contract.  Without the fuss that normally goes with negotiations, he signed a 5 year, $25 million dollar contract.
Rewarded by GM Glen Sather with money that comes with the expected performance of a top-flight player, it seems as though Brassard is not letting the heaviness of his new contract wear him down. Speaking with the NY Post's Larry Brooks, Brassard noted that "Getting that contract didn't change my preparation for the season. I've been in the league for five or six years — maybe more, it goes by so fast — and I think I've matured as a player."
Josh recently joined The Hockey Writers as a contributing writer for the New York Islanders. Hailing from Long Island, Josh has written previously for CBS New York/WFAN.