Evaluating talent in the NHL isn't entirely dependent on talent, ability and production. In an era that is so conscious of the salary cap and its implications, fans, teams and everybody in between tend to evaluate players based not only what they can do on the ice, but also on their cap hit; for better or for worse.
If a player is very talented and produces at a level above his pay grade, it doesn't go without notice. It goes both ways, however, as some players who are very serviceable and talented simply don't live up to their salary and as such, are judged harsher than they would be otherwise.
A bad contract in the NHL can include a few factors. The first and most obvious factor stems from cap hit. If a player counts against the cap at a certain number and they aren't producing at the level of players with comparable cap hits, it's a big red flag.
Another factor can stem from the length of the contract. An example of healthy balance can be found in San Jose where the Sharks are paying Joe Thornton $8 million for the 2017-18 season. While that dollar value is simply giant by NHL standards, the fact that it's a one-year deal justifies it.
In the case of the Detroit Red Wings, there are quite a few contracts that simply can't be justified given the landscape of the league.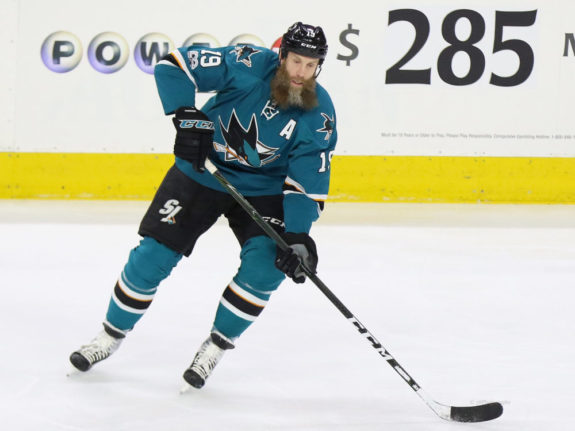 A team that was dominant for so many years, the Red Wings are finally showing signs of slowing down and dealing with salary cap troubles. Slowing down, in fact, may be an understatement as the Red Wings finished a 33-36-13 record, good for 79 points and 14th in the Eastern Conference in 2016-17.
Without much improvement heading into the 2017-18 season due to an abundance of high cap hits for players who haven't produced quite to par, the Red Wings could find themselves in an even worse position come season's end. With that, it seems appropriate to look at the three worst contracts on the Red Wings roster.
Jimmy Howard
Despite posting a 2.10 goals against average and a .927 save percentage in 26 games in 2016-17, Jimmy Howard and his contract are more of a negative for the Red Wings than a positive. With Petr Mrazek taking the brunt of the load over the last two seasons, it's clear that the Red Wings are looking at their 25-year-old Czech-born goaltender to take the over as the starting goaltender for the foreseeable future.
While Howard was the better of the two goalies last year, Mrazek has consistently been better than him over the last few seasons. As such, Howard has been relegated primarily to a backup role.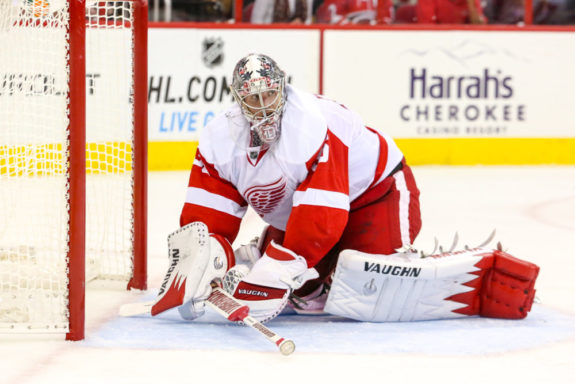 As for Howard's contract at 33-years old, the veteran goaltender is set to carry a cap hit of $5.291 million in each of the next two seasons. It isn't ideal to pay a backup goaltender such a high figure, but that's the reality of the situation for the Red Wings.
Make no mistake, Howard has been a valuable part of the Red Wings team in the past and has done well at splitting duties with Mrazek – his contract, however, is problematic. When considering the fact that his contract also includes a modified no-trade clause for the 2017-18 season and the fact that the deal will expire when Howard is 35 years old, the Red Wings are worse off with his money on the books than they would be with it off of them.
While Howard isn't a bad player – as demonstrated last season, he's just not worth the money as it stands.
Frans Nielsen
When the Red Wings signed Frans Nielsen to a six-year, $31.5 million contract in 2016, it immediately looked like it could be a contract that would one day come back to bite the team. Signing the deal at 32-years old, Nielsen is positioned to play for six seasons in Detroit with an annual cap hit of $5.25 million with a no-movement clause in the first two years as well as a modified no-trade clause in the final four. The most glaring part of the deal that stood out as bad was the term.
Signing a 32-year-old forward to a six-year deal is never a good idea, especially when that six-year deal comes with a cap hit north of $5 million. It isn't ideal for a player set to be 38 at the end of the contract to be signed to such a large deal, especially when that deal also includes protection against trades that could limit the team's ability to move him, if that's even an option.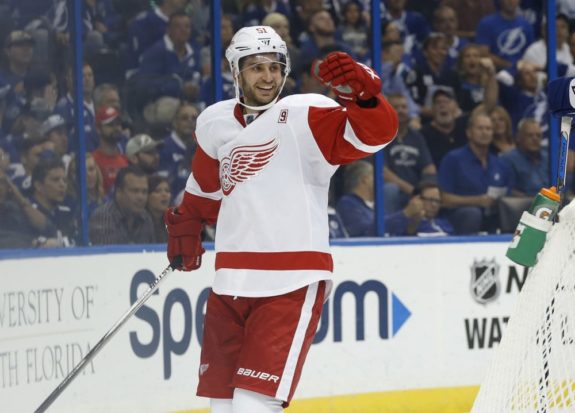 In defense of the Red Wings, Nielsen is a very good player that all 31 teams would love to have. Solid in the faceoff circle, able to contribute points and natural leadership all wound up into one player, Nielsen is a good NHL forward.
The issue, though, is the fact that most teams wouldn't want anything to do with Nielsen because his contract is such a bad one. It's part of the business and it's been seen time and time again – teams that are desperate to sign a player or make an impact will overpay in dollars and in term to make sure they get their man. The free agency in the market has been a very tricky one to navigate for years; still, teams never seem to learn.
Justin Abdelkader
It pays to be a gritty forward in the NHL. That was the case for Justin Abdelkader with the Red Wings, at least. Despite only scoring 20 goals once in his career and posting over 40 points twice, Abdelkader is the Red Wings fifth-highest paid forward and, at 30-years old, is signed for longer than anybody else on the roster.
Carrying a cap hit of $4.25 million in each of the next six seasons, Abdelkader's contract has already started to create problems for the Red Wings. When considering the fact that he's scored a total of 26 goals and 63 points over the last two seasons, it's clear that Abdelkader isn't worth the money he's signed for.
Despite that, the cap hit isn't even the worst part of the deal. When it comes down to it, it's the fact that the Red Wings will have to keep that cap hit on the books for another half-dozen years that is the real crux of the situation.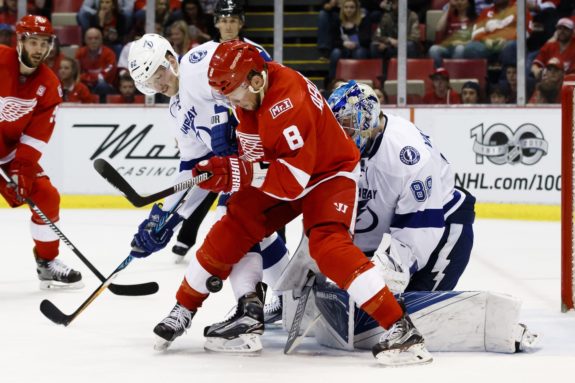 In Abdelkader's defense, his contributions to the Red Wings shouldn't go unnoticed. A veteran in the lineup who can play up and down the lineup, Abdelkader is an energy forward who can defend his teammates while also chipping in a decent amount of offense.
Unfortunately for the Red Wings, however, their championship contention window is firmly closed and paying for Abdelkader for another six years won't help them as they look to rebuild their roster. It isn't Abdelkader's fault that he was offered such a long-term contract with such a significant cap hit, but the way people view him will unfortunately always revolve around his deal.
Brandon Share-Cohen has covered the NHL and various professional sports for seven years. Working with The Hockey Writers, Brandon works extensively on covering the Boston Bruins in addition to his role as the News Team Lead.