Summer and the offseason are finally coming to a close. The Detroit Red Wings arrived in Traverse City Wednesday and will begin team physicals and off-ice training today before hitting the ice Friday. Henrik Zetterberg and the Red Wings are looking to kick off the new season on a high note following an offseason that experienced more change than any in recent memory.
On the eve of the boys breaking in the new season, there are a few questions that arise when looking at the training camp rosters that were posted earlier this week.
The Red Wings' 72-man training camp roster will be divided into these three groups: http://t.co/wxzpbvpWeU

— Ansar Khan (@AnsarKhanMLive) September 14, 2015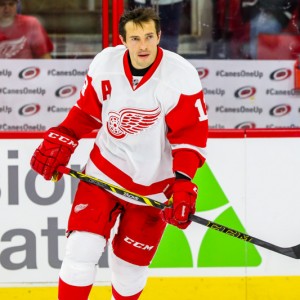 Euro Twins Reunion Postponed?
Over the offseason, it was announced that Jeff Blashill would like to reunite Zetterberg and Datsyuk on the top line in an attempt to spark their offensive creativity and force budding stars Tomas Tatar and Gustav Nyquist to create their own opportunities. Given Datsyuk's injury that could keep him out until November, it was assumed that Blashill would adjust the lineup minimally as to not disrupt any chemistry formed by the other lines.
Maybe not. In the initial training camp roster release, it was revealed that Zetterberg and Nyquist would be teamed with Justin Abdelkader on Team Lindsay with no other top-six forwards. Additionally, the injured Datsyuk was placed on Team Delvecchio with his old linemates, Tatar and Darren Helm. Perhaps the lines will be adjusted when Datsyuk returns, but wouldn't it be more beneficial to Nyquist and Tatar to develop report with Brad Richards if the intent is to play on a line with him?
Mule No Longer On Mend
This past Saturday, Johan Franzen was cleared to resume hockey activities involving contact.
Wings' Johan Franzen cleared to play, Ken Holland said. Will be ready for start of training camp and expected to be ready for season opener.

— Ansar Khan (@AnsarKhanMLive) September 12, 2015
Mule is certainly looking forward to giving it 100 percent, but how long can he last once camp begins? He is not too far removed from experiencing setbacks "on a weekly basis."
In addition to wondering when/if Franzen can regain his form, the question then becomes where does he fit in the Red Wings' lineup? Joining him on Team Delvecchio is the injured Datsyuk, Tatar, Helm, Richards, Riley Sheahan, and Luke Glendening. Perhaps Sheahan could center Franzen and Glendening while Richards centers Datsyuk's old line. That could work, but you'd wonder how Teemu Pulkkinen and Tomas Jurco would fit in the lineup if those proposed lines came to fruition.
Defensive Depth
It is a given at this point that Niklas Kronwall and Jonathan Ericsson will form the top defensive pair with the Danny DeKesyer and Mike Green duo slotting in as the 1B defense line. Looking at the training camp team rosters, it appears that Jakub Kindl could get an early look to crack the lineup after he was placed on Team Howe with Kyle Quincey. Of the defensemen not in the top four, Quincey has the most value in the Red Wings lineup after a breakout season where he established himself as a shutdown defenseman that can kill penalties. Other sixth defenseman candidates Brendan Smith and Alexey Marchenko find themselves likely paired on Team Lindsay. Will Kindl seize the opportunity or will Smith, Marchenko, or possibly Xavier Ouellet force him out of the lineup?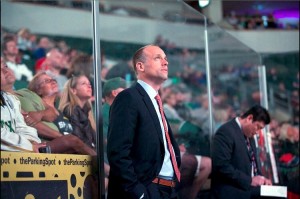 Gelling With Coach Blashill
After being named the Head Coach of the Red Wings this offseason, Jeff Blashill replaces all-time wins leader and mentor Mike Babcock in his first NHL lead coaching gig. Will the Red Wings buy into his system and coaching style immediately, creating a seamless transition? Or will Blashill's first season resemble that of Dave Lewis', who was also very familiar with the players after he followed a legendary coach's departure. Familiarity does not always equal success, so time will tell if the Red Wings have a coach that can get the most out of his team. Training camp practices, preseason games, and the players' attitude and drive throughout will be good initial indicators if Blashill can return the Red Wings to Stanley Cup contention.
And we've barely mentioned Jurco, Pulkkinen, Dylan Larkin, Anthony Mantha, and the goaltending situation. Let's get this season started. It's time for Detroit Red Wings hockey.
—
@PolakWolak