It's finally September, which means hockey is right around the corner. First on the schedule for the Detroit Red Wings is their annual prospects tournament in Traverse City, the 2015 NHL Prospects Tournament. Including the Red Wings, eight NHL teams will send their top prospects to the cherry capital of the world to compete in this showcase. For the Red Wings, there are a few storylines heading into the tournament:
Thank you, Mr. Wuest
First and foremost, it was an incredibly honorable gesture of the Red Wings to name the tournament championship after Matthew Wuest, the late founder of the salary cap database website, CapGeek. Wuest passed away earlier this year and the Red Wings were gracious enough to recognize his contributions to proliferating salary cap data in a digestible way for armchair GMs across the world. Because of his innovation, sites like CapFriendly have now popped up and offer fans a chance to investigate salary data and play GM for their favorite team. [editors note: we will have CapFriendly data available to you on all of our new Team Pages coming in the next few days]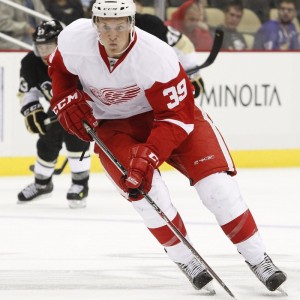 The First Round Picks
Headlining the Red Wings' prospect roster this year are their last three first round draft picks, Anthony Mantha, Dylan Larkin, and Evgeny Svechnikov, who could conceivably form a fearsome top line for the prospect team and eventually the Red Wings themselves. It is entirely possible that Grand Rapids Griffins' and prospect team coach Todd Nelson pencil these three in as the top line in Traverse City. Their combination of size and speed plus their overall playmaking and goal scoring abilities could potentially do a lot of damage if they are able to develop chemistry on the ice.
Continued Development
This past season, Red Wings' prospects, Tyler Bertuzzi, Joe Hicketts, and Axel Holmstrom exhibited fantastic player development in their respective leagues. Bertuzzi and Holmstrom starred in their playoff seasons for Grand Rapids and Skelleftea AIK of the Swedish Elite League, respectively. Hicketts continued his development in becoming a well-rounded defenseman after signing as an undrafted free agent and is expected to be in the running for the captaincy of Canada's World Junior Tournament team this upcoming December. Red Wings brass and fans alike hope these three can continue to grow and start the 2015-16 on a high note with a strong performance at the NHL Prospects Tournament.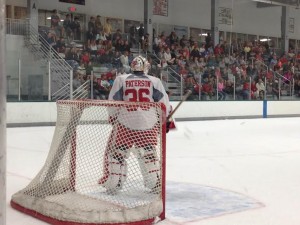 Goaltending Depth
After graduating from the OHL, Jake Paterson is expected to start the season in Toledo with the ECHL's Walleye, where he can learn the ropes of minor league hockey with adequate playing time. Before that begins, he is expected to start for the Red Wings' prospect team. Having only advanced beyond the first round of the OHL playoffs once, Paterson needs big game experience in order to develop as a goaltender. What better way to do so than in the championship game for the Wuest Cup?
Beyond Paterson, the Red Wings goaltending prospects include Chase Perry and Joren Van Pottelberghe—neither of which are participating in the tournament. Though Petr Mrazek has the potential to start in Detroit for the next ten years, teams can never have too much goaltending depth. Connor Ingram of the Kamloops Blazers and Matt Mancina of the Peterborough Petes could make an impression in limited minutes after receiving non-roster invites from the Red Wings. That's how the aforementioned, diminutive defenseman Hicketts earned a contract with the Wings.
Wild Cards
Speaking of making an impression, who will be the wild cards to unexpectedly step up and surpass Detroit's expectations? Dominic Turgeon could arrive at the tournament ready to validate the Red Wings' choice to make him a third round pick in 2014. Adam Marsh could prove to be a seventh round steal from this summer's draft. My prediction? Jerome Verrier will impress Red Wings' management, earn a minor league contract for the upcoming season, and end the year in Grand Rapid's lineup.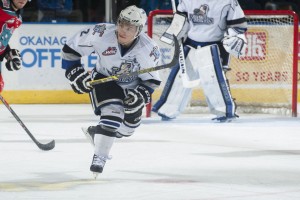 It's Time for Some Hockey
The Red Wings are currently blessed with tremendous depth, but it's never too early to start developing the next generation of players who will don the red and white. When this tournament kicks off on September 11th, Mantha, Larkin, Svechnikov, Hicketts, and others will begin their campaign for a spot on Red Wings with the 2015-16 hockey season officially starting. Why not start on a high note with a Wuest Cup?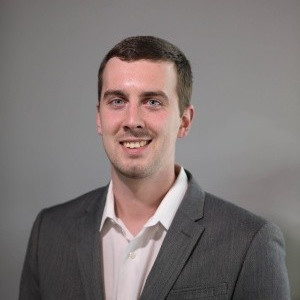 Tony Wolak is based in the Washington D.C. area and covers the Detroit Red Wings for THW. As a former junior and college hockey player, Tony has a unique perspective on Red Wings topics.