The NHL Draft is only two days away, and it'll be a crucial one for the New Jersey Devils. They have three first-round picks and nine draft choices in total. It'll be Tom Fitzgerald's first draft at the helm as general manager, so this could define what his tenure looks like two to three years from now. 
Our Devils' writers — Alex Chauvancy, Jack Dawkins, and Ryan Hoke — went ahead and did a full seven-round mock draft for each of the team's picks. There's a lot to go over, so let's dive right into our choices. 
Round One – Seventh Overall
Alex's Pick: Lucas Raymond, LW/RW, Frolunda HC (SHL)
I've been on the Raymond bandwagon for about nine months, and that's not changing now. For me, he's the third-best prospect in the 2020 Draft. Why's that? He's a dynamic winger who's an absolute terror on the forecheck. He has elite playmaking ability and seems to have improved his shot based on some early returns in the 2020-21 SHL season. 
Raymond has also added about 15 pounds, as he now checks in at 5-foot-10, 183 pounds. That added strength should only help him take the next step forward in his development, and he could be a 65 to 70-point scorer in the NHL. He fills a Devils' need for a highly-skilled winger while being the best player available player at seventh overall. 
Ryan's Pick: Marco Rossi, Center, Ottawa 67's (OHL)
I could've easily gone with Jake Sanderson or Cole Perfetti at this spot, but Rossi gets the edge here. He had 120 points in just 56 games last season for the Ottawa 67's and is one of the most complete players in this year's draft. The only concern surrounding him is his size or lack thereof — he's 5-foot-9.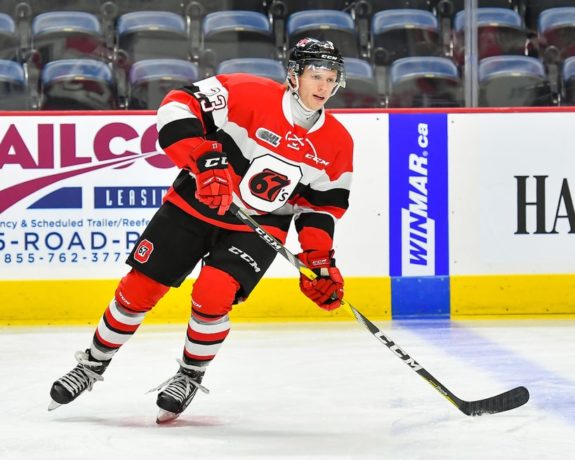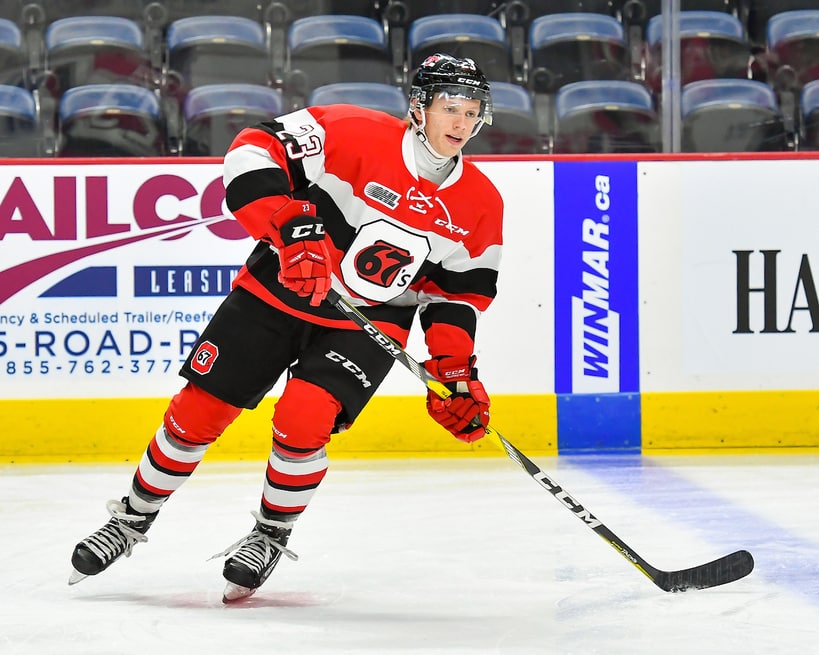 However, smaller players have found a ton of success in the modern NHL, and I think his elite offensive skills, skating ability, and compete level will undoubtedly overcome his lack of size. The Devils would be getting a star in the making with Rossi.
Jack's Pick: Jake Sanderson, Defender, (USNTDP)
I rank Sanderson much higher than many other people would. I see a player who is potentially the prototype of future top NHL defenders. A true top defender is a significant component of any franchise that wants to be a regular contender. Sanderson's hockey IQ, skating ability, and gap control are all types of things that go into creating a top defender of the future.
If Sanderson develops as projected, he could become a player whose impact is not dissimilar to Seth Jones or Roman Josi. Not all positions are equal. Defenders of this caliber are very difficult to trade for, and you almost always have to draft them to obtain them.
Round One – 18th Overall
Alex's Pick: Jacob Perreault, C/RW, Sarnia Sting (OHL) 
Perreault had an impressive 2019-20 season, finishing with 39 goals and 70 points in 57 games on a not-so-great Sarnia Sting team. He has good size, at 5-foot-11, 198 pounds, and is a high-end skater. But the strength of his game lies in his shot, which isn't far behind Alexander Holtz's. He can play center but projects better as a winger in the NHL due to his so-so defensive game. If that's where he plays in the NHL, he should look pretty good alongside Nico Hischier or Jack Hughes, two former first overall picks. 
Ryan's Pick: Seth Jarvis, RW, Portland Winterhawks (WHL)
Jarvis to the Devils at 18th overall could be one of the biggest steals in the draft. Personally, I think he is a top 10 talent, and it's hard to imagine him being available here. But if he is, it's a no-brainer selection. He absolutely wreaked havoc on defenders in the WHL because of his elite skating ability, underrated defensive game, and he rarely makes mistakes. He reminds me a lot of Mitch Marner of the Toronto Maple Leafs. It's hard to imagine many disappointed Devils fans with this pick.
Jack's Pick: Jacob Perreault, C/RW, Sarnia Sting
Perreault has the second-best shot in the draft. He's a skillful forward in his own right capable of playing wing or center. At the NHL level, I think he's better off as a primary scoring winger. He's got some consistency issues and occasionally tries to do too much by himself, but these are coachable things.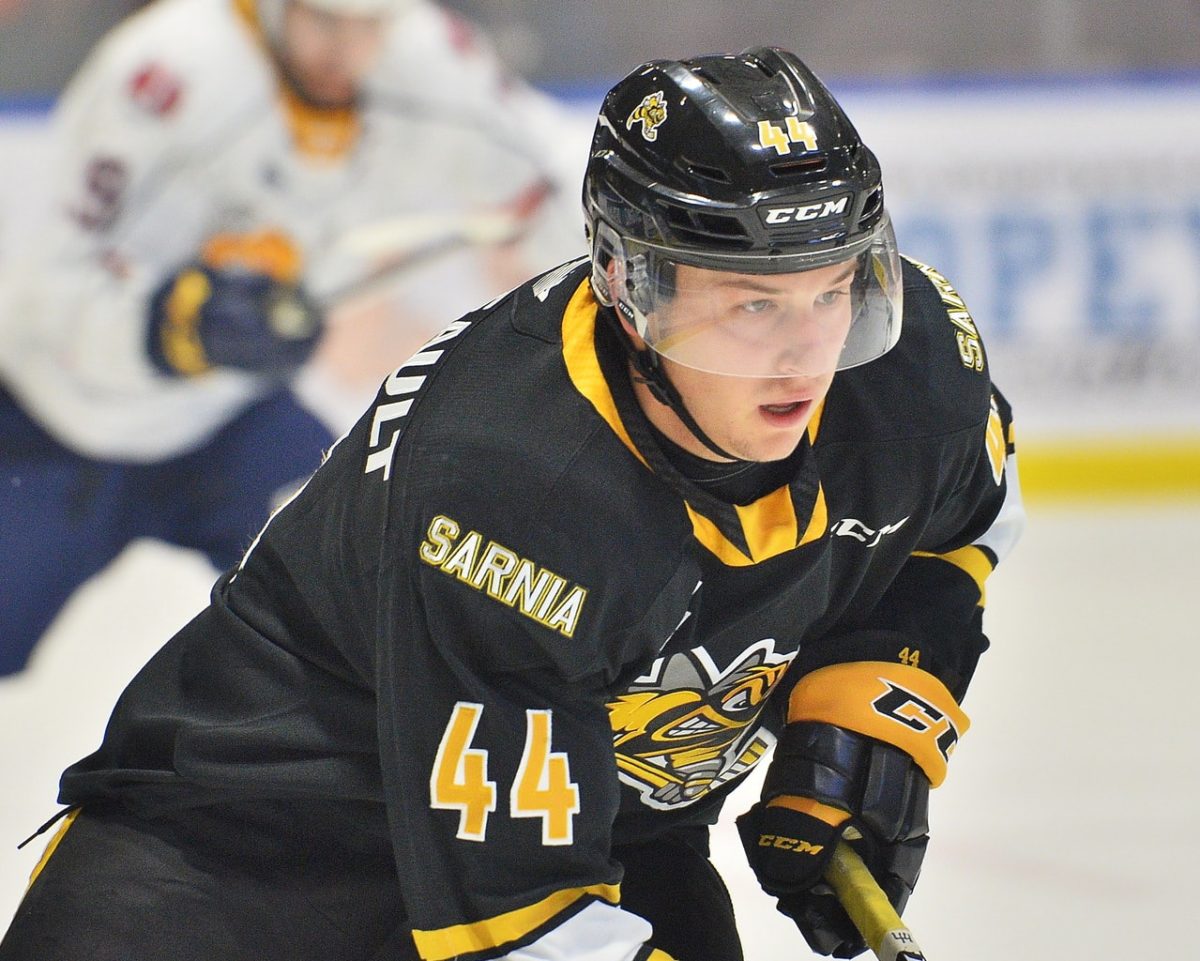 Sarnia was not an especially good team, and a lot of times, it was up to him alone to make things happen. His shot, however, is something that cannot be coached or taught. This kid's puck placement is such that he's able to beat goalies through tiny gaps that the majority of other hockey players are unable to exploit. With the right offensive pieces around him, Perreault could very well blossom into the best pure goal scorer of this draft.
Round One – 20th Overall
Alex's Pick: Lukas Reichel, LW, Eisbären Berlin (DEL)
Reichel had an underrated 2019-20 in the DEL — the top league in Germany — where he finished with 24 points in 42 games. The strength of his game lies in his hockey IQ, specifically on offense. His shot isn't as strong as Perreault's, but he knows how to get into high-danger areas and score. I thought about going with a defenseman here, but Reichel's upside is just too high. And he'd likely be the best player available in most scenarios. 
Ryan's Pick: Kaiden Guhle, Defender, Prince Albert Raiders (WHL)
After selecting two highly skilled forwards, it is time to address a more pressing need within the organization, and I love this selection at this point in the draft. In a class where defense is the weaker position, Guhle is still a very intriguing prospect. He's a big, physical, shutdown defender who possesses an ability to put pucks in the net.
Related: Kaiden Guhle — 2020 NHL Draft Prospect Profile
More importantly, Guhle has been incredibly consistent throughout his time in the WHL. And although it'll more than likely take some time before he is NHL-ready, this feels like a very safe selection at 20th overall. 
Jack's Pick: Tyson Foerster, C/W, Barrie Colts (OHL)
Foerster caught my eye at the CHL Top Prospects Game. What stuck out to me, aside from the goals he scored in that game, was the tenacity with which he played every shift. In a draft where a lot of the top forward talent is under 6-foot tall, Foerster has a 6-foot-1, 194-pound frame that will fill out as he gets older. He was fifth among draft-eligible OHL forwards in goals this year.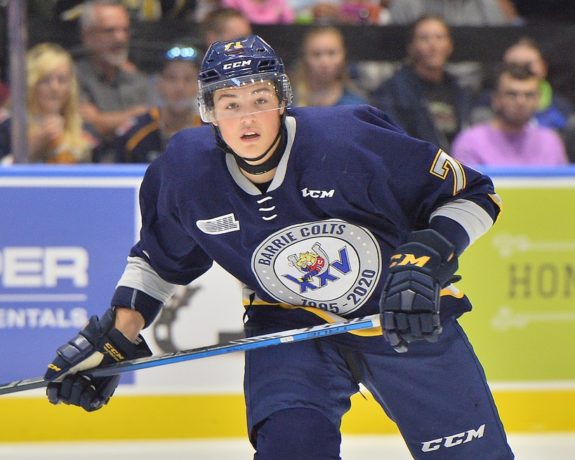 Foerster is a hard-working player in the offensive zone who understands how to find and exploit open ice. His shot has good velocity, and he's lethal with it from both circles. He's fine scoring on the rush or working in the cycle, but he truly excels in finding some open space in medium danger areas and putting dangerous shots on net once his teammates find him. For some, this might seem like a reach, but I firmly believe Foerster is a top 25 player in this draft from my viewings of him.
Round Three – 84th overall
Alex's Pick: William Villeneuve, Defender, Saint John Sea Dogs (QMJHL)
After going with three forwards in the first round, I had to take a defenseman with this pick, and Villeneuve fits the bill. He finished with 58 points in 64 games in 2019-20. He has good size, at 6-foot-1, 181 pounds, and excels in transition, which is something the Devils' blue line has struggled with for years. He has top-four potential and would be among the organization's best defense prospects after Ty Smith. 
Ryan's Pick: Drew Commesso, Goaltender, Boston University (NCAA)
In 2019-20, Commesso posted a .920 save percentage with a 2.05 goals against average with the U.S. National U18 Team and a .917 save percentage with a 2.01 goals against average with the USNTDP Juniors in the USHL. These are some of the best numbers ever seen out of the U.S. program and were even better than last year's 13th overall selection Spencer Knight. We've spoken about the team's need to add more positional depth behind Mackenzie Blackwood, and the Devils will be presented with an excellent opportunity to do just that if Commesso is available.
Jack's Pick: Drew Commesso, Goaltender, USNTDP
I don't know if Commesso will last this long, honestly. I have him as the second-ranked goalie in the draft and expect that he could be gone as early as the middle of the second round. If he does make it this far down, though, the Devils should grab him. He's just a good goaltender from a good program with a good pathway ahead of him.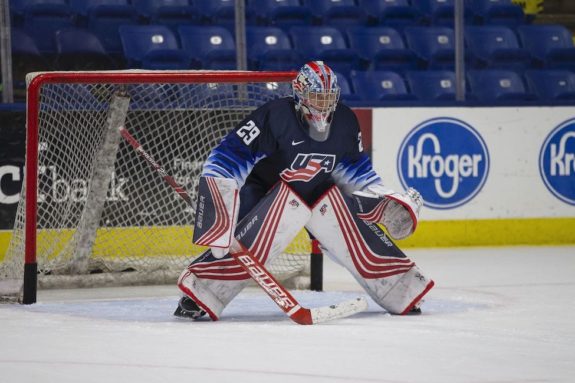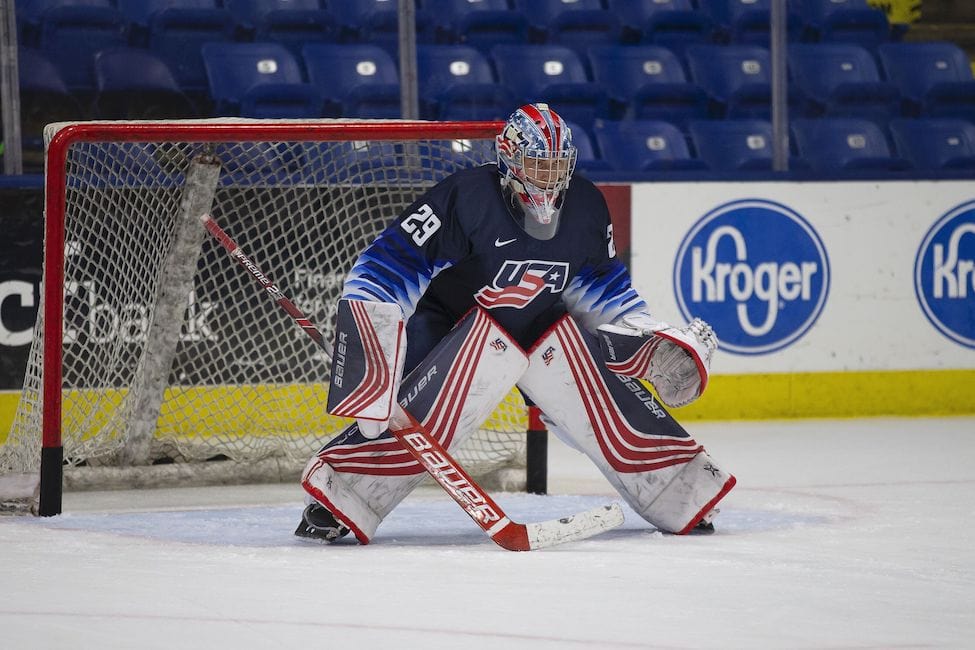 Commesso has everything you look for in a goaltending prospect. He performs well against high-level competition and in pressure situations. He has excellent size, at 6-foot-2, 181 pounds. He's got a very active set of feet that sees him rarely caught out of position and allows him to move around very effectively to find pucks through traffic. A Boston University commitment means that after being drafted, the Devils could allow him to brew in the NCAA for up to three years. With goalies often having a longer development track, this is an ideal place to let a young goaltender marinate.
Round Four – 99th Overall
Alex's Pick: Dmitri Ovchinnikov, Forward, Sibirskie Snaipery Novosibirsk (MHL)
Ovchinnikov could end up as one of the hidden gems from the later rounds of the 2020 Draft. He needs to get stronger, as he's only 5-foot-10, 161 pounds, but he has tons of potential. He's an excellent skater and a highly creative offensive player. His shot is also pretty underrated. He had 55 points in 54 MHL games in 2019-20 and has seven points in four games to start this season, so he seems to be taking a step forward in his development. And that could boost his draft position enough to make him a worthy pick at 99th overall. 
Ryan's Pick: Rory Kerins, Center, Soo Greyhounds (OHL)
Kerins scored 30 goals and added 29 assists for 59 points in 60 games for the Sault Ste. Marie Greyhounds. He's such a natural talent and plays a really consistent two-way game. He's great at reading plays before they even happen. He'll get in shooting lanes and block pucks, he can kill penalties, facilitate a power play, and in the end, he's a hockey coach's dream. He possesses all the tools to be a very good NHL player but will need some time to get everything put together.  
Jack's Pick: Carson Bantle, Winger: Madison Capitols (USHL)
Bantle is one of my favorite prospects in the entire draft. The 6-foot-4 power forward from the USHL is what I would refer to as a "poor man's Quinton Byfield." The Madison Capitols were terrible, but Bantle was still a fantastic point-producer. His size allowed him to power his way through traffic and overwhelm opponents.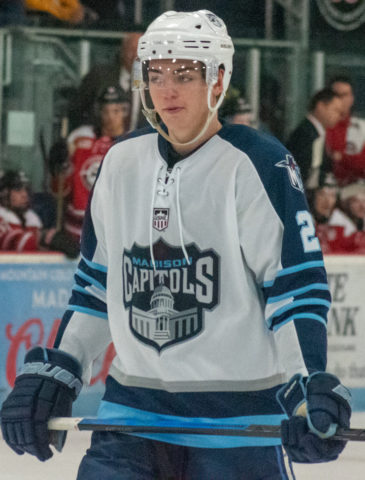 It's not only size that he has on his side, though. Bantle is a fine skater in his own right and has a wicked shot. His playmaking ability is also very underrated. He's an NCAA commitment, and it will be very interesting to see if he can continue his physical dominance against the better competition. And he seems like a fair bet to do so.
Round Four – 120th overall
Alex's Pick: Samuel Knazko, Defender, TPS U20 (Jr. A SM Liiga)
For someone who isn't likely to be drafted in the top 100, Knazko is one of the more well-known later round prospects. He had 28 points in 48 games in 2019-20 playing in Finland's junior league. He's off to a strong start this season, with four points in eight games. 
Knazko is an aggressive offensive defenseman who's always looking to create scoring chances. He has good size, at 6-foot-1, 190 pounds, though he could benefit from getting stronger. It's also worth noting he just turned 18 years old on Aug. 7, making him one of the youngest players in the draft. He's a project, but he could be a no. 4 or 5 defenseman with offensive ability if developed the right way. 
Ryan's Pick: Jacob Truscott, Defender, University of Michigan (NCAA)
Truscott is a perfect example of a young player who does a lot of things well but doesn't quite have anything in his arsenal that really makes him stand out among the rest. He's a very smooth skater. His backward and lateral mobility give him great gap control and allow him to walk the line, opening up shooting lanes in the offensive zone. Truscott has a very solid base to build off of moving forward, and I think that base is strong enough to take a flyer on him in the fourth round. 
Jack's Pick: Maxim Beryozkin, Winger, Loko Yaroslavl (MHL)
Beryozkin consistently ranks in this area of the draft, and I honestly don't know how. The 6-foot-2 Russian has the perfect makeup for the NHL game. He attacks the middle of the ice with fervor, creating many chances for himself and teammates. His stickwork is top-notch, and he's able to move the puck to either side of his body to muscle it away from attacking defenders. This, combined with his exceptional size, makes him very difficult to knock off the puck both on the rush and in the cycle. 
Beryozkin was one of the best forecheckers I watched in the MHL. When opposing teams try to exit their own zone, he's using his stick and body to hassle their exits and attempts to deny them the neutral zone. This leads to the creation of a lot of turnovers and the disruption of opposing offensive rushes. But wait, there's more. 
Related: Maxim Beryozkin — 2020 NHL Draft Prospect Profile
Beryozkin's 54 points in 51 games was good enough for third among first-year eligible MHL skaters and sixth among U19 MHL skaters. He's one of the best point scorers in the MHL, combined with excellent size and fantastic off-the-puck play. I honestly do not understand why more people do not have him ranked higher. This is around the neighborhood where he projects to go, but if the Devils grabbed him at 84th or 99th, I wouldn't complain at all because he's such a phenomenal hockey player. 
Round Five – 130th Overall
Alex's Pick: Dylan Garand, Goaltender, Kamloops Blazers (WHL)
Garand was one of the top goalies in the WHL this past season, finishing with a .921 SV% in 42 games played. That was fifth in the entire league, and what's most impressive is he didn't turn 18 years old until June when the season was well over.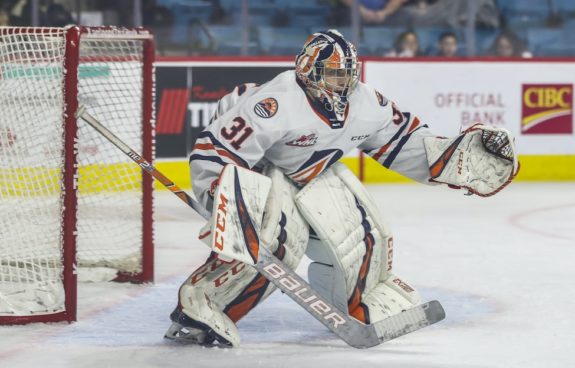 It's a little hard to gauge why Garand isn't ranked that high — his highest ranking is 64th overall by Elite Prospects, while the lowest is 165th by Future Considerations. He's only 6-foot-1, 175 pounds, which is smaller than the average NHL goalie these days. And that may be the reason he's not among the top goalies in the class. But given his numbers as a 17-year-old in a top junior league, he's a good value pick at this point in the draft. 
Ryan's Pick: Dmitri Rashevsky, RW, MHK Dynamo St.Petersburg (MHL)
Sometimes you can find tremendous value in over-agers. In 61 games played in the MHL, Rashevsky scored 44 goals along with 30 assists for a total of 74 points. Although he will be turning 20 years old just days after the draft, he's absolutely a hidden gem. Any time you match high hockey IQ with great puck skills, it typically makes for a deadly combination. 
Jack's Pick: Karel Klikorka, Defender, Mk Mlada Boleslav (Czech)
Klikora was ranked 37th among European skaters by NHL Central Scouting. The Czech defender brings excellent size and awareness to the game. He's more of a "defensive defender," but he has a strong foundation to build upon. The skating ability that scouts want to see from modern defenders is present, and his hockey IQ appears to be good enough to keep up with the pace of play. The 18-year-old was good enough to make the Czech U20 team for the World Juniors and did not look out of place against some of the top young players in the world. 
Round Six – 161st Overall
Alex's Pick: Samuel Johannesson, D, Rögle BK (SHL)
I haven't watched Johannesson play at all, so here's what Elite Prospects has to say about him:
"Johannesson's offensive game revolves around making quick, simple yet effective plays with the puck. He can get the puck out of pressure swiftly and doesn't seem to get stressed even when there's little time on his hands. His puck skills looked good, and he can handle it well to give himself extra time. There's a real calmness to Johannesson's game; he's never chasing the play."
Johannesson is ranked 33rd among European skaters by NHL Central Scouting. Other than Future Considerations, where he's ranked 219th overall, he doesn't show up in a ton of rankings. His production in the SHL does show there's something there, though. He had 11 points in 44 games last season as a 19-year-old and has two points in four games this season. That seems like someone who may have NHL potential down the road, even if he's an over-ager. 
Ryan's Pick: Noah Ellis, D, Des Moines Buccaneers (USHL)
Ellis is a sizable and well-rounded defenseman who really turned heads at the Hlinka Gretzky Cup in 2019. At 6-foot-1, 185 pounds, he has a very intimidating frame and is a good late-round pick for a Devils' team that will look to add more prospects on their blue line.
Jack's Pick: Danil Alalykin, Center, Tolpar Ufa (MHL)
I picked up on Alalykin when I was scouting Alexander Pashin and Rodion Amirov. Often I would see a scoring rush or high danger chance that was initiated by a clever play in the defensive or neutral zone that would lead to a wide-open player streaking down the ice. Time and time again, it was Alalykin making these plays. He's a fine scorer in his own right, but his ability to "stir the drink" and do the work that allows top players to BE top players is a hard to find, intangible skill.
Round Seven – 192nd Overall
Alex's Pick: Yegor Chinakhov, RW, Avangard Omsk (KHL)
Chinakhov is 19 years old, meaning he's an over-ager, but there's a lot to like about his game. He was one of the top forwards in the MHL in 2019-20, where he had 27 goals and 69 points in 56 games. He's made the jump to the KHL this season and has six points in 11 games so far.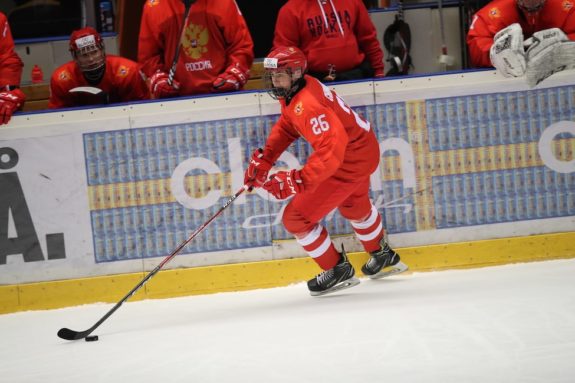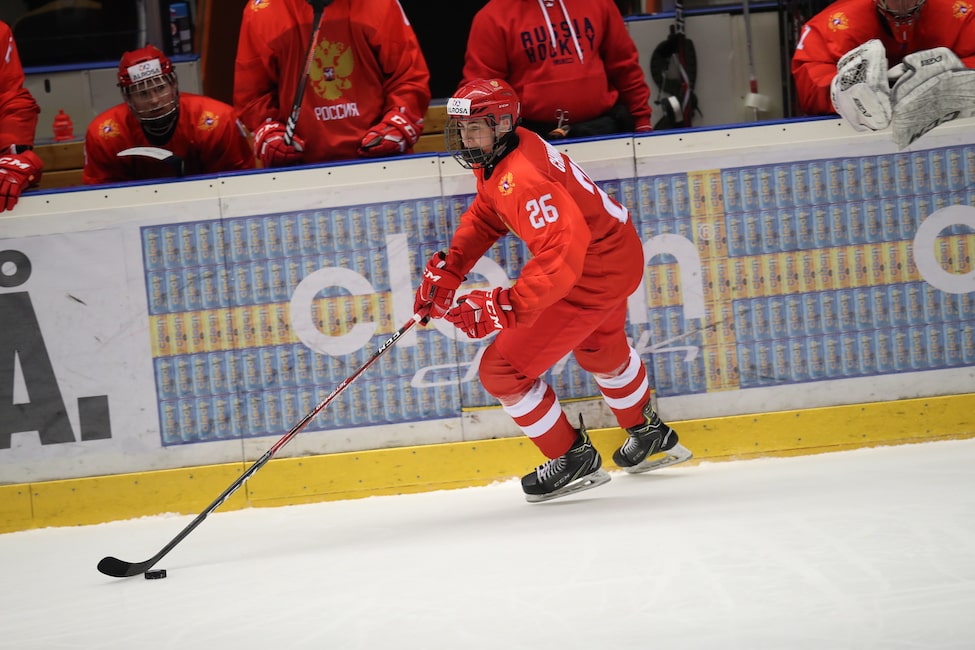 The strength of Chinakhov's game lies in his blistering shot, which has pace and accuracy too. He may be a bit undersized, at 5-foot-11, 180 pounds. But if it hasn't become apparent yet, my preference is for smaller forwards whose skill gives them the most offensive upside. If he's still around with the 192nd pick, he's worth taking a gamble on because he does have NHL potential. 
Ryan's Pick: Gage Goncalves, Center, Everett Silvertips (WHL)
Another over-ager, Goncalves showed a significant increase in production with the Everett Silvertips in the WHL. He's coming off of an incredible season, posting 71 points in just 60 games played. In his first year of draft eligibility, he posted just 15 points in 67 games played. That type of growth is certainly enough to turn some heads.
Jack's Pick: Benjamin Baumgartner, Center, HC Davos (NLA)
Baumgartner burst onto the scene at the U20 World Junior D1A competition. This is the division one step below the top division; the winner of this division each year is promoted to top division the following year. In that tournament, Baumgartner turned heads playing for Austria when he put up five goals and six assists in only five games. 
The 20-year-old overager spent this season in the top Swiss men's league. In 37 games, he put up 27 points, showing tenacity in getting to 50/50 pucks and working hard in the dirty areas. Once he has the puck, he shows exceptional vision and offensive skills. He's projected to be available in the seventh round, but it's possible if some scouting departments got a real good look at his skill set, that he'll be long gone well before this pick. If available, though, the Devils should snag him.
That concludes our Devils 2020 mock draft. Do you agree or disagree with the picks? Who would you consider drafting? Drop a comment down below. 
---
---