With the recent retirement of veteran goaltender Corey Crawford, the New Jersey Devils quickly fell behind the eight ball due to their lack of depth at the goaltending position. Crawford's announced his retirement a few days before the start of the new NHL season. Since the Devils' coaching staff entrusted Mackenzie Blackwood to be the starting goaltender, regardless of any scenario, Crawford's departure certainly raised some concerns in terms of their depth at goaltending.
From Blackwood to Blockwood
The Devils are only three games into the young season so far, with their record currently standing at 2-0-1. Blackwood has been doing excellent work for a Devils' defense that's proven to be mediocre so far. It's also worth mentioning that the team's specialty teams, especially their penalty kill, don't give Blackwood much help either. Because currently, the Devils have one the worst penalty-killing defenses in the entire league.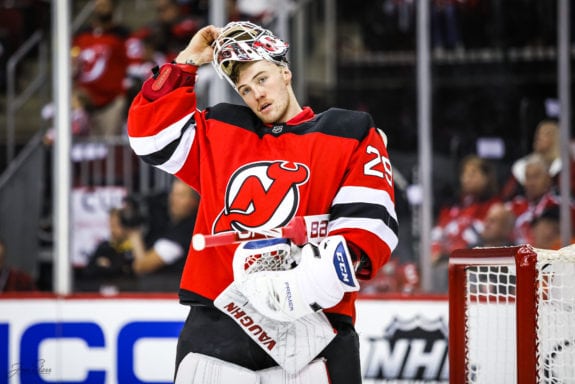 As of Jan. 20, the Devils have been in the penalty kill 13 times and have given up four power play goals. Despite the issues at defense, Blackwood was been performing exquisitely. In the three games that he's started in, he has a save percentage (SV%) of .948 (109/115 in save opportunities) to go along with a goals against average (GAA) of 1.90. Despite being a netminder, it's safe to say that Blackwood is New Jersey's best defender due to the inconsistency put up so far by his blueliners.
The Original Plan
Blackwood's style of play and potential is certainly not in question by the organization or fanbase. However, ever since Crawford's retirement, questions have been raised as to which player could potentially be his backup. Despite a shortened season, it would be unfair, not to mention unsafe, to ask Blackwood to be the starting goaltender for almost all of the games.
Barring any postponements due to the Covid-19 protocols, the most rest that the Devils will get in between games for this season is four. Obviously, a backup goalie for a developing young player during a hectic season is imperative for a team like the Devils. Going into the latter days of training camp, and also the start of the season, Scott Wedgewood was promoted to be the backup goaltender for Blackwood. However, with all due respect towards Wedgewood, he's not exactly the ideal player to be a backup at this stage of his career.
Despite being a part of the Tampa Bay Lightning's championship roster, his brief stints in the NHL haven't been magnificent, and his AHL numbers aren't grand either. With the limited amount of potential games to be played, not to mention being stuck in a tough division, the Devils began their search for a solid backup goaltender. And on Jan. 18, they claimed Aaron Dell off of waivers from the Toronto Maple Leafs.
Getting Lucky Once Again
Dell originally signed with the Maple Leafs on a one-year, $800,000 deal back in October. However, the Leafs decided to waive him instead of letting him remain on the roster. Compared to Wedgewood and Eric Comrie, Dell is obviously more qualified for the role of being a solid backup goaltender for Blackwood. Dell's numbers aren't spectacular by any means, but his role the past few seasons while playing for the San Jose Sharks was to be the backup goalie for Martin Jones, who was a 2017 All-Star and 2014 champion.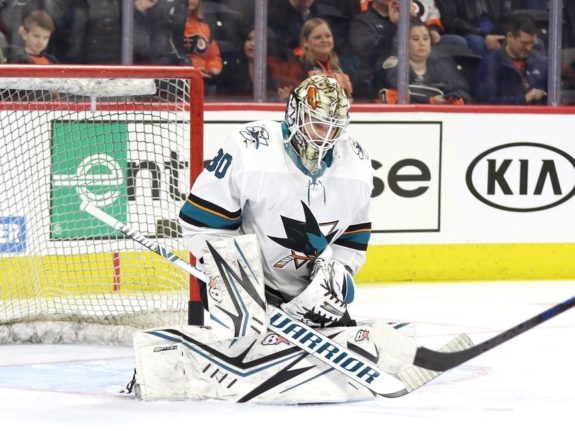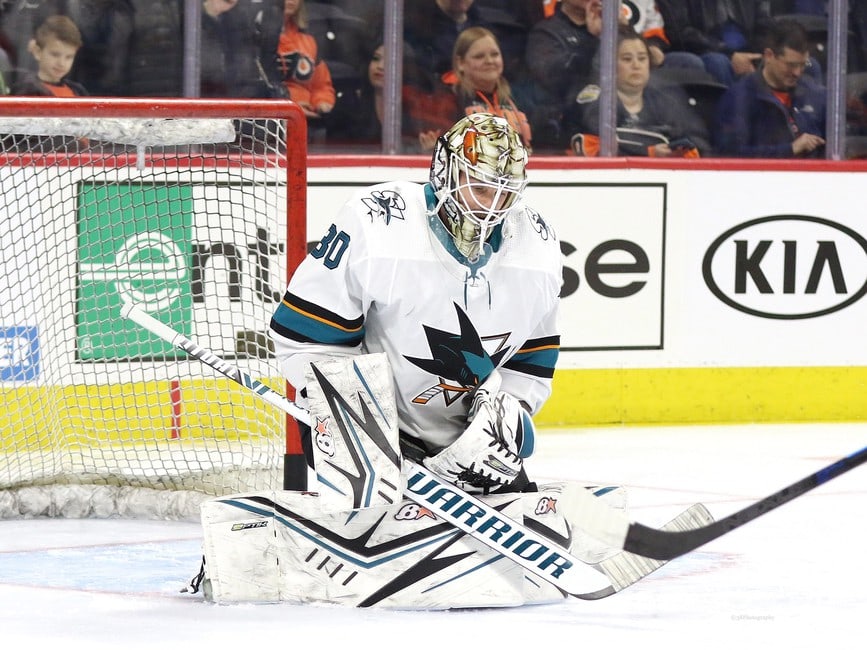 It was a role in which San Jose entrusted him to do for the past four seasons. Throughout his four-year tenure in San Jose, Dell appeared in at least 20 games (last season, he appeared in 33 games, which was a career-high for him) while posting an overall SV% of .908 and a GAA of 2.76. Overall, the Devils should be satisfied with Dell's numbers and production due to the scarce amount of quality goaltenders that were still available to pick up.
To further elaborate on that claim even more, on the day that Crawford announced his retirement, there was only one goalie that was still available who had won at least one NHL game last season. That player was Jimmy Howard, who also just recently announced his retirement. Howard had a dismal record of 2-23-2 last season. Clearly, Dell was the best goalie on the market for Devils, and they should consider themselves lucky.
---
---