It takes a special kind of player to make the transition to the NHL right away without making a stop in the minors. We've seen it from players like Auston Matthews, Connor McDavid, Jack Eichel, Cale Makar and Quinn Hughes. Trevor Zegras had ambitions to become one of those players as well, but Anaheim Ducks general manager Bob Murray and the rest of the Ducks management felt otherwise.
On Tuesday, Zegras made his AHL debut, playing alongside AHL veterans Sam Carrick and Chase De Leo. Zegras had two assists and four shots on goal in the Gulls' 5-1 win while his linemates combined for two goals and two assists.
Learning From Fowler's Case
There is only one player currently in the Ducks organization that has skipped the minors and gone straight to the NHL. That player is Cam Fowler. The defenseman is currently in his 11th season with the Ducks after making his NHL debut at 19 years old, following his one season in the OHL with the Windsor Spitfires. Fowler's rookie season points total (40) is still his career-high, though the 29-year-old has come close to eclipsing it on a few occasions.
Fowler admitted that it took about five years before he felt comfortable in the NHL and that there is a big learning curve. He was able to learn from veteran defenseman Scott Niedermayer, who was in the twilight of his career, as well as from Ducks captain Ryan Getzlaf. (from, 'Ducks top prospect Trevor Zegras takes first big steps in his pro career', The Orange County Register, 01/20/2021)
"I was grateful for the opportunity, but it can be a whirlwind coming in (to the NHL). There's a lot that you have to learn and you have to learn it pretty quick.

Cam Fowler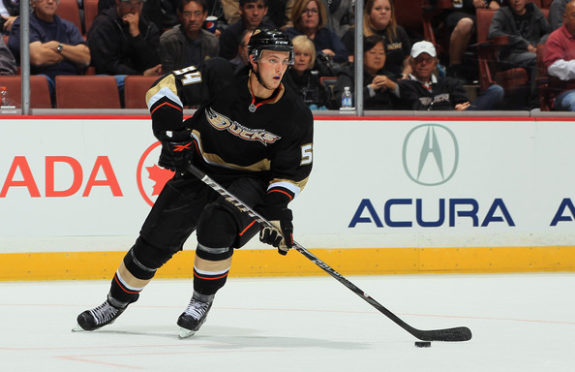 Having played almost 700 games for the Ducks, Fowler has been by no means a detriment to the team during his 11-year tenure. But fans will always be left to wonder if a season or two in the AHL would have done Fowler better and not made the learning curve as sharp.
"There's so much more to it than just playing hockey. It's a way of life. It's something that comes at you quick and there's a lot you have to learn. I did that, but it took me a good amount of time before I felt, 'OK, I have a good understanding of what it takes to be an NHL player.'"

Cam Fowler
Keeping the Kid Gloves On
The Ducks are perhaps trying to avoid the same fate for Zegras by letting him gain some seasoning in the AHL. The 19-year-old didn't look out of place in his first professional game. He is also playing on the wing, just as he did at both of the World Juniors he participated in with Team USA, which should make the transition to professional hockey just a bit easier as well.
As competitive as the NHL is, so too is the AHL. Dubbed the "Always Hungry League" by some, the AHL is in some aspects more physical than the NHL. Allowing Zegras to gradually adapt to the physicality of professional hockey in what is already a shortened season will fully prepare him for the grind of the NHL next season––when he will presumably be a full-time NHLer.
In some ways, keeping Zegras in the minors for the time being may seem like the logical choice. It's unlikely that the Ducks will be playoff contenders once again this season and continuous losses in a season full of frustration may not be the best environment for a player like Zegras.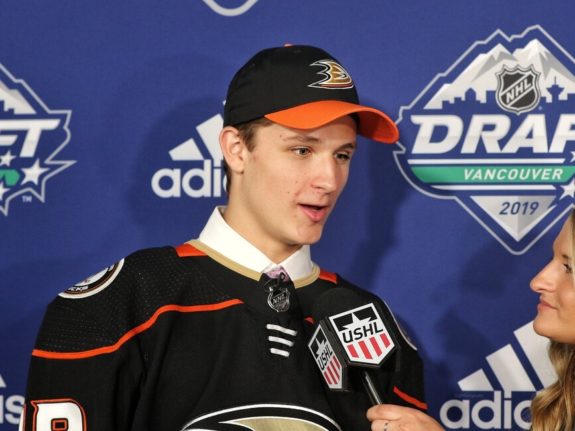 Ducks head coach Dallas Eakins has stated that Zegras––and fellow draft pick Jamie Drysdale––need to be better than someone currently in the Ducks' lineup in order to warrant a call-up. "Last year, we took the approach with our team that we were going to give and make sure we got certain players necessary reps," said Eakins. "We are not interested in going down that road." (from, Trevor Zegras won't be on Ducks' opening-night roster, so what's the plan?, The Athletic, 01/12/2021)
Zegras and the Gulls have three more preseason games before the AHL season is set to officially begin on Feb. 5. Perhaps Zegras performs well in those remaining preseason games, well enough to warrant a call-up and help rejuvenate a sputtering Ducks offense. We don't know what will transpire a month from now, but what we do know right now is that the Ducks are determined to remain patient.
---
---