Nico Hischier's Selke moment may be on the horizon. After finishing as a finalist in 2022-23, and with Patrice Bergeron retiring this offseason, he'll be one of the top candidates to take home the trophy this coming season. While he's been recognized for his defensive game, Hischier is also one of the more underrated offensive centers in the NHL. Let's look back on his 2022-23 season and how he's crucial to the Devils challenging the Carolina Hurricanes for first place in the Metropolitan Division.
Hischier Wasn't Just a Defensive Stalwart in 2022-23
Hischier has always been solid since the Devils made him the first overall pick in the 2017 draft. But his game has reached new heights on head coach Lindy Ruff over the last two seasons, much like it did for Tyler Seguin when Ruff was the Dallas Stars' head coach from 2013 to 2017. 
Related: 5 Devils Early Trade Deadline Targets: Defensemen
---
Latest News & Highlight
---
Though the Devils were a bottom-feeder in 2021-22, namely due to goaltending issues, their skater group showed promise. Hischier was one of those skaters, as he finished with 21 goals and 60 points in 70 games — a 70-point pace over 82 games. He one-upped that last season, setting a career-high in goals (31) and points (80). 
Hischier should get plenty of love for his defensive game (more on that in a bit), but he's a first-line center because he can create plenty of offense. The Devils like to play off the rush under Ruff, something Hischier excelled with this past season. He ranked in the 92nd percentile in rush offense, 94th percentile in rush shots, and 85th percentile in rush assists: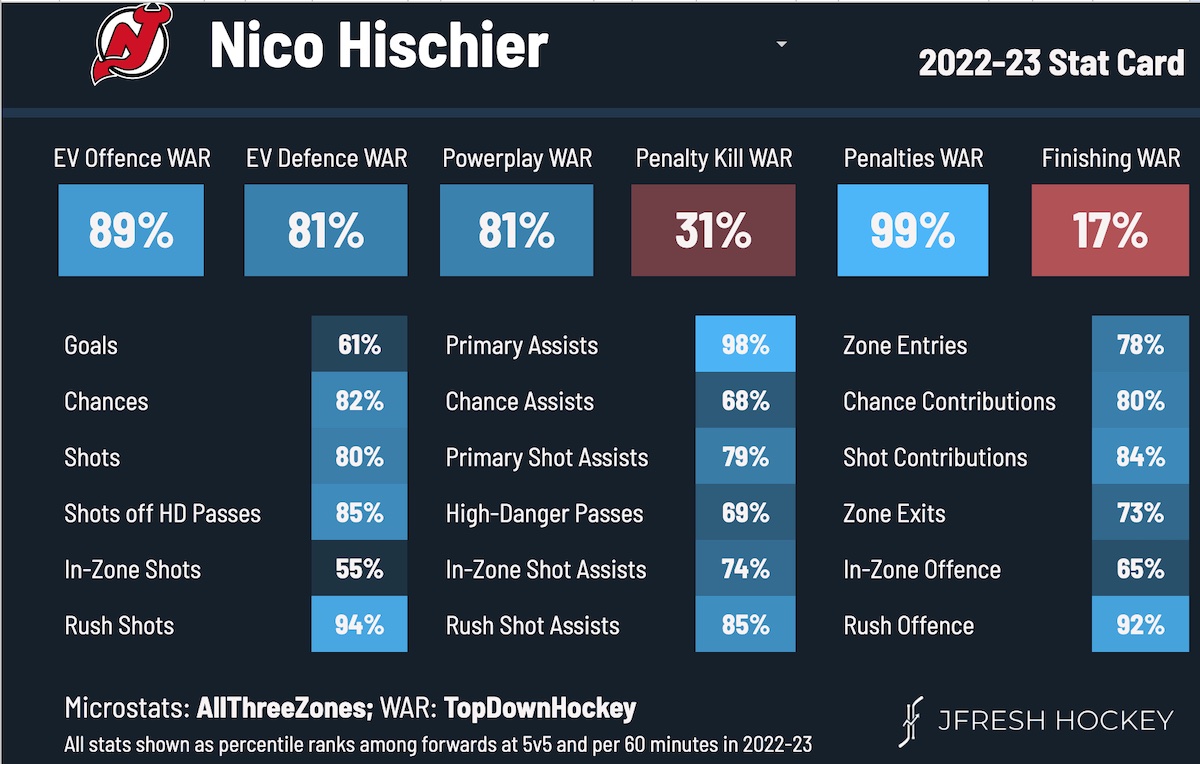 Hischier was previously known as a playmaker, but he's turned into a goal-scoring threat. He finished with 256 shots on goal last season and is an 11.9 percent shooter for his career. And as seen in the graphic above, his shooting microstats grade out quite well. Perhaps he won't put up 30-plus tallies every season, but 20-30 consistently seems like a good bet.
As for the defensive game, Hischier has had a reputation as a solid two-way player since he entered the league in 2017. That's understandable, given how he plays, but the impacts weren't always there. That's changed under Ruff, as his even-strength defense has been the best it's been in his career over the last two seasons. 
Hischier does not log easy defensive minutes, either. Per PuckIQ, he logged 35.5 percent of his ice time against elite competition a season ago, the most of any Devils forward. That won't change this coming season, so if his defensive impacts remain what they were in 2022-23, another Selke nomination and possibly a win may be in his future. 
Get Ready for Plenty of Hischier & Meier
Hischier's most common linemate over the last two seasons was Tomáš Tatar. He remains an unrestricted free agent, so perhaps there's a path back to the Devils, but that seems unlikely at the moment. Hischier and Tatar put up some gaudy numbers at five-on-five, but the Devils should be able to find a suitable replacement as a linemate for Hischier. 
After signing an eight-year extension this summer, the Devils will now have Timo Meier for a full slate of games after acquiring him ahead of last season's trade deadline. He saw some time alongside Hischier in 2022-23, and the results were positive. 
The one combo that Ruff may return to is Hischier, Meier and Jesper Bratt. They posted a 64.97 expected goals percentage (xG%) together in the regular season and were dominant in possession in the team's first-round series against the New York Rangers, which they won in seven games.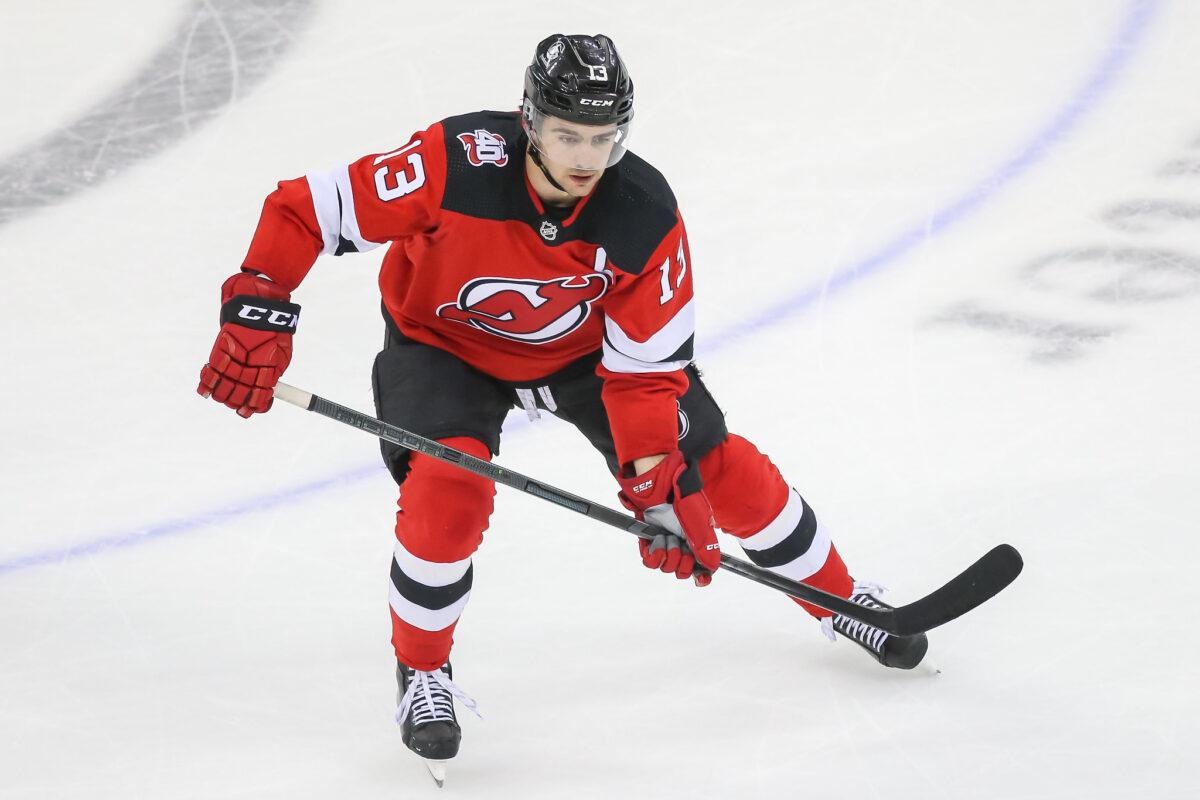 Another possibility includes pairing Dawson Mercer with Hischier and Meier, a combo that also some time last regular season and fared well. They posted a 71.77 xG% in 41 minutes together, so even though the sample size is small, there's probably something to work with here. Mercer hasn't shown great play-driving ability yet, so placing him on a line with two high-end play drivers like Meier and Hischier should work well. 
There's also Tyler Toffoli to consider. The Devils acquired him earlier this summer from the Calgary Flames in exchange for Yegor Sharangovich and a 2023 third-round pick. I imagine Ruff gives him a look alongside Hischier during the preseason, but he seems like the type of player who might be a better fit alongside Jack Hughes. Time will tell. Either way, a healthy dose of Meier, Bratt and Mercer wouldn't be a surprise given their results with Hischier, even in small sample sizes, in 2022-23. 
Hischier Invaluable to Devils
Hischier was one of the most valuable players in the league a season ago, finishing with a goals above replacement (GAR) of 20.3 and wins above replacement (WAR) of 3.4, both top-20 numbers among all players. He once again projects to be one of the league's more valuable players, with a GAR of 10.3 that ranks 26th (via Evolving Hockey). 
Hischier's GAR will likely be higher than 10.3 if he plays the way he did a season ago. But no matter how you slice it, he'll be a key cog to the Devils competing with the Carolina Hurricanes for first place in the division. He's emerged as a high-end offensive threat, and his defensive impacts now match the two-way reputation he's had since entering the league. That could culminate in his first Selke Trophy win, helping the Devils to another successful season and playoff berth. 
* * *
Advanced stats from Natural Stat Trick except where noted