If there is one thing I have learned from my interactions with New Jersey Devils forward Dawson Mercer, it is that he takes things in stride. The Bay Roberts native is not one who gets rattled so it was no surprise to hear he felt good Sunday night, as the pieces came together to bring Timo Meier from the San Jose Sharks to New Jersey.

"I felt good about it all. Obviously, people say stuff and you hear it, but I felt pretty good with where I stand here," said Mercer after the team's practice on Feb. 27. "You never know what can happen, but overall I felt pretty comfortable."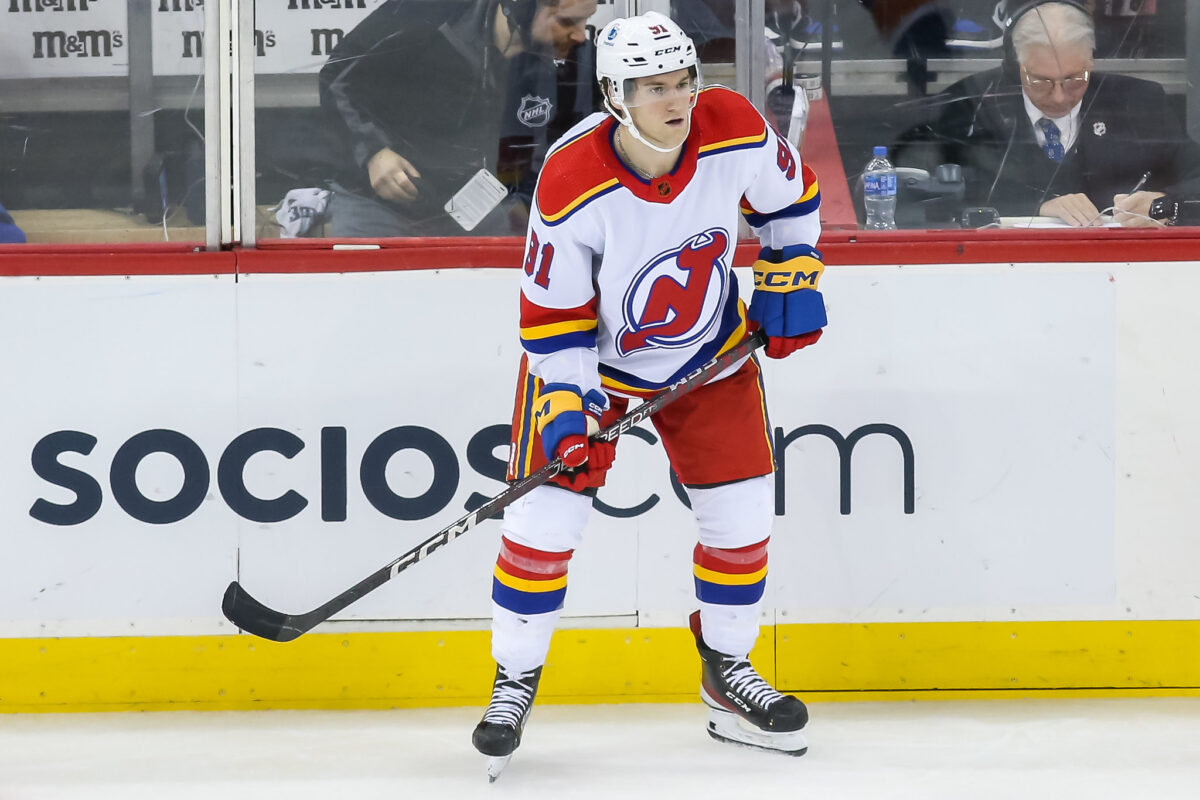 He explained that he was pretty relaxed as the rest of the world was anxiously refreshing their Twitter timelines to find out what the return was once Pierre LeBrun of The Athletic shared that Meier was heading to New Jersey. The confident second-year player told me with a smile that in the end, he is just happy that he is still a Devil.
Mercer's Recent Play Speaks For Itself
Over the past week, Mercer has been the Devils' hottest player. He is currently on a six-game goal streak earning 10 points (eight goals, two assists). He has flourished since head coach Lindy Ruff moved him to the top line to play alongside Tomas Tatar and Nico Hischier. On Feb. 25, he set a new franchise record by appearing in 141 consecutive games to start his NHL career, surpassing Scott Gomez the night he and the rest of the 2003 Stanley Cup team was being honored.
At the conclusion of the 2021-22 season, Mercer joined Matt Loughlin and Sam Kasan on an episode of the Speak of the Devils Podcast. He talked about not wanting to give the organization any choice but to put him into the lineup.

"They had one choice, and that was it. I didn't want to let them do anything else because I wanted to play here and be part of this team and help us win," said Mercer.

Last season he passed all the tests and with time became a player that caught the eye of teams around the league. It was initially reported by Robert Aitken Jr. that the Sharks wanted Mercer as part of the return for Meier.
It made sense considering the Sharks are in the midst of their own rebuild and over the past season and a half Mercer has proven to not only be durable but an NHL-caliber forward. Naturally, the report sent shockwaves through the fanbase at the possibility of losing him, and most agreed as much as they wanted San Jose's star winger, Mercer should not be part of any deal.

In addition to passing every test of his young career, Mercer has forced himself into the team's young core, which includes Jack Hughes and Hischier. He is a young player with a ton of potential, and while it's true teams need to give up something to get something, some players are simply untouchable.
A Fan Favorite in New Jersey
There is no doubt that the versatile forward is a favorite among hockey fans in New Jersey. It makes a big statement that most were willing to pass on Meier if it meant giving up Mercer. When I spoke with the 21-year-old on Monday afternoon he was all smiles sitting at his stall talking about what it meant to him to have the support of fans.

"It's great to feel wanted and loved by the Jersey community and the fans and everything, obviously. That was a good feeling knowing that they love me and they support me and they want me here."
Related: Devils' Dawson Mercer Having an Impact on & off the Ice
---
Latest News & Highlights
---
Mercer will look to extend his career-high point streak on Wednesday, March 1 when the team faces the Colorado Avalanche at Ball Arena. Be sure to follow me on Twitter for all the latest surrounding the Devils ahead of Friday's trade deadline.
---
---