With their backs against the wall, the New Jersey Devils came up with a big-time performance to make it a series against the New York Rangers. Facing a 2-0 series deficit, they picked up a 2-1 overtime victory, thanks to Dougie Hamilton's game-winner and an outstanding performance from rookie goaltender Akira Schmid. Here are four takeaways and some quick hits as the Devils look to even up the series tomorrow night at Madison Square Garden. 
Schmid Provides a Spark
In his post-game media scrum on MSGSN, Schmid said he was very nervous before the game but that he didn't want to show anyone. He certainly fooled me and most Devils fans based on how he played. Making his first NHL playoff start at 22 years old in place of Vitek Vanecek, he looked like a veteran who's been through the playoff wringer before. 
It was apparent early on that Schmid was dialed in; ESPN color commentator Ray Ferraro even noted Schmid's excellent play in the first period. He was calm and collected in net, just as he's been nearly every time he's made an NHL appearance for the Devils this season. The only shot that got past him was a snipe from Chris Kreider that most goalies wouldn't stop.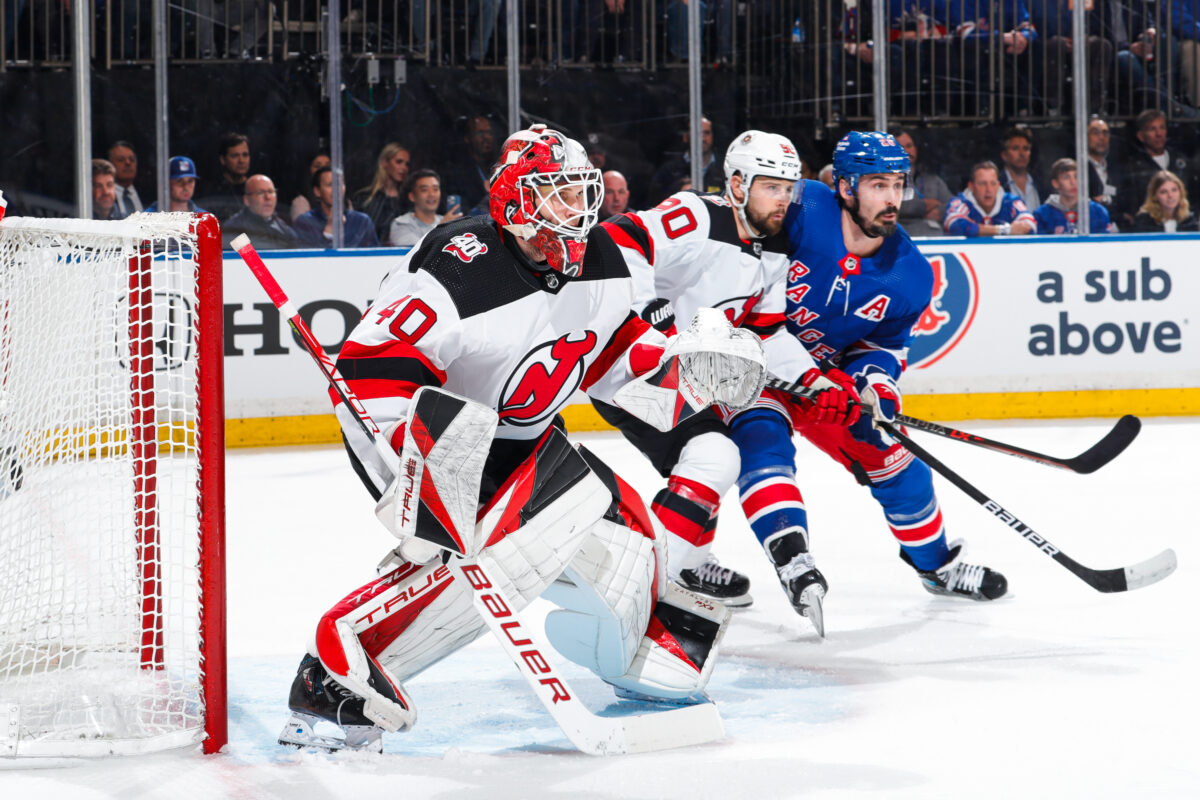 Schmid made 35 saves on 36 shots and stopped 2.80 goals above expected while going 7/7 on high-danger shots. His defense played an excellent game in front of him, allowing just five Rangers high-danger opportunities at five-on-five. And though the Devils' discipline was an issue again, Schmid was fantastic on the penalty kill, making 6/6 saves and stopping 1.48 goals above expected when the team was down a man. 
Though Vanecek wasn't at fault for the Devils entering yesterday's tilt in a 2-0 series hole, it's clear it's Schmid's net until further notice. The team played a confident defensive game in front of him, partly because of his calm demeanor. If the Devils knot up the series at 2-2 on Monday evening, he'll likely have a big say in it. 
Devils First Line Set the Tone
Head coach Lindy Ruff made more line changes, even switching things up from Friday's practice. He reunited the line of Timo Meier, Nico Hischier and Jesper Bratt, and the move paid off. They were the Devils' best line, as they finished with sparkling stats at five-on-five:
21-9 shot attempts (70 Corsi for percentage (CF%))
Scoring chances for percentage (SCF%): 73.68 percent
High-danger chances for percentage (HDCF%): 100 percent
Expected goals percentage (xG%): 77.57 percent
Shots on goal: 14-4
The Devils thoroughly controlled play when this unit was on the ice; high-danger chances were 9-0 in favor of the team. All three players made an impact and in different ways. Bratt was arguably the team's best player, drawing a power play on a partial breakaway 22 seconds into the game, and he didn't look back from there. 
Bratt finished with a team-high five shots on goal. He led the team in CF%, while his 84.52 xG% was second to Hischier, who played an excellent defensive game. He also finished fifth leaguewide for yesterday's playoff games with a 3.34 game score. He did flub a couple of scoring chances before the game-winning goal, but Hamilton doesn't tally the winner without the setup from Bratt:
Ruff even mentioned in his post-game presser that he thought Bratt was excellent, and they will need that to continue in Game 4. As for Meier, he took a beating, but he was throwing his body around and added some physicality that clearly irritated the Rangers. The Devils needed a performance like that from their top line to get back into the series, and they got it yesterday. Expect no changes to that unit to start Game 4. 
Devils Won the Special Teams Battle
The Devils' penalty kill was a disaster in Games 1 and 2, but it improved significantly yesterday. Yes, they still took five penalties, so that's something they need to clean up. But they did a better job of making sure Chris Kreider couldn't kill them on redirects in the net front as he did in Games 1 and 2. Whether it was Ryan Graves, John Marino or any of the team's defensemen who killed penalties, Kreider didn't get any redirect opportunities in Game 3. 
Schmid's effort in net was also a significant reason the Devils' penalty kill stepped up. As they say, sometimes your best penalty killer has to be your netminder. But they played a solid game in front of him when down a man. When they had a chance to clear pucks, they didn't whiff on the attempts and got it down the ice. They also did a better job denying the Rangers the offensive zone on entries than they did in the first two games. 
Related: 3 Takeaways From Devils' Game 2 Loss vs. Rangers
---
Latest News & Highlights
---
The Devils' discipline is still an issue. It bears repeating because they cannot keep taking penalties against a power play as deadly as the Rangers' and expect to go 5/5 again. They must clean up the penalties and stay out of the box moving forward to even up the series at 2-2. 
Vice versa, the Devils went 1/3 on the man advantage. They still need to find more shot generation when up a man. But winning the special teams battle shouldn't go unnoticed. It was going to be a decisive factor in this series, and until yesterday, the Rangers had won it handily. If the Devils flip the script on special teams, they have a better chance of evening up the series. 
Hamilton Comes Up Clutch
Star players need to be star players in the playoffs. The Devils had been struggling to get that from their stars in the first two games, but they got much-needed performances from their core yesterday. Jack Hughes scored a power-play goal, with Hamilton picking up the primary assist. Of course, Hamilton had the game-winner, but he was hunting his shot all night long.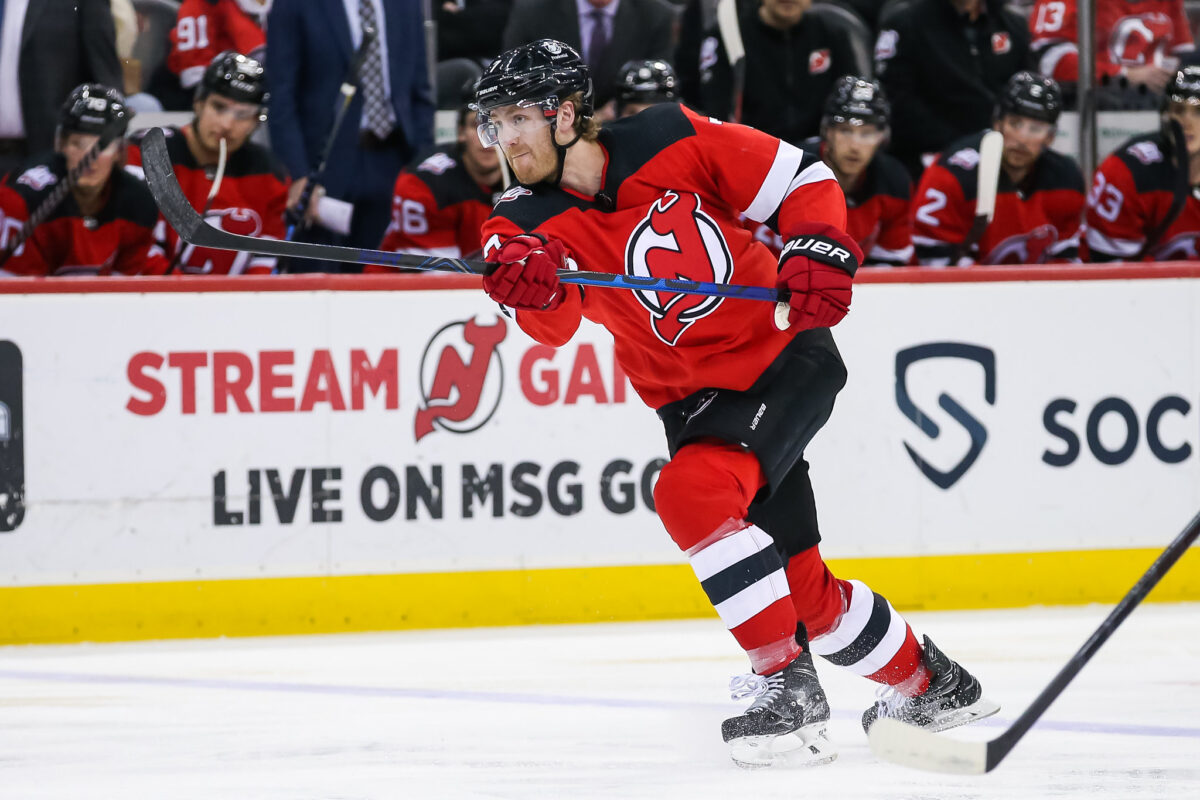 Hamilton finished with ten shot attempts and hit the crossbar with a slap shot on a power play in the second period when the Devils were still trailing 1-0. Though he finished with a 52.07 xG%, he wasn't on the ice for a single high-danger chance against. He played a sound defensive game, something the Devils need from their $9 million man if they want to even up the series and give themselves a chance of advancing to the second round. 
Devils Quick Hits
Even in their two losses, Damon Severson had played well. He quietly had another strong outing in Game 3, leading Devils defensemen in game score and xG% at 74.34 percent. He's played a smart defensive game and has not had any of the glaring defensive gaffes that he's prone to. One of their best puck-movers on the back end, he could help the Devils find some five-on-five offense in Game 4. 
Speaking of five-on-five offense, the Devils have to do a better job creating some. Hamilton's winner was their first five-on-five goal of the series, which couldn't have come at a better time. But even though the Devils generated 3.23 expected goals at five-on-five, nearly half of that came in the first period. The Rangers have done an excellent job defensively of not leaving much space out there for the Devils' offense. Hopefully, with the win and the monkey off their backs, they'll loosen up and find more flow offensively at five-on-five. 
The Devils still have a tall task ahead of them in trying to even up the series at MSG. But with a confident team in front of Schmid, plus the road-warrior mentality they've had all season long, it should be another competitive tilt tomorrow night. 
* * *
Advanced stats from Natural Stat Trick, Hockey Stat Cards