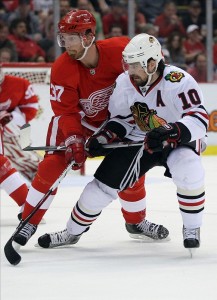 Chicago is speedy. St. Louis is dirty.  Nashville is both.  The only reprieve will come against a Nash-less Columbus.  Detroit will play each of these teams nearly SEVEN times over the next few months.  It will be bloody. It will be messy.  It will be fast and fierce.  Players who remained stagnant, that is, not playing, will get injured very early.  A schedule where half the games are against divisional opponents will help some teams, but it will not help Detroit.  This shortened season, ladies and gentlemen, is going to be a merciless and absolute dogfight.  Our very own Battle Of Britain, and it starts in nine days.
This is how the season could play out: The first 3 weeks will be sloppy.  Too many players opted to workout instead of play out.  An injury to Niklas Kronwall, who is without question Detroit's most valuable defenseman, is not unthinkable.  The same goes for Jimmy Howard, who while remaining Detroit's number one goalie, needs to bounce back after a questionable performance during the previous postseason.  Some competition from Jonas Gustavsson, and there is no time to regard this competition as "friendly", should help the situation.
Speaking of "The Monster", Gustavsson was given no help while serving in goal for Toronto.  Toronto seems to be bringing out the worst in everyone these days, so Wings fans would be smart to basically ignore Gustavsson's record there.  He showed flashes of butterfly style brilliance, but was hung out to dry by a clueless Toronto team.  Detroit is where he will show what he is made of.  We expect quite a bit from our goalies, but we do not crucify them to the extent that so many in Leafs Nation are quick to do.  Tim Cheveldae earned his castigation.  Gustavsson did not.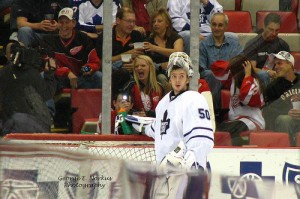 The spark that could carry an aging Detroit squad, comes from the farm.
Brendan Smith has shown he can be both brilliant and foolish, on and off the ice.  He's been wanting to be a regular on the Detroit blue line for several seasons now.  His time has come, and he has to be less "Animal House" and more "House" if he is to be the difference maker we all know he can be.  Tomas Tatar is virtually guaranteed to see regular ice time at the NHL level after the staggering success he has had in Grand Rapids.  "Sauce", as some like to call him, is a faster, more determined Hudler, and can replace the diminutive Czech easily if given the chance.  A chance is all Tatar needs, and Mike Babcock should consider replacing one of Detroit's more replaceable parts with the sniping Slovak.
Which brings us to Gustav Nyquist.  This may be premature, given that Henrik Zetterberg is about to be named our team's captain, but Nyquist has captain energy to spare.  He has shown an acumen in all three zones that is uncommon among young players, and a poise with the media that belies his age and experience.  Nyquist is first line material from day one, and the time for him to shine is now.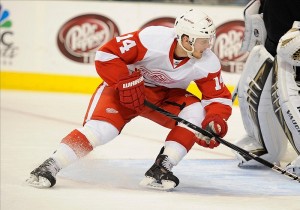 Detroit's success during this abbreviated season, rests on the shoulders of three rookies.  This, to put it mildly, is new in the Detroit experience.
It's been obvious from the start of his career that Zetterberg would eventually wear the "C" for Detroit.  With the departure of Nicklas Lidstrom, Zetterberg is the only real choice.  But how much more can we ask of Hank, and of his Euro-twin counterpart, Pavel Datsyuk?  Both players are still technically in their primes, but this is a season where we may start to see our finest forwards slip.  Some say we have seen the slip commence already.  The importance of Nyquist and Tatar should be becoming clearer.
Many are concerned over Detroit's defense, and they should be.  But there is some good news.  Although Detroit has lost Nicklas Lidstrom, Brian Rafalski and Brad Stuart…wait did I mention good news? Forget it.  There isn't any.
Tomas "Demolition Man" Holmstrom is retired as well.  #96 created a net presence not only unique to Detroit, but unique to anywhere.  Ask opposing teams who created the most chaos in front of their net since the mid-90's if you don't believe me.  My fantasy of transforming Jonathan Ericsson into a forward will have to remain just that, a fantasy.  We have too few Detroit defenders to happily conduct a bold experiment.  The job for an abrasive goalie-screener is open, and will remain that way for some time.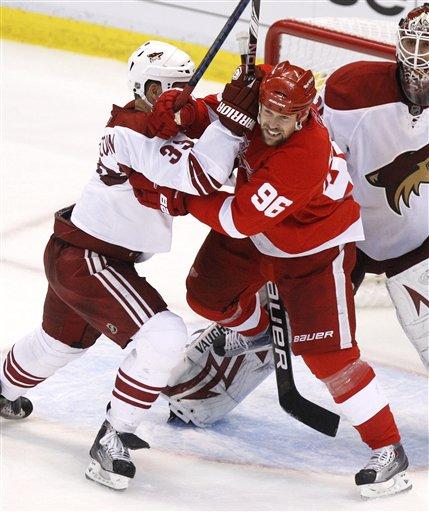 The lockout gave us plenty to complain about.  Now that it is over, the roster is giving us plenty to complain about as well.  So, for the last 100 plus days, our hockey experience has been reduced to a series of complaints.  The fact that we are complaining about the roster instead of the work stoppage is an improvement, but not a comforting one.
The great equalizer in this situation is chance, and as we know, no sport relies on chance to the extent that hockey does.  This game is not played in board rooms.  It is not played with federal mediators.  It is not played in 5,000 dollar suits.  It's not played by Gary Bettman, Donald Fehr, or any of the other dreadful sounding names that we will hopefully never have to hear again.  It isn't played by us either.  I know many of us like to believe we make a significant difference, but in general, we don't.  The game is played on the ice; a massive sheet of slippery frozen water where goals are scored, bones are broken, and championships are won.
Looking at the paper, Detroit cannot succeed.  Looking at the ice, all bets are off.