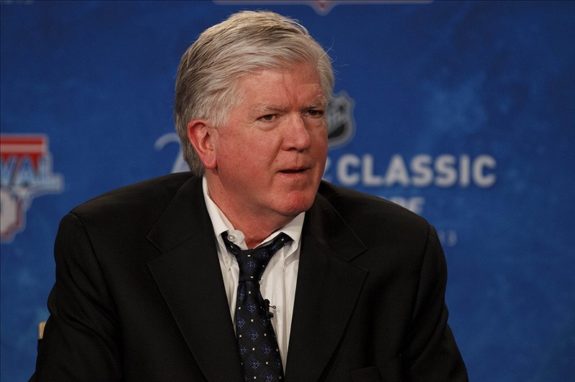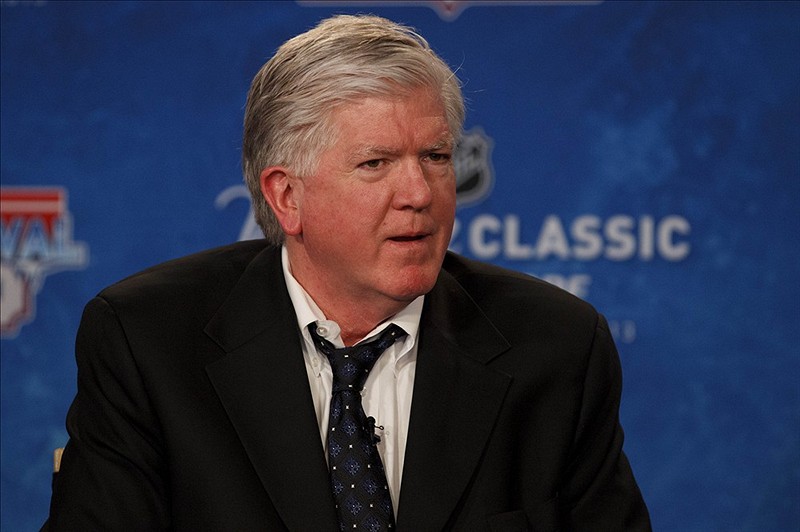 When Brian Burke was fired as President and General Manager of the Toronto Maple Leafs, it's fair to say the hockey world was shocked. The timing was more than a little peculiar, and the news seemed to come out of nowhere. Three days later the dust has begun to settle, and it's truly fascinating to see the reactions emanating from media and fans alike.
On one hand, Brian Burke failed to make the playoffs in four years, and he also failed to solve Toronto's goaltending problems. If you listen to Burke's detractors, they'll also have you believe that the combustible GM failed to flex the Maple Leafs considerable financial muscles. Why didn't Burke attempt to sign Steven Stamkos to a massive offer sheet that the Lightning couldn't match? Why was Burke so averse to signing players to the long term contracts that every other team was handing out? Why did Burke insist on shutting down trade talks around the holidays and a week before the trade deadline? After all, no other teams were following suit.
However, it's important to recognize the absolute mess that Burke inherited four years ago. When Burke became the President and GM of the Toronto Maple Leafs in 2008, his top two centremen were Matt Stajan and Nik Antropov. The wingers rounding out his top six were Jason Blake, Alexei Ponikarovsky, Niklas Hagman, and Lee Stempniak. Burke's defence consisted of Jeff Finger, Tomas Kaberle, Pavel Kubina, Ian White, and Jonas Frogren…that's right, Jonas Frogren. The goaltending position was also in disarray as John Ferguson Jr. and Cliff Fletcher left Burke with the enigmatic Vesa Toskala. Oh yeah, and the Leafs minor league cupboard was completely bare with zero top prospects. This is a tough situation for any General Manager to walk into.
So how do we rate Burke's tenure as General Manager of the Toronto Maple Leafs? Well, the first thing to do is to acknowledge the trade that will undoubtedly define his time in Toronto. In 2009, Burke traded two first round picks and a second round pick to the Boston Bruins for Phil Kessel. The full impact of the Kessel deal won't be felt for another few years, and there are two ways of looking at the deal.
Those who like the deal for Toronto believe the Leafs got a franchise cornerstone that was coming off a 36 goal season as a 20 year old. Those who don't like the deal think the Leafs were in the midst of a rebuild, and it was short-sighted move to give up two unprotected first round picks. After all, the Leafs had the potential to be bad. As it turns out, the Leafs were incredibly bad, and we all know the result. Toronto finished with the second worst record in the NHL in 2009-2010, and the Bruins drafted Tyler Seguin. Personally, I can understand Burke's rationale for making the deal, but I think it was an error in judgment. The Kessel deal is the kind of trade a team makes when they are close to contending for a Cup, not in a full blown rebuild. As it stands, I would trade Phil Kessel straight up for Tyler Seguin, and the fact that the Bruins also got Dougie Hamilton only makes it worse. The Toronto Maple Leafs now have the dubious distinction of providing the Bruins with a top goaltender in Tuukka Rask, a top centre in Seguin, and a top defensive prospect in Hamilton.
The fact remains that in 15 years, Burke's tenure in Toronto will probably be tied to the Kessel deal. However, it's also important to remember all the good he did. Here are five great trades that Brian Burke pulled off as general manager of the Toronto Maple Leafs…
5.) 2011-Jul-03 – Toronto acquired Cody Frandon, Matthew Lombardi and future considerations for Brett Lebda, Robert Slaney and future considerations.
This trade was an absolute hose job no matter how you look at it. Even if Cody Franson is out of the NHL in two years time, this was a risk worth taking. Nashville general manager David Poile was desperate to unload Lombardi's contract, and Burke managed to get Franson included in the deal. All it cost Toronto was money. Once again, if Franson turns into a flop it was still a risk worth taking. If Franson turns into a player, this will be a steal.
4.) 2010-Jan-31 – Toronto trades Jason Blake and Vesa Toskala to Anaheim Ducks for Jean-Sebastien Giguere.
At the time of this trade, both Jason Blake and Vesa Toskala were in desperate need of a fresh start. The Leafs were also in desperate need of a capable veteran goaltender. This trade was beneficial on both fronts, and the Leafs were also able to wipe Giguere's 7 million cap hit off their books a year later.
3.) 2010-Jan-31 – Toronto acquires Dion Phaneuf, Fredrik Sjostrom, and Keith Aulie for Jamal Mayers, Niklas Hagman, Matthew Stajan and Ian White.
Dion Phaneuf is a polarizing figure. Some people love him, and some people think he sucks. I fall somewhere in between. I find it strange and somewhat alarming that Phaneuf has regressed throughout his 20's, but he is still a valuable player. Conversely, Matt Stajan and Niklas Hagman hold very little value. Even if you hate Dion Phaneuf, you have to admit that Burke gave up absolutely nothing to get him. It's also important to remember that Burke managed to get Keith Aulie included in the deal. Aulie was eventually shipped to Tampa for Carter Ashton, but there was no reason for the Flames to include Aulie in this deal.
2.) 2011-Feb-09 – Toronto acquires Joffrey Lupul and Jake Gardiner for Francois Beauchemin.
This trade was highway robbery for Burke and the Leafs. At the time of the deal, Beauchemin was struggling in Toronto, and Lupul was struggling in Anaheim. This trade was an opportunity for both players to get a change of scenery. However, similar to the Phaneuf deal, Burke was once again able to acquire a solid prospect without giving one up. There was absolutely no reason for the Ducks to include Jake Gardiner in this deal. The only way it made sense was if the Ducks were receiving a top prospect back in return. As it stands, this trade was extremely one-sided in the Leafs direction.
1.) 2011-Feb-18 – Toronto trades Tomas Kaberle to the Boston Bruins for Joe Colborne, a first round pick in 2011, and second round pick in the 2012 draft.
Everyone in the world knew that Tomas Kaberle was going to be dealt at the 2011 trade deadline. Kaberle was set to become an unrestricted free agent in the summer, and by all accounts he wasn't going to return to Toronto. With this in mind, it's extremely impressive that Burke was able to get this kind of return. The jury is still out on Colborne, but he's a big body with soft hands, and he still has youth on his side. The picks may or may not turn into anything substantial, but Burke still managed to acquire assets while operating from a position of minimal leverage.
The enduring legacy of the Brian Burke era in Toronto will undoubtedly be the Phil Kessel trade, and the fact that the Leafs never made the playoffs in his tenure. However, when he inherited the Leafs, he inherited a franchise that was filled with overpaid and under-performing verterans. Additionally, the Leafs had zero prospects coming up the pipeline. Fast forward to 2013 and Toronto is in a much more favorable position.
The Leafs now have a stable of skilled young prospects like Nazem Kadri, Joe Colborne, Jake Gardiner, Carter Ashton, Jussi Rynnas, and Morgan Rielly. Brian Burke also left the Toronto Maple Leafs in a great position to be aggressive in 2013 free agency. The Leafs are currently projected to be almost 23 million dollars under the cap this summer, and they will have an opportunity to make a run at unrestricted free agents like Corey Perry and Ryan Getzlaf.
It's easy to criticize Brian Burke for the Kessel trade and for missing the playoffs in four straight years. However, he's left the Leafs in a great position moving forward.