A lot can be said of Jonathan Huberdeau's first season with the Calgary Flames. The pressure of living up to a new long-term contract had to have played a part, but so did the coach who's now gone. It was also an odd season for many Flames; Huberdeau wasn't the only one who didn't perform up to his standards.
A drop-off of 60 points from one season to the next is unheard of, but it doesn't properly represent the type of player Huberdeau is or will be for many years. I don't expect him to bounce back to the level he played at in 2021-22 because that is just unrealistic, but he should be a point-per-game player again. In 2021-22 when he recorded 115 points, that was a career year helped by a perfect situation. The Florida Panthers finished with 337 goals, averaging 4.11 goals per game. They were setting modern-day records, and Huberdeau was a big part of that.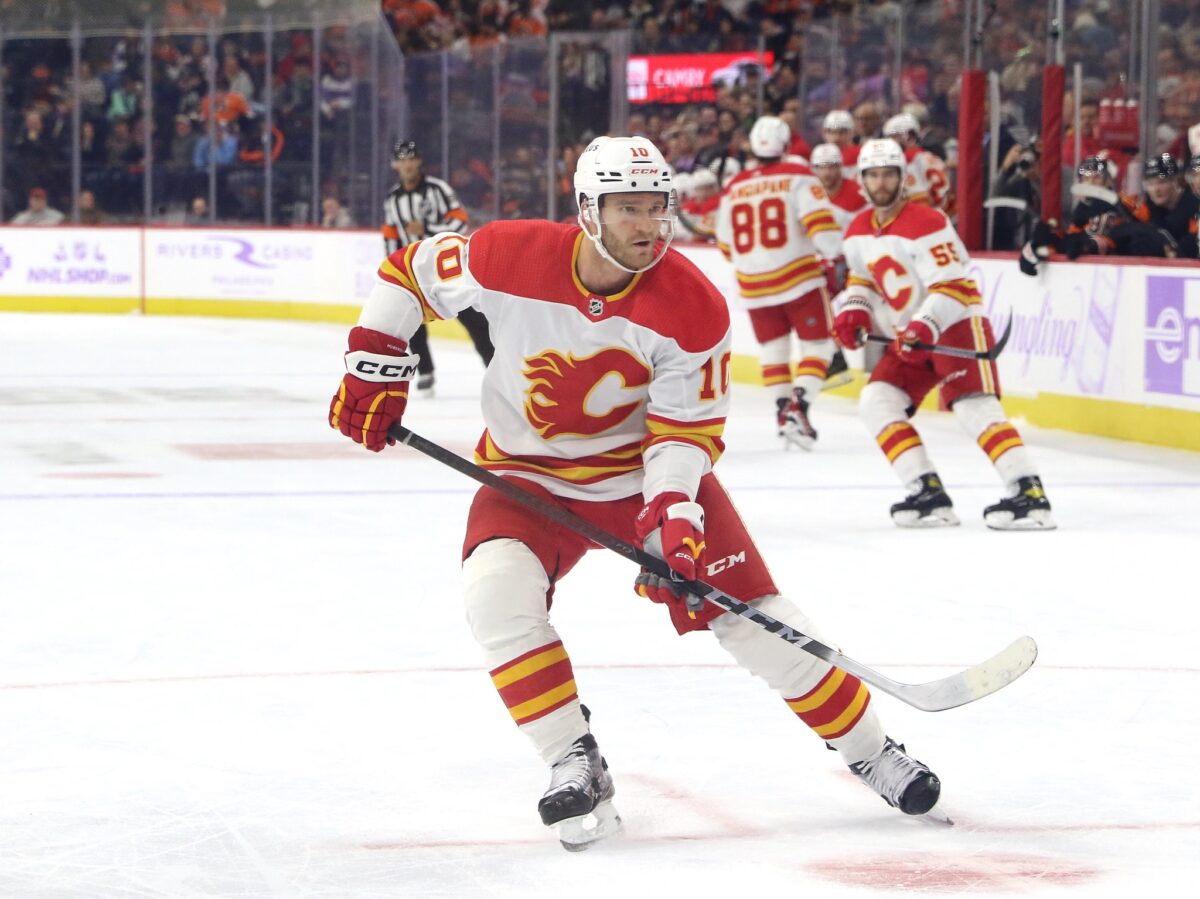 The Flames are different. They are a much more defence-oriented team, especially this season under head coach Darryl Sutter. Their next head coach likely won't be as demanding about defence, so we might easily see the points rise again. Still, nobody is expecting the Flames to come out and score over four goals per game. Here's a look at Huberdeau's lows this season and how they are bound to rise to the norm.
The Lows are Bound to Rise
Ice time is a big part of production. Few players who are limited in ice time score and produce points at a high rate. When high-end players spend many seasons getting all the opportunities, it can mess with them when they see their ice time reduced, and a rift between Sutter and Huberdeau was likely part of the reason for the drop in ice time.
Related: Flames Urgent to Deal With These 7 2024 Free Agents
He averaged just 16:52 of ice time per game (TOI/G) in 2022-23. The last time it was that low was in 2014-15 when he averaged 16:45. Huberdeau saw his ice time decrease at even strength, on the power play and on the penalty kill. He played 70 fewer minutes on the power play on a much less effective unit than in Florida. But the big hit was not being utilized on the penalty kill at all after logging nearly 150 shorthanded minutes in 2021-22. Without his coach's trust, he lost his confidence.
---
Latest News & Highlights
---
Huberdeau reached lows in four key categories not seen since 2016-17 when he played just 31 games, including in goals, points, power-play points (PPP), and shooting percentage (S%). He scored 15 goals, 55 points, 15 PPP, and had a S% of 11.9 percent.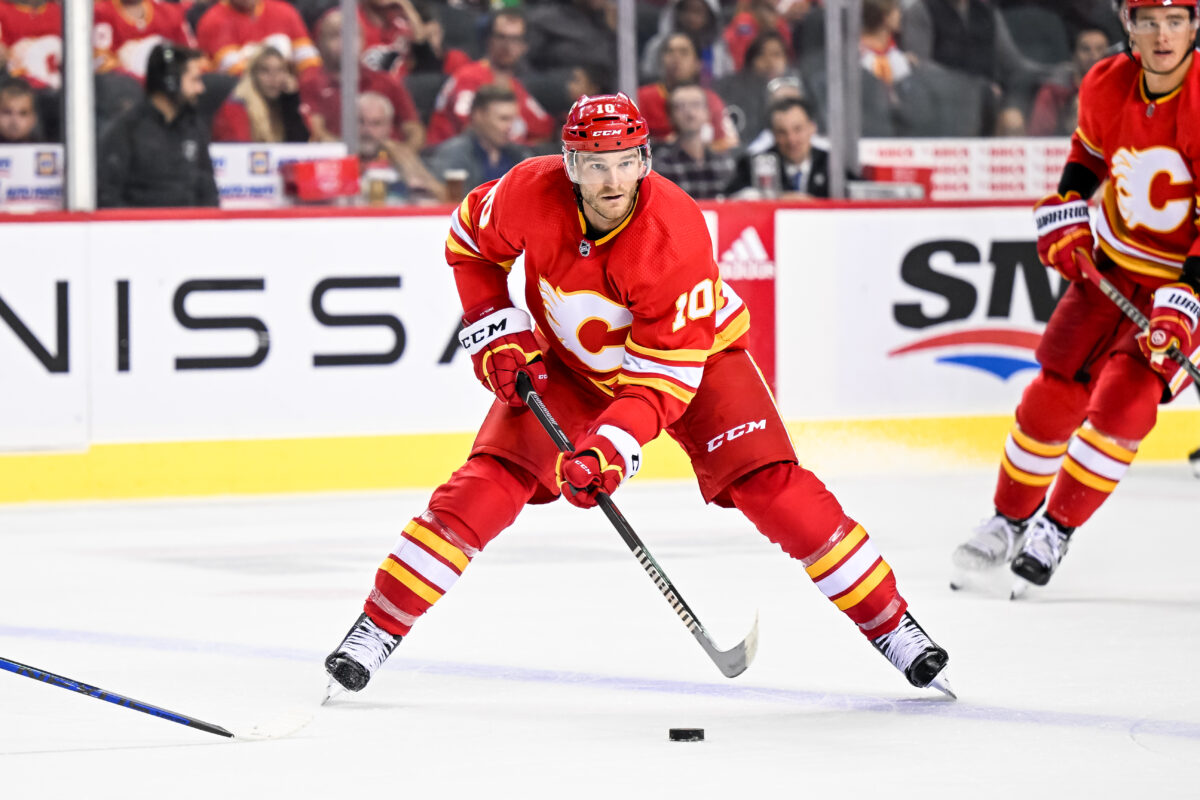 Playing without confidence, Huberdeau had few shot attempts, and when he did shoot, they weren't great, resulting in a low goal total, S%, and therefore points and PPP. He was never a goal-scorer, but he is still one of the best passers in the NHL, proven by the 85 assists he recorded in 2021-22. A player of his skill set needs to be surrounded by finishers. Sutter moved Milan Lucic to Huberdeau's line for a time, providing him with the exact opposite and setting him up to fail. With some changes to the system, the entire team clicking better, and more offensive freedom, his scoring will shoot back up.

Huberdeau knows his game and has spent 11 seasons executing his style well. When a coach tries to change that and doesn't allow a player to be the most successful version of himself, it's a recipe for disaster, as we witnessed.
Two more stats that were at their lowest in years were power play on-ice shooting percentage (PP oiSH%) and 5v5 on-ice shooting percentage (5v5 oiSH%). Although this includes Huberdeau's low S%, it also includes the team and shows that the overall offence was down for a number of reasons. PP oiSH% was the lowest since 2017-18, and 5v5 oiSH% was the lowest since 2018-19. Not only was the PDO (S% + SV%) down this season while Huberdeau was on the ice, his offensive zone starts were nearly 12% lower than they were in 2021-22.
Calgary and everything that came with playing for the Flames was a drastic change (from "Getting Jonathan Huberdeau firing for Flames a priority for Craig Conroy", Calgary Sun, May 24, 2023). Now that Huberdeau is more accustomed to it and things are expected to change for the better, at least a few of these stats will bounce back, maybe not to the highest they've ever been, but not as low as they were this season. I predict that none of them will be as low, but he can't do it alone. He will need help, and that should come this offseason.