Management or the fans of the Calgary Flames couldn't have imagined that they would have the two players who have had the largest drop-off from last season to this season as their two big off-season additions. Astonishingly, Jonathan Huberdeau and Nazem Kadri are ranked number one and two in terms of decline in points-per-game from 2021-22 to 2022-23.
According to Sportsnet Stats, Huberdeau and Kadri lead the list of players with the largest decline in points-per-game (P/GP), with a minimum of 50 percent of the games played each season. Huberdeau has a drop-off of -0.73 P/GP, while Kadri has a -0.49 P/GP decline.
Huberdeau scored 30 goals for just the second time in his career last season while breaking the 100-point mark for the first time and reaching just 90 points for the second time. Recording 30 goals and 115 points was definitely a bit of an outlier for him, but last season was also his fourth consecutive season of playing over a point per game. Seeing how the Flames had another 115-point scorer on their top-line left wing, there was hope the transition would be seamless. The change from Aleksander Barkov to Elias Lindholm also isn't huge, as both are great two-way centres. Huberdeau has scored just 10 goals and 36 points in 51 games this season.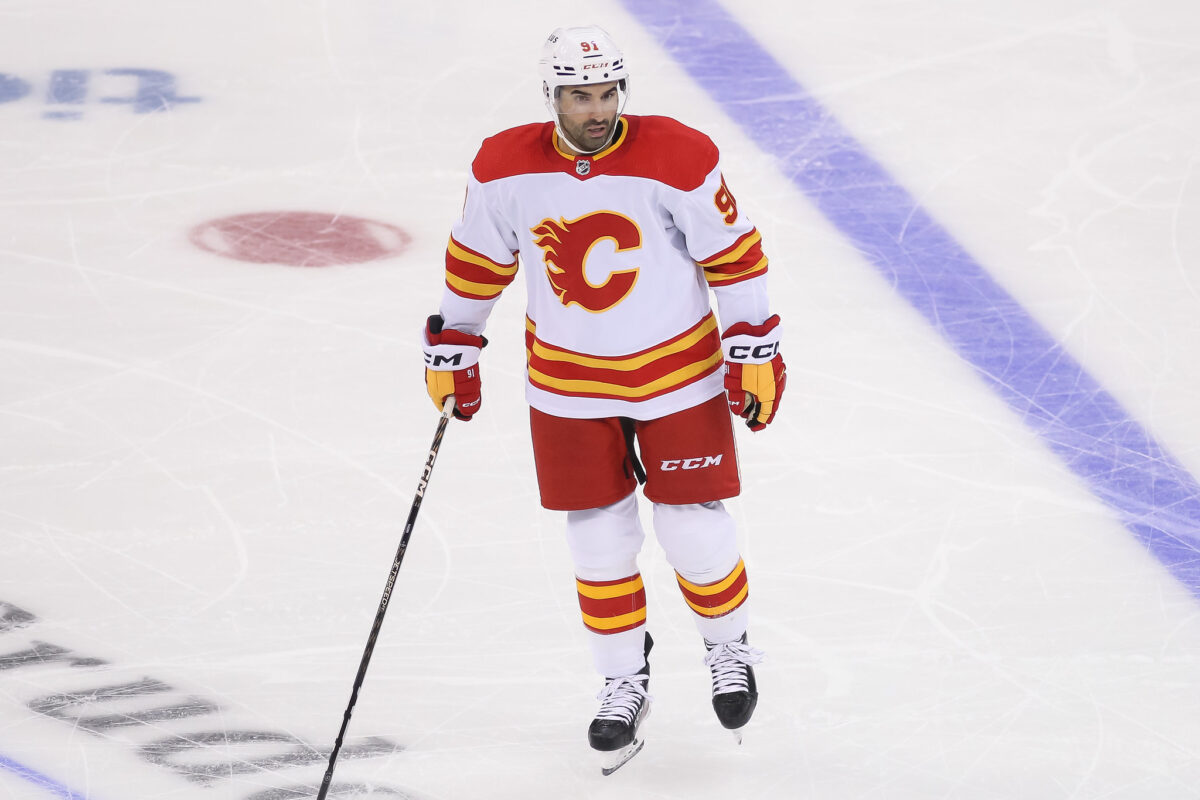 Then there is Kadri, who was an easier player to look at and predict a decline. Before last season which was a massive outlier for Kadri, his career-high in points in a season was 61. This came in 2016-17 in 82 games. He recorded 87 points in 71 games last season. Kadri is more known for his goal-scoring than his passing ability seeing as he only had 43 more career assists than goals before 2021-22, which isn't a big separation considering there can be two assists for every goal scored.
Kadri has even finished three seasons with more goals than assists, so recording 31 more assists than goals last season was off-brand. His massive uptick in production was due to the elite offence of the Colorado Avalanche and due to playing with players like Mikko Rantanen a lot more with Nathan MacKinnon out of the lineup at times. So without elite finishers to get assists from, Kadri was bound to regress to well below a point-per-game player once again.
Reasons for the Declines of Huberdeau & Kadri
We should have expected a bit of a decline, at least right at the start, but not of this magnitude, and especially not having two players on the same team lead the entire NHL in P/GP drop-off.
---
Latest News & Highlights
---
Kadri is the less complicated case as his decline, to a point, was predicted. There is no Rantanen, MacKinnon, Cale Makar, or even the other underrated supporting cast the Avalanche had, and there definitely isn't an elite power play this season with the Flames. In comparison to last season on the man advantage, Kadri has one more goal and 15 fewer assists. He is still a similar player as he was last season and the seasons before that, but the players around him don't have the same scoring ability. Since some of his value comes in his two-way game as well, his $7 million annual average value contract for six more years isn't nearly as horrible looking as Huberdeau's is.
Huberdeau's situation and struggles are more intricate as there are multiple factors impacting his lack of success. From a numbers standpoint, he is shooting far less and showing little confidence and awareness. It makes me believe that he thought the goals and assists would come as easy as they did last season. Instead, he is turning over pucks and not believing in his shooting ability. He has taken 80 shots through 51 games this season, averaging 1.56 shots per game. That's not going to allow anyone to score 30 goals. He has his lowest shooting percentage since 2016-17, where he scored 10 goals and took 86 shots in 31 games. Huberdeau averages 2.34 shots per game in his career and averaged 2.77 last season.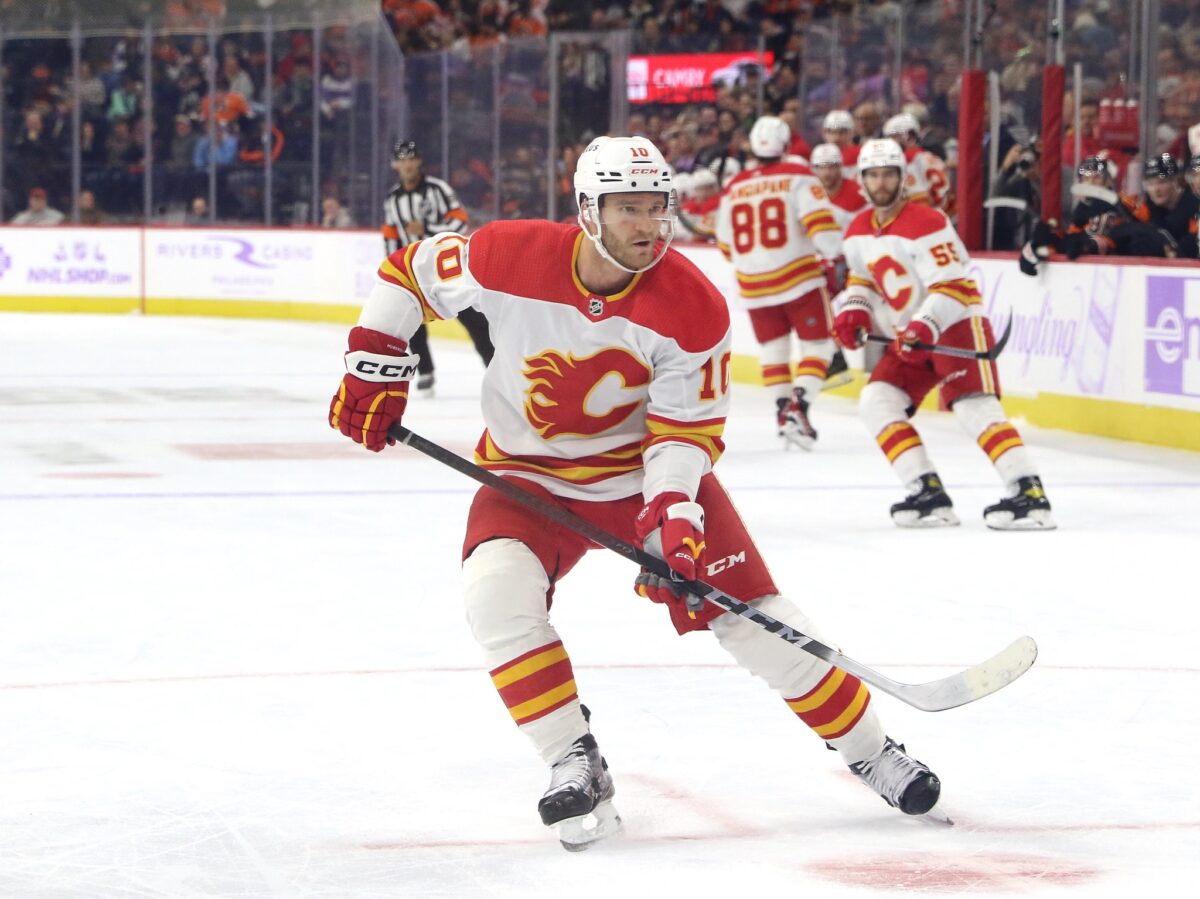 As for the rest of his game, he and Darryl Sutter were almost immediately at odds. After singing Huberdeau's praises in training camp regarding his passing ability, things went downhill from there. It started in early November when Sutter revealed a little too much about why Huberdeau left the bench, and it didn't sit well with the players or Huberdeau. A short while later, Sutter made comments about Huberdeau and his game saying, "I think Jonathan has to speed his game up, that's for sure." On the foot-speed side of things, Sutter should have already known Huberdeau isn't the fastest skater, but that's not where his value lies.
Related: Flames Fans Growing Increasingly Frustrated with Huberdeau
All this comes from dealing with an injury, being demoted, and a few more instances where Sutter made questionable comments about Huberdeau. That's the coach's nature, but that also doesn't mean every player isn't impacted differently by it. Along with spending time on the third line as the so-called superstar at the start of the season, Huberdeau has also been playing on a line with Milan Lucic for a while. If there's one player on the Flames that won't get another player going offensively, that's Lucic. Huberdeau is an offence-first type of player, so he hasn't seemed to mesh well with Sutter's coaching style, which focuses on a strong defensive structure. So both Huberdeau and Kadri coming over from the top lines of run-and-gun offences to a defensive system had decline written all over it.
Many factors have come into play, and reasons we can attribute to the massive declines of Huberdeau and Kadri, but it doesn't do the Flames good either way. The team needs them to be more productive and play up to their contracts if they want to be Stanley Cup contenders in the next five to six years. There's lots of time for things to change this season and beyond, but also a lot more time for the offensive lull to remain and the team to go nowhere.
---
---