WARNING: This article is grossly unfair to the Dallas Stars.
It's unfair because A) drafting 17- and 18-year-olds is a crapshoot, B) hindsight is 20/20 and C) you can plug in any other team name and write virtually the same article.
Disclaimer aside, an autopsy of the Stars' performance at the 2003 NHL Entry Draft has value as a cautionary tale for fans and general managers alike.
The Class of '03 is widely considered the deepest in history: 73 of 292 draftees, or 25 percent, went on to play at least 164 regular-season NHL games. Measured by either number of players or percentage, those are the highest totals of any draft from 1990 through 2016. An often-overlooked fact is that 55.5 percent (162 of 292) of the 2003 class never played a game in the NHL; hence the "crapshoot."
The Stars had 11 picks in the nine-round draft, including three in the second round. Statistically speaking (and with some rounding involved), they should've selected three prospects who played 164-plus games (career NHLers), six who never played a game (busts) and two who played between one and 163 games (cup-of-coffee guys).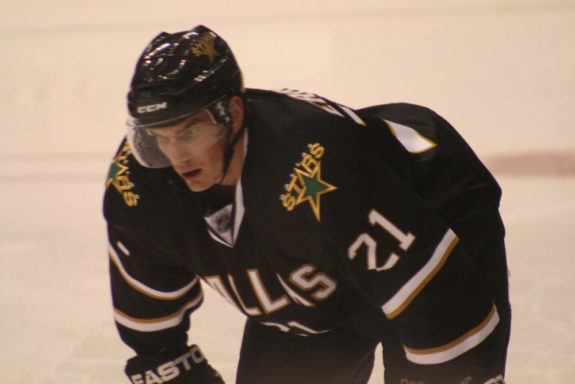 What then-Stars GM Doug Armstrong and his staff pulled from the 2003 draft wasn't far off the mark: two career NHLers, three cup-of-coffee guys and six busts. On the surface, the Stars' results seem quite average. Dig a little deeper, down to the players they didn't draft, and a serious talent evaluation problem comes into focus. Grab the heartburn medication or adult beverage (or both) of your choice, Stars fans, and let's take a look at what might've been.
Second Round: As Good as It Gets
The Stars traded their first-round pick, 28th overall, to the Mighty Ducks of Anaheim for two second-rounders. Anaheim used the pick on Corey Perry, but Dallas still had a chance (two chances, in fact) to win that trade.
Before using their newly-acquired spins on hockey's Wheel of Fortune, the Stars had to make a decision on their own second-round pick. With the 33rd pick in the 2003 NHL Entry Draft, they took winger Loui Eriksson (790 Games Played, 223 goals – 305 assists – 528 points), who scored 150 goals during his seven seasons in Dallas, including a career-best 36 in 2008-09. In July 2013, the talented Swede was a key piece in the trade that brought Tyler Seguin to the Stars.
Eriksson proved a solid selection, offering value on the ice and in trade. Taken at face value, that was a great pick. When you consider the Stars could've spent that pick on three-time Selke Trophy winner Patrice Bergeron (Boston Bruins 45th overall, 899 GP, 259g – 412a – 671pts.) instead, the selection of Eriksson loses much of its luster.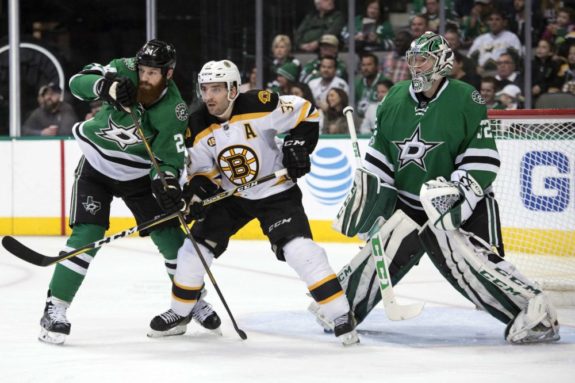 36th Overall: Swing and a Miss
With the first of two second-round picks acquired from the Mighty Ducks, the Stars took left wing Vojtech Polak (5 GP, 0 pts.). Despite putting up good numbers during three seasons with the AHL's Iowa Stars, the speedy Czech couldn't crack the NHL roster. By 2008, he was back in Europe, where he still plays today.
In drafting Polak, the Stars not only missed a second shot at Bergeron, but they also left franchise cornerstone defenseman Shea Weber (Nashville Predators 49th overall, 841 GP, 183g – 302a – 485pts.) and two-time Stanley Cup-winning goalie Corey Crawford (Chicago Blackhawks 52nd overall, 381 GP, .918 Save Percentage, 2.37 Goals Against Average) on the table.
54th Overall: Not Good Enough
The Stars used their final second-round pick on feisty winger B.J. Crombeen (445 GP, 34g – 46a – 80pts.), a physical bottom-six fixture who was lost to the St. Louis Blues via a waiver claim after playing just 23 games with Dallas.
Though 445 games is a good NHL career by any measure, the Stars chose Crombeen over center David Backes (Blues 62nd overall, 801 GP, 223g – 275a – 498pts.), a player who offered just as much physicality and much greater skill.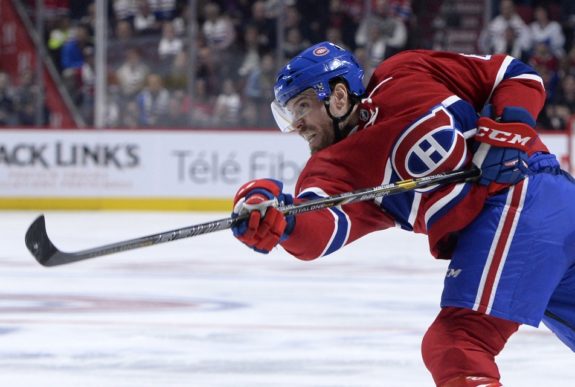 Third Round: The First Bust
Near the end of the third round, the Stars used the 99th overall pick on punishing defensive defenseman Matt Nickerson, who played across town for the Texas Tornado of the NAHL. The big blueliner, known today primarily for his multi-game suspensions, spent parts of two seasons in the AHL and ECHL, broke the Finnish Liiga record for penalty minutes in a season (236 PIM in 36 games) and has been a fixture in the United Kingdom's EIHL since 2013.
If the Stars wanted an NHL-caliber defenseman, they could've taken over-ager Jan Hejda (Buffalo Sabres 106th overall, 627 GP, 25g – 110a – 135pts.) or Kyle Quincey (Detroit Red Wings 132nd overall, 568 GP, 36g – 119a – 155pts.) instead.
Fourth Round: The Losing Gamble
The Stars took forward Alexander Naurov with the 134th pick. The young Russian impressed scouts at the World Junior Championships a few months prior, winning the gold medal on an Ovechkin-led squad and tallying three goals and five points in six games.
Naurov never built on his WJC success, spending most of his professional career in Russia's minor leagues before retiring following the 2013-14 season. He's now a scout for the Edmonton Oilers.
Still playing today, and still available when the Stars took Naurov, is/was Lee Stempniak (Blues 148th overall, 872 GP, 200g – 260a – 460pts.). While Stempniak has played for 10 NHL teams, like Naurov, he's never played for the Stars.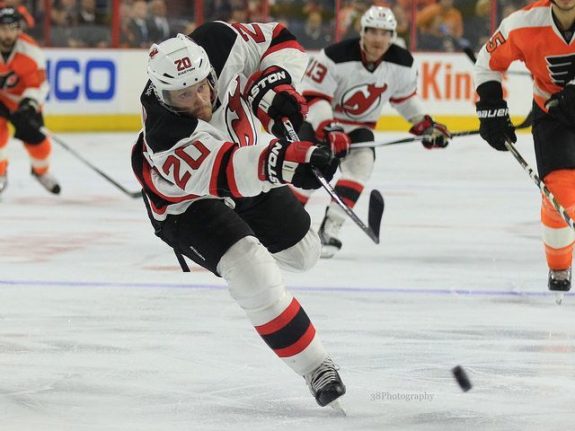 Fifth Round: The Streak Continues
The fifth round has been good to the Stars in recent years, yielding such gems as Jamie Benn and John Klingberg. Such was not the case in 2003, despite having two chances in the round.
Goalie Eero Kilpelainen's name was called when the Stars spent the 144th pick. The smallish (by NHL standards) Finn spent the 2004-05 season in major junior with the OHL's Peterborough Petes before returning home. He's played professionally in Finland ever since.
When the Stars took Kilpelainen, NHL netminders Jaroslav Halak (Montreal Canadiens 271st overall, 395 GP, .917 Sv pct., 2.41 GAA) and Brian Elliott (Ottawa Senators 291st overall, 372 GP, .913 Sv pct., 2.42 GAA) were still available; in fact, a total of eight goalies who played at least one NHL game were taken after Kilpelainen.
The Stars used their other fifth-round pick on center Gino Guyer, winner of the 2002 Mr. Hockey award as Minnesota's top high school player. Guyer played four years at the University of Minnesota, winning an NCAA title as a freshman and serving as team captain during his senior season.
A torn ACL limited Guyer to just 66 games in his first two pro seasons, all in the ECHL. After two more years in that league, he headed to Europe, playing in Norway and Italy before retiring following the 2012-13 campaign. He's now a salesman and skating instructor back home in Minnesota.
Though obvious in hindsight, Stars management didn't realize at the time that the 165th pick would've been better spent on a kid from Wisconsin, Joe Pavelski (San Jose Sharks 205th overall, 806 GP, 295g – 336a – 631pts.).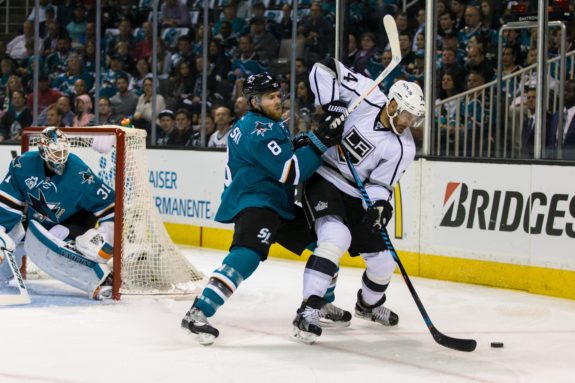 Three Sixes Equals Two Cups of Coffee
The Stars' three sixth-round picks were spent on bruising left wing Francis Wathier (185th overall, 10 GP, 0pts.) and defensemen Drew Bagnall (195th, 2 GP, 0pts.) and Elias Granath (196th, 0 GP). Wathier and Bagnall proved to be career AHLers. Granath stayed in Sweden, never playing a professional game in North America.
In retrospect, Tanner Glass (Florida Panthers 265th overall, 511 GP, 24g – 45a – 69pts.) would've been an upgrade over Wathier, and the Stars could've passed over Bagnall and Granath for NHL defensemen Toby Enstrom (Atlanta Thrashers 239th overall, 676 GP, 53g – 249a – 302pts.) and Dustin Byfuglien (Chicago Blackhawks 245th overall, 758 GP, 165g – 284a – 449pts.).
Eighth Round: Not with a Bang but a Whimper
This deep in the draft, all picks fall into the "long shot" category. Defenseman Niko Vainio (259th), the Stars' final selection of 2003, certainly met the criteria. Regarded as a "defensive defenseman," the tall, thin Finn tallied just two points in 33 games with the Jokerit U20 squad in his draft year, and no points in six WJC contests. Chronic back problems ended his hockey career at the age of 20.
When the Stars took Vainio, other long shots were still available, like left wing Matt Moulson (Pittsburgh Penguins 263rd overall, 636 GP, 176g – 193a – 369pts.), the aforementioned Glass, Halak and Elliott, and right wing David Jones (Colorado Avalanche 288th overall, 462 GP, 104g – 87a – 191pts.).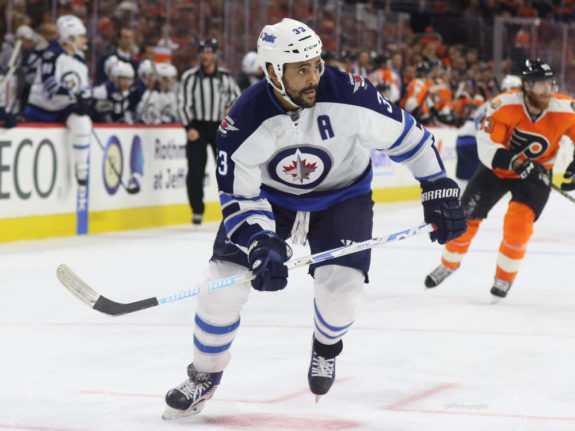 Evaluation Failure Not Unique to Stars
We'll never know what the last 13 seasons would've looked like for the Stars, had they drafted Bergeron, Backes, Pavelski, Byfuglien and Weber in June 2003. "How many Cups?" is the eternally tantalizing question.
Easier to answer is: "Why didn't the Stars (or any of 28 other teams) draft those players?" Simply put, it's a failure of evaluation. Scouts can thoroughly evaluate the physical aspects of a prospect's game. They can even get a feel for his "hockey sense." Where they struggle is in figuring out when, and at what level, a 17- or 18-year-old kid will reach peak emotional maturity.
Emotional maturity is the primary factor influencing what scouts call "drive" or "spirit." It cannot be coached, yet it's what separates the Alexander Ovechkins from the Alexandre Daigles of the world. Without an accurate gauge of a prospect's maturity, teams at the draft table make franchise-altering decisions based on woefully incomplete information. While that's no way to run a business, it provides hours of enjoyment for armchair GMs everywhere.