It's only a couple short weeks before the 2017 NHL Draft kicks off in Chicago and with that being said, every NHL team should be wrapping up their final draft lists in preparation for draft day. With the results of the 2017 NHL Scouting Combine in hand, teams have a much more informative description of each player's fitness level, body strength, and overall health. Now, general managers can make fully informed decisions regarding their draft picks.
But what does the Combine data really tell us about their hockey skills or potential? What does it say about how well or how poorly they'll perform when they finally crack an NHL roster?
Well, it goes without saying that each fitness test conducted serves a purpose. The anaerobic fitness wingate cycle ergometer test, for example, helps prospective NHL teams understand the rate in which a player gets tired at. It can also be helpful in determining how much ice time he could potentially handle at the NHL level.
Some of the tests though, don't provide quite as much insight. The standing long jump, for instance, doesn't tell you that the guy who jumped two inches farther than everyone else will turn into the fastest skater and therefore increase his value at the NHL Draft. Instead, this test simply provides teams with a clearer picture of his level of athleticism.
Big Field Day for Arizona Coyotes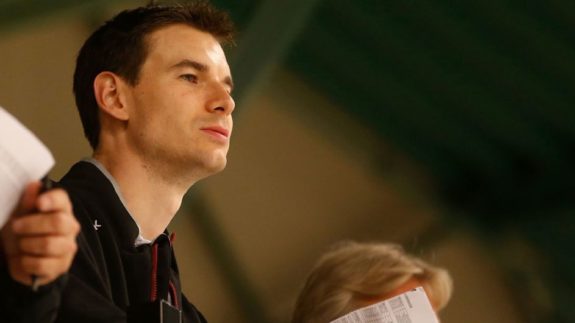 The data derived from the Combine may also be more relevant to some teams than it is to others. What it really comes down to is how teams use it. For analytics-focused teams such as the Arizona Coyotes, the NHL Combine is their biggest field day of the year, as John Chayka, the Coyotes' GM, was the only GM to spend the whole day sitting in the stands or meeting with coworkers to discuss something to do with players and the numbers they were putting up.
We can only imagine what was going on in his mind that day.
One of the more interesting fitness tests of the Combine was the grip test and the reason being may surprise you. In this test, a hand grip dynamometer is used to measure force and it's adjusted to the athlete's hand size, where they're then asked to squeeze it. At the Combine, the results are measured in pounds. One might wonder why having a grip test result of 130 pounds rather than 115 pounds would be of greater benefit to a player's game. But it turns out that something so simple and seemingly insignificant can actually shed a lot of light onto their developmental trajectory.
A grip strength test is used to gauge an athlete's overall health. Weakness is a sign of frailty and by measuring grip strength, which is indicative of muscle mass, an overall sense of vitality can be provided.
Furthermore, strong-gripped hockey players are associated with scoring more goals. Whether or not this can be proven is a totally different matter but by looking at the last few NHL Combine results, we can see that those who ranked within the top 10 for grip strength do tend to score more goals. For example, there's only one player from the 2016 Combine who ranked within the top 10 for the grip test who played in more than four NHL games during the 2016-17 season. Patrik Laine, who plays with a right-handed shot, ranked ninth overall for strongest grip in his left hand.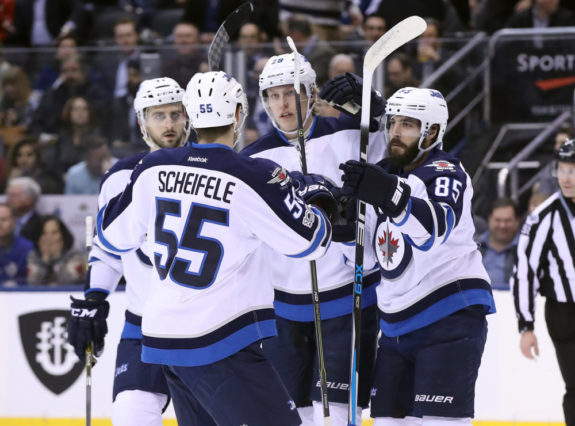 For male adults, the average hand grip strength norm is between 105-113 pounds. For Laine though, he displayed a whopping 155 pounds of pressure when gripping the dynamometer. He then went on to score 36 goals in 73 NHL games in his rookie year.
Below are the forwards who ranked within their Combine's top 10 for grip strength in either the right or left hand, and played in at least 60 games during the 2016-17 season.

Interestingly, Auston Matthews, the no. 1 pick of the 2016 Draft, who scored four goals in his NHL debut for the Toronto Maple Leafs and became the only Leaf in franchise history to do so, didn't rank among the Combine's top 10 for grip strength in either hand.
Grip Test Reveals Areas of Improvement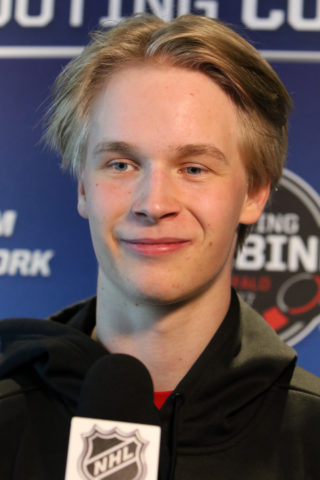 The results of the grip test are indicative of the athlete's overall strength level, which can actually help teams, and even personal trainers prescribe nutritional guidelines. For guys like Elias Pettersson, a 5-foot-11, 200-pound Swedish forward who played for Timrå over the past two seasons and attended this year's Combine, a test like this would appeal to his dietary interests.
"I need to become stronger and I'm working on that," he told reporters after last Saturday's physical testing at the HarborCenter in Buffalo. Like so many other young prospects preparing for the NHL Draft, Pettersson is trying to put on weight and he knows that he needs to be conscious about what he puts in his body to make that happen.
"Since last summer, I've been training with my personal trainer and I've been aware of what I need to eat and train to become the player I want to be."
Admittedly, Pettersson said that if it were up to him, he'd choose to eat ice cream but unfortunately, he's far too committed to gain weight in the right way.
Although Pettersson didn't rank within the Combine's top 10 for grip strength in either hand, he still considers himself to be an offensive forward.
"I'm an offensive player, I play a two-way game," he said. "I think I have a good hockey sense and a good puck control."
Pettersson is projected to get drafted late in the first round, which means a lot of NHL teams would want to talk to him. And of course, all 31 teams made sure they spoke to him last week.
"When I grew up I cheered for Washington, so if I were to pick someone, it would be that one," he said of the team he prefers to get drafted by. "Growing up, I liked Ovechkin. Not that I look like him on the ice. I grew up and I liked how he played. Then I got to like Washington."
Pettersson went on to say it would also be killer to play with him too.
Thomas Has Potential to Be Top 10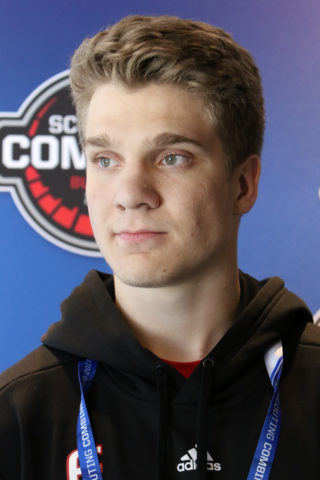 For guys like Robert Thomas though, a 5-foot-11, 192-pound centerman who played for the London Knights over the last two seasons, there's a lot more top 10 potential there.
"Each team sort of approached it (the interviews) differently," he told reporters on Saturday at the Combine. "There's a big range of questions, some are a little tricky to answer."
Thomas sat down with the Maple Leafs early in the week but admitted he didn't think anything stood out there.
"It was just sorta like the other meetings. Nothing too special happened."
There were three teams he didn't talk to; the Los Angeles Kings, the Colorado Avalanche and the Minnesota Wild and this could mean that he'll indeed be taken higher in the draft than Pettersson.
Like Pettersson though, Thomas didn't rank within the top 10 on the grip test and one of his areas of focus this summer will be improving his shot.
"I'd say, just a quick release on my shot," he said in response to being asked what he's working on before next season. "I'm going to work a lot on this. I'm more of a pass first guy so developing that shot will help me."
The 2017 NHL Draft will certainly be an interesting one and with Nolan Patrick, the projected no. 1 pick failing to rank among the top 10 in any test at the Combine, that's just one more reason to talk about scenarios where he isn't drafted first overall. Could he actually go to the Philadelphia Flyers? Would Ron Hextall actually trade his no. 2 selection to someone else? Regardless of what happens in two weeks, the data collected from the NHL Combine does serve a purpose and it may or may not have a major impact on where guys like Patrick, Pettersson or Thomas get drafted and who ends up drafting them.
I'm a Hockey Journalist based out of Barrie, Ontario, a Contributing Writer for The Hockey Writers covering OHL, and NHL prospects with an insatiable thirst for all things LA Kings, and PR gal for Abel Sports Management.