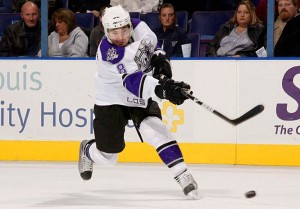 Just over three years ago, the Kings' Drew Doughty was a whisker away from winning his first of maybe ten straight Norris Trophies.
He was named a finalist for the 2010 award, after all, along with Washington's Mike Green and Chicago's Duncan Keith. He easily deserved the nomination, scoring 16 goals, dishing out 43 assists and registering a +20, second highest on the team. Although Duncan Keith ended up claiming the award, the slick skating, 20-year old defenseman with the rocket shot manning the blue line in Los Angeles was poised for many more in the years to come. As they say, the sky was the limit.
A funny thing happened on the way to Doughty collecting his next three Norris Trophies, though — he didn't. Sure, he skated big minutes every year, honed his defensive talents and was an overall franchise defenseman for the Kings, but while the other aspects of his game improved, his offense did not.
Speaking purely statistically, it declined: Doughty's point totals rode a retrograde curve, falling from 59 points in 2009-10 to 40 the next year and 36 the season after that. As for the lockout-shortened 2012-13 campaign, he finished solid-but-not-spectacular once again, tallying six goals and 16 assists in 48 games.
He's an excellent all-around NHL defenseman who makes good decisions, moves the puck crisply, throws hits, and cranks his big shot up when needed. He'll be 24 in a couple of months, still young by league standards. Will he ever win the Norris?
Doughty's defense has improved
We'll begin by stating the patently obvious: a defenseman's first priority is defense. That said, Doughty's has gotten noticeably better over his five NHL seasons. His defense is tighter. He's more consistent positionally, clears the puck smartly and gambles less frequently, all while throwing the body with aplomb for an offensively-minded defenseman. As an example, while contemporary Duncan Keith threw 45 hits in 2011-12 and 19 last season, Doughty had 124 and 128, respectively, the latter being 23rd highest in the NHL. He'll never lead the league in blocked shots, but he doesn't exactly shy away, either, averaging about one per game during his NHL career.
Most Kings fans acknowledge they can see Doughty's defensive improvement as they watch him play. Ironically, the questions about him now center around his perceived strength: his offense.
Why has Doughty's offense fallen off?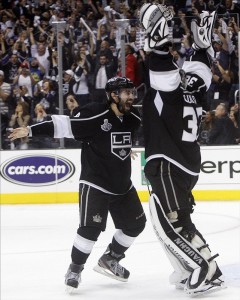 It should be noted that Drew Doughty is still a formidable blue line threat. There's absolutely nothing wrong with consecutive 11 and 10 goal seasons, not to mention point totals in the 35-40 range. However, Norris winners typically have much higher point totals: P.K. Subban posted 38 points in 42 games in 2012-13, Eric Karlsson 78 points the year before and Niklas Lidstrom 62 points the season before that. If Doughty is to ever reach that plateau on a consistent basis, he'll need to find the mojo he displayed four season ago.
Two factors seem to play roles in Doughty's offensive decline, the first being shots. Doughty registered 142, 139 and 168 during his past three full seasons, or about two a game. Compare and contrast that to fellow Norris candidates like Mike Green, Erik Karlsson, Niklas Lidstrom, and Zdeno Chara, and it's clear he just doesn't shoot the puck enough, as the others regularly reached 200+ shots. Sure, he managed 16 goals while shooting 11.3% four seasons ago, but that was clearly an anomaly. Last season, he shot 5.3%.
Kings fans would no doubt nod their heads about Doughty's hesitancy at times. We frequently shoutshoot the puck! while he's chewing on things at the point. He's selective, which explains his relatively high shot percentage. However, he's not prolific, and until he learns to be, he'll remain the Joe Thornton of the blue line.
The second factor is how Doughty starts a season. In his great 2009-10 campaign, he had fourteen points in his first fifteen games. The next year, he had seven in the first fifteen, and the year after, also seven. He finished strongly in all three seasons, so that's not the issue. For Doughty to reach the pantheon of the NHL elite offensively, he needs to start things off well.
The 2013-14 season starts well — albeit for just one game
The Kings defeated the Minnesota Wild 3-2 in their season opener on Thursday, with Anze Kopitar and Jeff Carter scoring shootout goals to seal the win. The Kings' first goal of the game was by none other than Drew Doughty, who slammed a perfect touch pass by Slava Voynov past Niklas Backstrom for a first period power play goal. His aggressive, laser beam shot eluded Backstrom's glove and was perfectly placed, top shelf.
The Kings need Doughty to be at his best if they want to get back to the finals, and Doughty's best is Norris Trophy caliber. Just don't make us shout at our television screens, Drew — shoot the puck.
The NHL regular season schedule was released on Friday. Check out our partners at TiqIQ for the best deals on Los Angeles Kings tickets for all 2013-14 games.
Walter McLaughlin is a Los Angeles Kings correspondent for The Hockey Writers. He is an avid sports fan, having followed the Kings since living in L.A. in the mid-1970's, as well as suffering through Seattle sports teams' general futility. He has a Bachelor's degree in Finance and has worked in community banking for over 25 years, specializing in SBA loans. He is married and has two daughters.