Rankings:
Minnesota
Boston College
Clarkson
North Dakota
Wisconsin
Cornell
Mercyhurst
Boston University
Harvard
Providence
Game of the Week
St. Lawrence at #3 Clarkson, Fri. 10/4 @ 7 p.m. E.T. & #3 Clarkson at St. Lawrence, Sat. 10/5 @ 3 p.m. EST
Clarkson started the year off well with a 12-1 win over Rochester Institute of Technology last Saturday. It was a statement win for the Golden Knights, as they showed just how dominant they can be in all areas. Their offensive depth in particular was on display as 10 different Clarkson players scored. Defenseman Erin Ambrose in particular was as good as advertised as she netted three goals and recorded five points on the night. They've got some truly dynamic players and though I don't think they're going to rout teams like that every night, they should be able to compete well with every team they face.
St. Lawrence, however, is not a team to be overlooked. They have a star up front in senior Rylee Smith, who will need to be checked closely all weekend. They split with visiting New Hampshire last weekend and except for a few breakdowns that led to goals, they looked like the better team for the most part. The Saints did a great job of entering the offensive zone and maintaining control of the puck. Unfortunately, they lost their go-to goaltender Carmen MacDonald to injury during their first game, so that's a situation to keep an eye on this weekend. Though Clarkson presents a bigger challenge than the Wildcats, St. Lawrence should be a worthy opponent for the Golden Knights.
Top 10 Teams in Action
#1 Minnesota at Colgate, Fri. 10/4 @ 7 p.m. EST & Sat. 10/5 @ 3 p.m. EST
Maine at #2 Boston College, Sun. 10/6 @ 5 p.m. EST
Lindenwood at #4 North Dakota, Fri. 10/4 @ 8:07 p.m. EST & Sat. 10/5 @ 8:07 p.m. EST
Minnesota State at #5 Wisconsin, Fri. 10/4 @ 8:07 p.m. EST & Sat. 10/5 @ 4:07 p.m. EST
Ohio State at #7 Mercyhurst, Sat. 10/5 @ 7 p.m. EST
#10 Providence at Union, Fri. 10/4 @ 7  p.m. EST & Sat. 10/5 @ 4 p.m. EST
What to Watch For
The two-time defending national champion Minnesota Golden Gophers kick off the season on the road against Colgate. It shouldn't be a particularly tough test for the Gophers and will take a gigantic effort on Colgate's part to beat them, but with that being said, it's a good opportunity for Minnesota to get everything in sync right off the bat. They're dealing with the losses of the nation's best forward, defenseman, and goaltender in 2012-2013, so facing the Raiders on the road will at least give the Gophers a good idea of what they're working with this season. Of note: freshman goaltender Sidney Peters didn't see any playing time for Minnesota in either of their preseason games, so it's likely sophomore Amanda Leveille will be starting for now. This'll be a great opportunity for her, if she does start, to prove that she can be the Gophers' go-to netminder.
North Dakota will also have a good chance this weekend to see the full breadth of their offense against a weaker Lindenwood squad. They can't overlook the Lions, but they'll want to build on their 12-1 exhibition win over the Pursuit of Excellence and get all four lines going. It'll be important for UND here to get some contributions from their depth players, as that'll be a big component of their success this year. Freshman Halli Krzyzaniak will be the player to watch in this series; the blue-liner was nothing short of fantastic in her debut with UND in that exhibition game last week, as she netted a goal and racked up 11 shots on goal.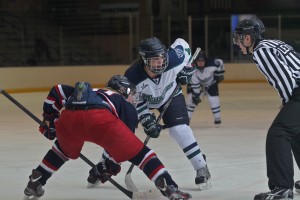 It'll be interesting to see how Mercyhurst rebounds after losing their first game of the season to Minnesota State. They were able to bounce back and salvage a split with the Mavericks, but they'll be facing another tough WCHA team in Ohio State on Saturday. The Lakers will have the advantage of a home crowd this time, though, and it'll be a good chance for them to re-group and gain some confidence after a bit of an unexpected loss in Mankato.
One of the most intriguing teams in the country is Minnesota-Duluth, as they've got a lot of potential but they're really going to have to prove themselves in a lot of ways this season. The Bulldogs are welcoming Connecticut for a two-game series this weekend, and it'll be a great opportunity for them to tap into that potential and set the tone for this year. They've got some proven talent up front as well as some skilled young players on the back-end, and this will be a good opportunity for them to put things together, hopefully build some confidence, and work their way into the national picture.
Gabriella is now in her third season of covering NCAA and international women's hockey for The Hockey Writers. She is the founding editor of At Even Strength, a website dedicated to providing full-time coverage and analysis of women's hockey. She is currently working towards a degree in Communication at the University of North Dakota, and is also interning with UND Athletic Media Relations. She can be reached on Twitter (@gabfun) or via e-mail (gfundaro10 [at] gmail [dot] com).