We're back with a prospect update — what a week it was for some of the Anaheim Ducks' prospects! It's time to recap and analyze their performances. Welcome back to our series updating you on some of the Ducks' top prospects and picks from the NHL Entry Draft.
Galimov Showing Off In KHL
Artyom Galimov featured in both games for Ak Bars Kazan this week and recorded just one goal, but what a goal it was. He opened the scoring in yesterday's game against HC Kunlun Red Star by undressing defenseman Jake Chelios, son of Hall of Famer Chris Chelios, and then converting on the no-look backhander to give Kazan the lead.
Galimov has the ability to pull moves like this every now and then, and this is one that we'll remember for the rest of the season. His season has been hampered by injuries, but he has still managed to record five goals and eight assists for 13 points in 32 games played.
Upcoming Games: Feb. 1 vs. Traktor, Feb. 3 vs. Avtomobilist, Feb. 5 vs. Metallurg Mg
Axel Andersson Keeps Rolling
Axel Andersson got back on the scoresheet this week recording one goal and two assists for three points across three games played. He averaged around 15 minutes time on ice and registered eight shots on goal. Södertälje SK went 1-1-1 through their three games this week.
As we've mentioned previously, offense isn't a major part of Andersson's game, but he has been making strides this season to at least chip in once in a while. It's a bit surprising that the Ducks haven't opted to bring Andersson to San Diego for the start of the AHL season on Feb. 5. It's quite possible that once Jamie Drysdale has to return to Erie that they might explore bringing Andersson back.
Upcoming Games: Jan. 31 vs. Almtuna, Feb. 3 vs. Tingsryd
Sundsvik Continues to Score
Albin Sundsvik featured in two games for Skellefteå AIK of the Swedish Hockey League last week. They won both games, outscoring their opponents 8-0. Sundsvik was pointless in Skellefteå's 6-0 victory over Linköping, but he recorded one goal and one assist in their 2-0 victory over Rögle. Through 31 games played this season, he now has five goals and three assists for eight points.
Upcoming Games: Jan. 31 vs. Luleå, Feb. 4 vs. Djurgården, Feb. 6 vs. Oskarshamn
Blake McLaughlin, Jackson LaCombe and Jack Perbix
Jackson LaCombe and Blake McLaughlin continued to lead the way for the University of Minnesota as they won both games against Ohio State this week. LaCombe was extremely impressive over the two-game series, recording two goals, both shorthanded, and recording another two assists. That's two goals and seven assists for LaCombe over Minnesota's last four games played. He leads all Minnesota defensemen in scoring and has matched his goal and assist totals from last season in 23 fewer games.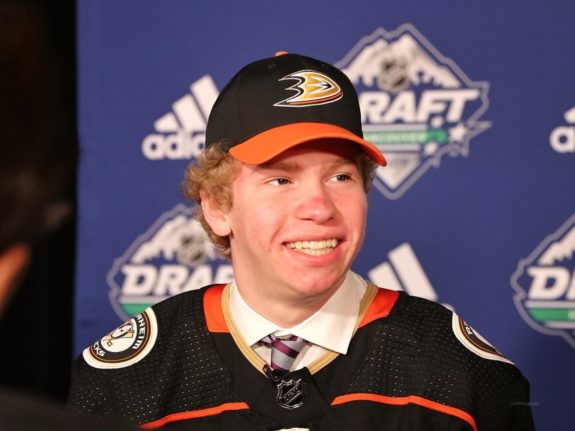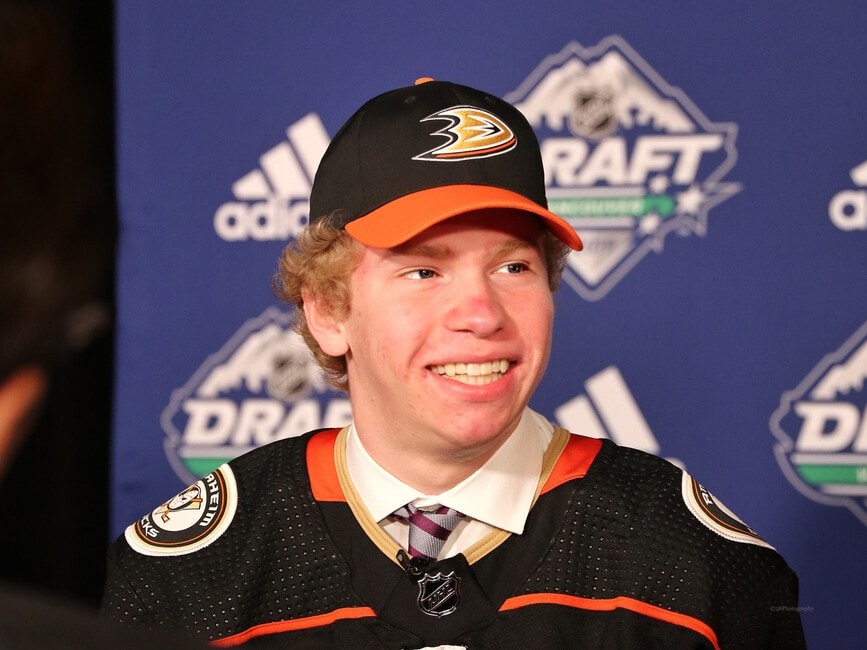 McLaughlin also recorded four points in the two-game series against Ohio State amassing one goal and three assists. He now has five goals and six assists for 11 points over his last four games played and six goals and seven assists over his last five games played. On the season he now has eight goals and 10 assists for 18 points in 18 games played. It's his best season to-date production wise and he's on pace to easily surpass his career highs.
Jack Perbix failed to get on the scoresheet this week after registering two goals and an assist last week. He's still being used primarily on Minnesota's fourth line, so don't expect the offense to come with any consistency.
Upcoming Games: Feb. 5/6 vs. Wisconsin
Trevor Janicke, Thimo Nickl and Ian Moore
Notre Dame split their two games against Penn State this week, losing 2-1 in overtime and winning the second game 3-2 in OT. Janicke's struggles continued as he failed to register a point for the fourth straight game and seventh in his last eight. Through 18 games played, he has one goals and four assists for five points.
Upcoming Games: Feb. 5/6 vs. Ohio State
Thimo Nickl failed to get into either of Rögle's SHL games this week. He's skated with the team and been on the roster for 10 games so far, but he's only actually played in two games so far. It may be time for Nickl to return to the Quebec Major Junior Hockey League soon and play with the Drummondville Voltigeurs.
Upcoming Games: Feb. 2 vs. Malmö, Feb. 4 vs. HV71, Feb. 6 vs. Luleå
Much like Nickl, Ian Moore has struggled to get game-time as of late. The Massachusetts-native last played on Jan. 16 and recorded one goal and one assist in the Steel's 5-1 victory over Waterloo. His second multi-point game of the season brings his totals to two goals and three assists in 16 games played.
Upcoming Games: Jan. 31 vs. Muskegon, Feb. 5/6 vs. Green Bay
Thanks for checking out our latest prospects update of the 2020-21 season. Stay tuned for a fresh update on Ducks prospects from major junior, NCAA, Europe and around the world!
In the meantime, if you want to hear my thoughts on the team's prospects and current affairs, check out The Forever Mighty Podcast for all the latest Anaheim Ducks talk and analysis.
---
---
Fan of the Anaheim Ducks for my whole life. I'm a die hard fan living in London, Ontario. Excited to be writing about the team I love. Talking all things Ducks on the Forever Mighty Podcast!