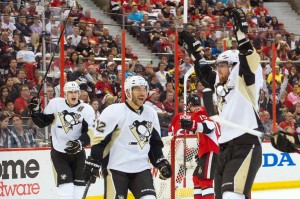 Friday morning, Elliotte Friedman went on Sportsnet 960 and spoke about a radical concept: could the Pittsburgh Penguins actually be interested in trading Evgeni Malkin?
But more importantly, Friedman discussed how he's heard that Malkin is not happy in Pittsburgh, and would be happy to waive his no-trade clause to move on.
The former Hart/Conn Smythe/Art Ross Trophy winner might actually want to move on from the only franchise he's ever known. The Penguins traded away his trigger man and best friend James Neal, and then they had Blake Comeau playing alongside him and Malkin might have had enough.
However, this is not the first time that the media has speculated he might want out of Pittsburgh.
Rob Rossi of the Pittsburgh Tribune-Review was one of the first people to begin the speculation all the way back in early April of 2015.
Possibly final home game of Crosby/Malkin era up next for #pens…

— Rob Rossi (@Real_RobRossi) April 8, 2015
This time it was Elliotte Friedman who was talking on Calgray's Sportsnet 960 on Friday morning.
Friedman said this about the situation:
There have been rumors about Malkin's happiness. About whether or not he wants to stay. I think that was directed exactly at them. I have no idea if the Penguins are going to trade Malkin. I would suspect no until a sale gets done. But I can tell you this – there are people around the league who have been saying they've been hearing rumors Malkin is not happy and would welcome a change of scenery.
We at The Hockey Writers have even speculated on why the Penguins should trade Malkin and why they should not.
Here's the case for trading Malkin.
Here's the case against trading Malkin.
Why a Team Would Want Malkin
Evgeni Malkin is without a doubt one of the top five players in the NHL. Pittsburgh fans would argue that he is the second best, behind Captain Sidney Crosby, but the rankings are becoming more contested.
He is one of the most dynamic players in the NHL,
From an interview I did with the crew of MontrealHockeyTalk.com, host Rob Elbaz said this.
Everybody is so Crosby-first, the Art Ross, the Conn Smyth winner, he's done it, he's capable of doing it and it's been a little while since he has been dominant. He kind of reminds me a bit of Tiger Woods, in that, he's a guy that can show up and take the league over when he wants to and then there's sometimes that he decides to disappear and doesn't help his team out all that much.
There's no question that Malkin is one of the top players in the NHL, but as Rob points out, he's been inconsistent. However, just about every GM in the NHL would be willing to put up with the inconsistencies given his talent.
There's a lot to like about Malkin, he's locked up for the foreseeable future (at soon what will be a modest rate of $9.5-million per year), he's a highly awarded player and capable of dominating the league.
Why the Penguins Will Not Trade Malkin
However, despite all of the positives that Malkin would bring to another hockey club, there is zero chance that the Penguins will trade him.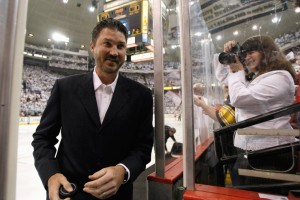 That is, as long as Mario Lemieux has anything to say about it.
I believe that an ownership change is one of the only ways to push the Pens back into Stanley Cup contention, but that might not happen this offseason.
Lemieux is in no hurry to sell his share of the Penguins and even after he does, he plans on remaining involved with the team.
The only way that Evgeni Malkin will be traded before his career is over, is if both Lemieux and Ron Burkle both decide to sell the entire franchise and new ownership wants to make a big change.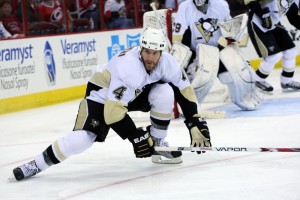 General manager Jim Rutherford has voiced his support for their core players and if the Penguins had given out contracts more wisely, there would be no issues with the salary cap.
Many people like to think that the problem with Pittsburgh's model is the high cap hits of Malkin, Sidney Crosby and Marc-Andre Fleury.
However, it's the other contracts that have created the problem.
It's Chris Kunitz, it's Kris Letang, it's Rob Scuderi, Pascal Dupuis and many others that have weighed down the franchise.
The Truth
I heard from my sources months ago that Malkin isn't happy in Pittsburgh, but his view has been misunderstood by the media.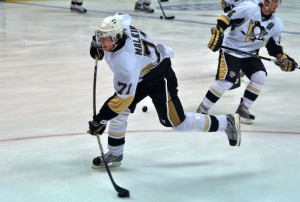 Malkin loves playing in Pittsburgh, he loves living in the city, he loves the fans and most importantly he does not want to move.
The reason why he is unhappy is because he is doubting that he can actually win another Stanley Cup in Pittsburgh because of what management and ownership have done.
The entire "Trade Malkin" discussion has appeared because people have misconstrued his frustration, with an actual desire to leave Pittsburgh.
But it's the same people that Malkin has been frustrated with that will keep him in the city for the duration of his contract (and likely his career).
Malkin might be an unhappy camper right now, but he's not going anywhere.
UPDATE:
Agent JP Barry, on Malkin-wants-traded speculation: "I don't know where this is coming from. Not from me or Geno. I'm trying to ignore it."

— Dave Molinari (@MolinariPGH) June 5, 2015
Michael Pityk is an analyst who has written for numerous sites since beginning his professional career. He's acted as a credentialed member of the media for the Philadelphia Phillies, Philadelphia Flyers, Pittsburgh Pirates and the Pittsburgh Penguins. His work has been featured in Sports Illustrated, The Sports Journal, MSN, PensLabyrinth, Montreal Hockey Talk, ESPN Pittsburgh, The Hockey Writers, Todays SlapShot and The Bleacher Report. He formerly was the editor of Pens Labyrinth and an analyst for The Sports Journal. Michael presently acts as an NHL Analyst for The Hockey Writers