Facing Off is a weekly column, featuring Larry Fisher and Andrew Bensch, debating five of hockey's hottest topics each and every Monday. From current events like trades and hat tricks, to bigger-picture stuff like scandals and expansion — you name it, we're debating it. Albeit, not always with a serious tone. We're keeping this column light, so keep that in mind when reading, and feel free to join in on the fun by leaving a comment below.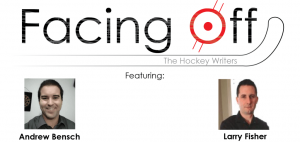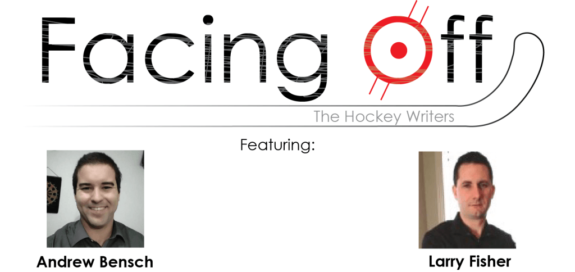 Is it October yet? Why yes, yes it is. Finally, we have some meaningful hockey to break down after an offseason that was far too long for a lot of us. Both Larry and I cover teams that were done in mid-April last season and, like many of you, we have been itching for the real games to get going again. The first week of the season saw a number of highlights, including the first ever coach's challenge, a successful one at that from first-year Maple Leafs head coach Mike Babcock. Since we have a lot to talk about in this week's edition of Facing Off, why don't we just get straight down to it and avoid the sometimes excessively long introduction that Larry likes to write. Sorry pal, I'm an instant gratification kind of guy, let's just give readers the good stuff.
Any updated bold predictions after the first few days of the season?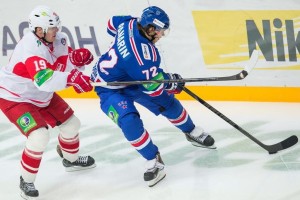 FISHER: The Oilers will make the playoffs . . . no, no, I'm not ready to go that bold (yet). I didn't go too bold with my standings predictions, only swapping out three playoff teams from last season — Los Angeles and Dallas in for Winnipeg and Vancouver in the West, and Columbus in for Ottawa in the East. So maybe I'll throw some darts on players rather than teams here. In an earlier Facing Off, way back on Aug. 10, I predicted Artemi Panarin as my dark-horse for the Calder Trophy, but I think I'm ready to upgrade him to a finalist. It'll be the two big dogs — Connor McDavid and Jack Eichel — plus the little Russian with limited English who is fitting in fine and dandy with the defending champs. Panarin's going to be fun to watch and should be a household name by season's end (spoiler alert, you can see his first NHL goal a little further down here). Still not bold enough? Hmm, how about Mikael Granlund doubling his point total from last season? He's coming off a 39-point campaign, so I'm predicting 78 points this season. This, for a guy who only scored eight goals, but I see him closer to 23-55-78 — that would have tied Washington's Nicklas Backstrom for sixth overall in league scoring last season. On a semi-related, equally bold note, I'm predicting at least three players top 100 points this season — the most likely candidates being Sidney Crosby, John Tavares and Tyler Seguin. Jamie Benn led the league with only 87 points last season, but I doubt that total cracks the top 10 this time around. Oh boy, that's bold.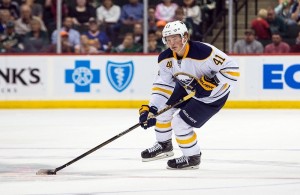 BENSCH: My offseason Eastern Conference playoff predictions were rather bold with my having the Buffalo Sabres qualifying for the playoffs. If we must add to it (for those wondering, Larry comes up with most of these questions, this terrific column idea is his brainchild), then I'll simply go with more Sabres predictions. In an earlier edition of Facing Off, Larry came up with the question about Connor McDavid being a lock for the Calder Trophy as the league's top rookie. While he believes "McJesus" is indeed a lock, I suggested otherwise at the time. At this moment though, I'm going to go even bolder and say he won't win the Calder, Eichel will. The Boston University standout will have a 60-plus point season on a playoff team and McDavid's Oilers will miss the playoffs. While McDavid will end up with maybe a few more points, Eichel will get the nod for helping his team get into the postseason.
What were your favorite highlights from the opening week — well, five days — of the NHL season?
FISHER: As a former goalie, I can appreciate a spectacular save just as much as a gorgeous goal. Opening night saw a couple stellar stops, with Calgary's Karri Ramo robbing the Sedins on a perfectly executed 2-on-1 with a perfectly placed shot no less.
Toronto's Jonathan Bernier stoned Montreal's Tomas Plekanec in similar fashion, and Carey Price flashed his Hart Trophy form in that same game too.
Panarin's first career goal was a thing of beauty, taking a feed from Patrick Kane and beating Henrik Lundqvist on a clean shot from the slot. Lundqvist doesn't let in too many of those, so good on the kid who's now up to two goals and four points after three games.
BENSCH: Holy Ovi
Martin Jones denies former teammate Tyler Toffoli with a brilliant push across to keep the Kings three goals down going into the third period.
And of course we would be remiss not to mention the highlight of the opening week, Henrik Lundqvist diving back into the net to deny Ryan Johansen with a miraculous save.
What was the biggest surprise for you from the opening week?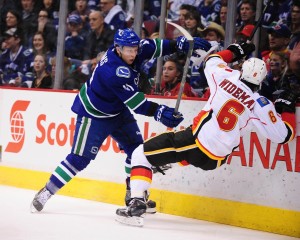 FISHER: For me, it was the effectiveness of the coach's challenge. I underestimated the impact of this new rule implementation, which Toronto's Mike Babcock and Ottawa's Dave Cameron used to their advantage in negating goals. That won't help to increase scoring, but if it's the right call, then it's the right call as far as I'm concerned. So good on them — or their support staff — for succeeding in their challenges and adding a little extra suspense to opening week. From a results standpoint, I was also a bit shocked that the Canucks and Sharks played spoiler in the home openers for their arch-rivals, the Flames and Kings, respectively. And they didn't just win, they won convincingly, both scoring 5-1 triumphs that sent the home fans heading for the exits. Granted that's only one game — and the Flames returned fire with a 3-2 overtime win to ruin the Canucks' home opener in Saturday's rematch — so it doesn't mean Vancouver and San Jose are going to finish ahead of Calgary and Los Angeles in the standings. For what it's worth, I had the Flames and Kings in the playoffs, with the Canucks and Sharks missing in my preseason predictions. Time will tell on that front. As for a surprising player, how about Oscar Lindberg of the New York Rangers? The soon-to-be 24-year-old Swedish rookie is really lighting it up with four goals through three games. He's looking like a steal for the Rangers — a trade steal, that is. Lindberg was originally drafted by the then-Phoenix Coyotes in 2010 and acquired by the Blueshirts in 2011 in a prospect swap for Ethan Werek, who only managed 20 points in the AHL last season.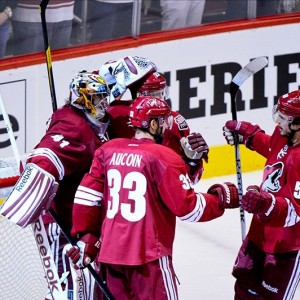 BENSCH: The biggest surprise has to be the Arizona Coyotes, does it not? The team most whom people have as the worst team in the Western Conference, and others who have them even worse than the Eastern Conference bottom feeders (cough, Larry, cough) is off to a 2-0 start. This doesn't mean Arizona is all of a sudden a playoff team, but they deserve more credit than they have gotten this offseason. They have one of the best defensemen in the game in Oliver Ekman-Larsson, and some young talent up front in Max Domi, Anthony Duclair and Mikkel Boedker to go along with veterans like Shane Doan, Antoine Vermette and Steve Downie. They will struggle this season, but they aren't no push overs. No Dave Tippett-coached club ever is.
Is L.A. Kings head coach Darryl Sutter on the hot seat?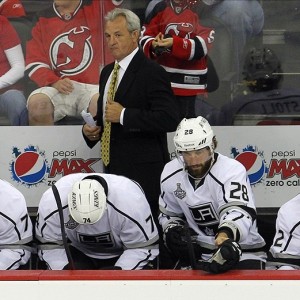 FISHER: He should be — two blowout losses at home, including an embarrassing 4-1 defeat to the Arizona Coyotes, whose best players are still in diapers. That team isn't supposed to win anything but the Auston Matthews' sweepstakes. Mike Smith was real good in that game, but Jonathan Quick has been real bad so far. He's an all-world goalie, so I'm sure Quick's just shaking off the rust. For Sutter's sake, hopefully Quick shakes it in time to save his job. Adding salt to the wound, Quick's former backup Martin Jones returned to backstop the San Jose Sharks to a 5-1 win and ruin the Kings' home opener two nights earlier. Jones wasn't necessarily the difference as the Sharks dominated the Kings as a whole. That might be even more concerning for Sutter, considering the Kings have the better roster (in my opinion, but not Andrew's). Remember, there was an incident last season where Kings players supposedly locked Sutter out of the locker room after a game and the defending Cup champions unraveled down the stretch to miss the playoffs. So, sure this is only two losses to two fellow non-playoff teams from last season, but if I'm Sutter, I'm shaking in my (cowboy) boots. And if I'm Dean Lombardi, I'm shortening the leash or, rather, tightening the noose — putting the firing squad on speed dial!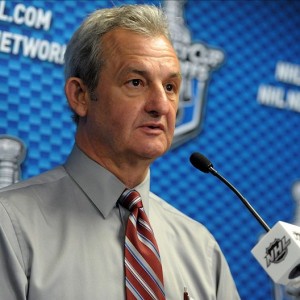 BENSCH: I'm a big Darryl Sutter fan (surprise, surprise) dating back to his days with the upstart Sharks in the late 1990s and early 2000s, but every coach has a shelf life. That is how I see the position of head coach in the NHL. Sutter is a similar no-nonsense guy with a hockey pedigree comparable to the football pedigree of Jim Harbaugh. Great coach but after a few years, welcome wears out even after championship level success. These are not the same Kings that won Stanley Cups in recent years. They don't have the same depth at any of the three positions. Jonathan Quick is EXTREMELY overrated. All-world goalie? Please, he got hot in back-to-back postseasons in 2012 and 2013 but outside of that, he is an average goaltender. His career save percentage is just .915. Compare that to a real top goaltender like Henrik Lundqvist's career save percentage of .921. Braden Holtby sits at .920, Pekka Rinne .919, Tuukka Rask .926, etc. All the other top-rated goalies have significantly better save percentages than Quick. The bottom-six without Justin Williams and Jarret Stoll isn't what it was and the defense without Willie Mitchell and Slava Voynov, not the same. Sutter doesn't deserve the blame for the less-talented roster but a change at coach sparked this team to the Cup in 2012, so it is very possible Lombardi makes a change.

Does the NHL have a drug problem? What's your take on the cocaine confession?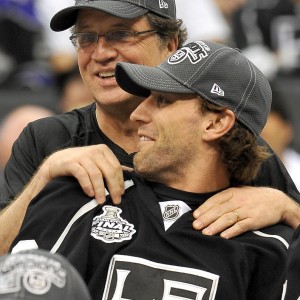 FISHER: To answer the first part, yes — well, from what I've seen and heard. Cocaine is certainly the drug of choice right now, and when deputy commissioner Bill Daly suggested it was only about a dozen players league-wide putting white powder up their nose, he was underselling the issue almost as much as Peter Chiarelli undersold his expectations for McDavid's stat-line by suggesting 20 goals and 40 points would be a successful season. I can't imagine Daly is that naïve to the cocaine craze that is sweeping across the league. I'd venture to guess it is closer to a dozen players per team or 300-plus players in the big picture. It's safe to assume that many have tried it at least once. I believe the players see it as a recreational drug — replacing ecstasy from a few years back — but it's probably more of a "summer thing" for the majority. To them, it's a cheap high — remember, they're rich young athletes earning six- and seven-figure salaries — and cocaine has limited side effects (no beer belly). Players still drink too, some of them in excess, but cocaine has definitely been added to the mix. Daly might have meant only a dozen players are using cocaine on an everyday basis, in other words battling an addiction. That would make more sense to me.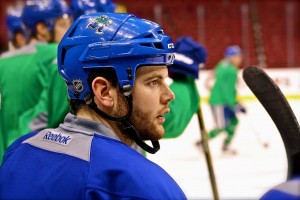 BENSCH: Well, this is a hard one to answer. Professional athletes with lots of spending money are going to indulge in various drugs and alcohol. That is a surprise to no one. Is it a problem? Not sure I would go that far. I don't see it as being any sort of drug epidemic hurting the league at this point. Cocaine isn't a new drug that just came about, so I highly doubt it will all of a sudden become a big deal with NHL players. We have just happened to have a couple incidents in recent months come to light. Concussion protocol and social awareness for the acceptance of LGBT in hockey I think are far bigger issues at this point than drugs.