At least they're not the Blues?
That's what Dallas Stars fans are telling themselves after seeing John Klingberg go out with an injury last night. In the last week, the Stars have lost Klingberg, Patrick Sharp and Jordie Benn to injury. Patrick Eaves has been missing from the lineup for a bit with an illness. Two key players and two depth-players down, the Stars have to roll on without them for the time being. It hasn't been revealed the length of the Klingberg injury but the speculation is that it shouldn't be too long. Same goes for Sharp and Benn who should only miss a week or two of game play.
Teams in the NHL are rarely fortunate enough to avoid injuries to their top players at some point throughout the gruelling NHL season. It is simply going to happen. It is an excellent way to weed out the pretenders from the contenders, as the depth of a lineup will be tested when these injuries happen. It's too hard to win in the postseason if teams don't have good depth and these injuries will provide an opportunity for players to slide up the lineup and make an impact.
Losses Will Be Felt
All four players missing from the Stars lineup have been key contributors throughout this season but some simply have more of an impact on the roster than others. Jordie Benn hasn't stood out a lot this season but Eaves, Klingberg and Sharp have all been tremendous on most nights.
Klingberg is the most obvious loss and easily the injury that will have the biggest impact on the Stars game. Everything on the power play goes through Klingberg. He drives offense and possession on a nightly basis. While he is prone to some giveaways, his defensive game has looked better as the season has gone on.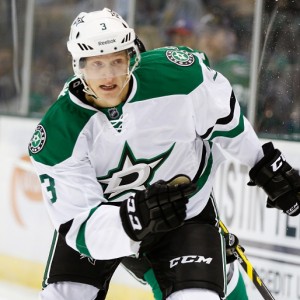 Only Eaves has a higher CorsiFor% at even-strength than Klingberg's 56.01. Klingberg has racked up 18 points on the power play this season as well, good for third-highest on the team. He is the catalyst to the man-advantage and without him, the numbers will likely suffer. Last season, the power play was atrocious without Klingberg and to an extent, without Eaves as well. Eaves hasn't spent a ton of time on the top unit with the addition of Sharp and unfortunately they are now both out at the same time.
Speaking of Sharp, his injury is a huge blow to the forward group, especially in the defensive zone. Only Jamie Benn has more takeaways than Sharp this season and Benn takes a lot more penalties in the process. Sharp has chipped in a lot of offense as well, with 12 goals and 26 points during 5v5 play this season. He is one of those players that you can never look at and say he is taking a night off. He is easily the best two-way player on Dallas this season.
While not expected to be in a huge role, Eaves does an admirable job when being forced up the lineup. He has 12 points in 40 games this season, including a first-period hat trick in Chicago. He has a lethal release that he has showcased on the power play a few times this season.
All players carry importance in the lineup and all losses are felt. It is up to call-ups and the bottom-six to fill the void.
Who Must Step Up?
Welcome to Dallas, Kris Russell. The initial hope for Russell is that the Stars could dial back his minutes from what he was playing in Calgary to make him into a more effective player. With the injury to John Klingberg, that is likely not going to be the case.
Albeit an incredibly small sample size, Russell has played well so far in Dallas. He has averaged 20 minutes a night in two games so far and has been a solid player. He has been protected in his first two games with a majority of his zone starts being in the offensive end of the ice. He's been a positive possession player so far, something he has been heavily criticized for in the past. He's going to be taking on a much bigger role with Klingberg falling out of the lineup.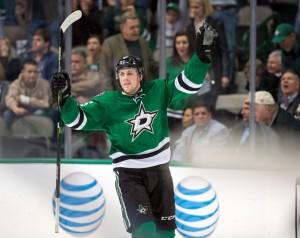 Another player getting an opportunity with Sharp going down is Brett Ritchie. Ritchie scored six goals in 31 games with Dallas last season but made his first appearance in the NHL this season last night against the New Jersey Devils. Many thought Ritchie would make the roster out of training camp but a wrist injury had him sidelined for a good portion of the season's beginning. He's now healthy and played a rambunctious first game in Dallas. He was immediately slotted in on the top line with Benn and Seguin and had a huge impact on the game. He was physical, he got into a fight and he was an excellent possession player. He looks like a full-time NHL player for next season.
Russell and Ritchie will be the two players to watch with the injuries that have taken place in Dallas over the past week. Both are fresh to the club this season and fans should expect some growing pains as they play more and more each night. With that being said, the Stars are counting on them to pick up the slack as Dallas continues to battle for a Central division title.
Thank you for reading. You can follow me on Twitter at @jordan_dix. Feel free to comment below or tweet at me for discussions on the Dallas Stars and other things around the NHL.