Monday was a slow day in the NHL. So slow that it was tough to put a fantasy team together with only one game, so fantasy took a much needed day off. Tuesday is another story with 13 games on the schedule. To say Tuesday is making up for Monday would be an understatement.
Tonight's Games
Ottawa Senators at Philadelphia Flyers
San Jose Sharks at Carolina Hurricanes
Washington Capitals at Columbus Blue Jackets
Florida Panthers at Montreal Canadiens
Nashville Predators at Toronto Maple Leafs
Tampa Bay Lightning at Detroit Red Wings
Buffalo Sabres at St. Louis Blues
Calgary Flames at Minnesota Wild
Chicago Blackhawks at Winnipeg Jets
New Jersey Devils at Dallas Stars
Los Angeles Kings at Colorado Avalanche
Edmonton Oilers at Anaheim Ducks
New York Rangers at Vancouver Canucks
Centers
Adam Henrique ($4000)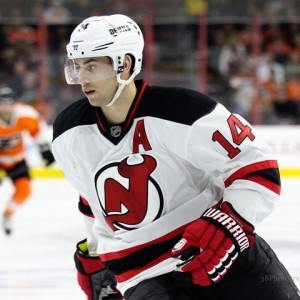 This may seem like an odd selection as my first pick in a very busy schedule, but the Devils have won four games in a row and are now 8-3-3. They are taking on a very average Dallas team in his last game, Henrique had two assists. Henrique only has six points in 14 games this season, but this is a player who came off a career high 30 goals in 2015-16. Maybe his two assist is the spark he needs to get going. I'm taking a risk, but I'm going with Taylor Hall as well, so I'm betting on those two to work together.
Eric Staal ($5600)
Staal has five points in his last three games and is just shy of a point per game over 14 games. He's playing power play and penalty kill time and his Minnesota Wild team is primed to take advantage of a very poor Calgary Flames squad who has lost four straight and is on the road.
Forwards
Sebastian Aho ($4000)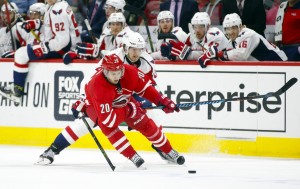 Considering that Aho has nine points in 14 games and came off a three point night against Washington on Saturday, he's a good value at $4000. Aho is bound to have his ups and downs, but he's on pace for over 50 points this season and has four points in his last two games.
Alex Ovechkin ($8400)
With some of my earlier picks I selected lower priced, but hopefully value players. This gives me the flexibility to take a player like Ovechkin who is the highest priced player available in fantasy on Tuesday. Something tells me he's worth it. He'll be going up against a Blue Jackets team who can be very hot and cold. Even when they're doing well. Columbus gives up the third most shots against in the NHL and the one thing Ovechkin does, night in and night out, is shoot the puck.
Taylor Hall ($6700)
Hall now has 12 points in 14 games and four points in this last three. As I mentioned earlier, I'm taking the package or Henrique and Hall and hoping they play well against the Dallas Stars who are bottom five in the NHL for goals against, save percentage and power play goals allowed.
** UPDATE: it has been announced that Taylor Hall will miss tonight's game against Dallas with a lower body injury. Base your selections of Hall (obviously) and Henrique accordingly. 
Defense
Erik Karlsson ($7100)
Karlsson has three points in his last two games, eight shots on net and is averaging averaging about 30 minutes per game. He's taking his 9-5-1 Senators and going up against the Flyers who are second to last in goals against in the NHL. He remains an elite fantasy defenseman with three goals and 12 points on the season three goals on the season thus far.
Rasmus Ristolainen ($5600)
Ristolainen has eight assists through 15 games this season, but no goals. Something tells me it's only a matter of time before that changes.
Ristolainen was a multi-category monster for fantasy owners last season. This season, along with his eight helpers, he has 20 shots, 22 hits, 23 blocked shots and 10 PIM through 12 games. I've also taken notice of Ristolainen's even rating, which is a significant improvement for a player who has gone minus-68 mark over his first three years in the NHL. This shows a clear defensive progression considering the Sabres are 5-6-4 this season.
Goaltender
Carey Price ($8300)
There isn't much to say about Carey Price other than to provide you with his stat line. He's 10-0-0, his goals against average is 1.40 and his save percentage is .957. End of story.