The Tampa Bay Lightning defeated the New York Islanders 4-0 on Monday, completing a three-game series between the teams and their first sweep over the Islanders since 2006-07. With the victory, the Lightning are 9-6-1 this season and the 34-save shutout was the third of goaltender Andrei Vasilevskiy's young NHL career.
Perhaps just important, however, was that it gave a good look into how Vasilevskiy is coming of age as an NHL goaltender just 16 games into 2016-17.
The Islanders entered the third period down by four goals and trailing 27 shots to 14, but registered 20 in the third period to end the game outshooting the Lightning 34-31. As the Islanders put pressure on the Lightning during the third period, Vasilevskiy was forced to make save after save. Vasilevskiy had arguably his most complete game of this season en route to the third shutout of his career. It gave the Lightning the first win in a five-game road trip that will be over in just eight days time.
Increasing His Role
The 22-year-old Russian netminder has taken on an increased workload early on this season and he's risen to the challenge. Early this season, Cooper said he hopes to start Vasilevskiy at least once per week and so far he has stuck to that plan. It's an important part of the growth for the player who figures to be the Lightning's goaltender of the future at some point in the next calendar year.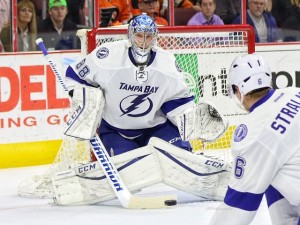 Vasilevskiy entered this season with just 40 total games of regular season NHL experience, including 34 starts, and 12 games of postseason action (seven starts). For a period of time this summer, he seemed destined to be the Lightning's starting goaltender this season, but as the team managed to re-sign each of its important pieces, the Lightning were able to hold onto both netminders.
Drafted 19th overall in the 2012 NHL Entry Draft, Vasilevskiy had shown great poise during relief efforts for Bishop in the 2015 and 2016 playoffs, and received national recognition after he came in to relieve an injured Bishop during Game 1 of the 2016 Eastern Conference Final and started all six games after that.
In six starts in 2016-17, Vasilevskiy has posted a 4-1-1 record with a 1.66 goals against average and a .945 save percentage. In those games, he has faced more than 30 shots four times and has stopped 172 of 182 total shots. These are staggering numbers for a goaltender who entered the season with a 18-15-1 regular season record and reached the legal drinking age in the United States less than a year and a half ago.
Camaraderie With Bishop
Bishop remains the starting goaltender for the Lightning, and despite what may lie ahead with his future on the team, he and Vasilevskiy are close with one another and supportive of their individual and team success.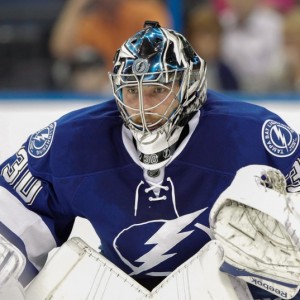 Bishop, 29, has started 10 of the team's 16 games this season and has remained positive when asked about a different approach by Cooper this year than when compared to seasons of the past. Bishop's elite talent and puck handling skills are things Vasilevskiy has admittedly learned a lot from at the NHL level. Further, the players have an age gap of roughly seven and a half years, allowing Bishop to take on a veteran leadership role for Vasilevskiy.
As the seconds ticked down on the third period of Monday's game, Vasilevskiy was forced to make a tough glove save on Islanders captain John Tavares with just 3.3 seconds remaining in regulation. Bishop, who was sitting on the Lightning bench, reacted ecstatically  by banging his glove against the boards repeatedly to acknowledge Vasilevskiy's effort to preserve the shutout.
"And Ben Bishop … good on Ben Bishop, up on the boards banging his glove on the boards after that glove save by Vasilevskiy," Lightning broadcaster Brian Engblom said just moments after the save.
After time ticked away and the Lightning secured the win, Bishop and his teammates went out onto the ice to celebrate the victory and congratulate Vasilevskiy on his fourth win of the season. It was at this moment that Bishop gave Vasilevskiy the ultimate stamp of approval in the game of hockey:
The two best friends that anyone could have. #TBLvsNYI pic.twitter.com/8ABY33JEqL

— Tampa Bay Lightning (@TBLightning) November 15, 2016
The Future
While Vasilevskiy has the better numbers so far this season when placed up against those of Bishop (5-5-0, 2.93 GAA, .903 SV%), the Lightning remain Bishop's team. Vasilevskiy is getting the opportunity to continue to develop his game at the NHL level, while also learning under the guidance of a two-time Vezina Trophy finalist.
For the Lightning, it's a win-win situation and one that Cooper knows he must use to the team's advantage this season. After Thursday's 4-1 win over the Islanders at Amalie Arena, a game in which Vasilevskiy stopped 31 of 32 shots, Cooper was asked about whether the young goaltender was playing with more confidence now that he is on a more consistent playing schedule.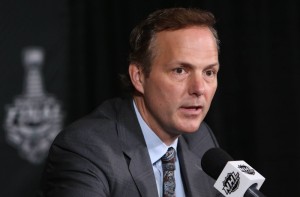 "Maybe … I just think he's a year older, a year wiser, a year stronger, a year quicker, a year better … he's experienced in the league and that's ultimately what you need," Cooper said after some consideration of the question.
"Whether he's been playing more or not, maybe he's been playing a little bit more, but he's learning the league … because he's an outstanding goaltender, but you still have to learn the league."
Cooper went on to praise his talent and work ethic, while also acknowledging that becoming accustomed to the NHL game takes playing time at that level.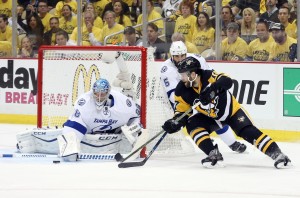 "You ultimately have to be in this league for a little bit to figure out the players and the angles and who likes to shoot where and it takes some time. He's a student of the game and he works his tail off and that's probably why his learning curve has probably gone a little bit faster than maybe some other guys that have come before him, but it just takes more time … he's a bonafide goalie in this league for sure."
It's almost certain only one of Bishop or Vasilevskiy will be on next season's Lightning roster, but Monday night's game made it clear that both goaltenders are enjoying the time on the team together, even if it means one of them will always be watching the other from the bench during games.
Bishop's played an important role in Vasilevskiy's development which probably makes watching his coming of age all the more special for the two-time Vezina Trophy finalist, regardless of what Bishop's future may hold with the Lightning.