The big news Monday afternoon was the Arizona Coyotes putting forward a plan for a new arena in Tempe Town Lake. It's just the first step toward the possible construction of a 16,000-seat facility that will also house a smaller 4,000-seat sheet that would be the Coyotes practice facility, as well as the home of the Arizona State college hockey team.
"I'm very pleased with where they are," NHL deputy commissioner Bill Daly said. "I think this is an incredible opportunity for an exciting new future in the Valley."
Details on how the arena (official rendering above) would be funded are currently unclear. "There will be several tranches of money that will be utilized to build the arena of which the Coyotes will be the largest tranche," Coyotes president and CEO Anthony LeBlanc said according to ArizonaSports.com. "The Coyotes will be the lead investor in this facility and ASU also has a financial commitment toward the project.
"We're not looking for general funds from any governmental organization, but we need to form a very strong partnership with the State of Arizona and the City of Tempe. We also have to work with a variety of stakeholder groups such as Goldwater Institute and others so they understand what it is we're trying to do. These projects have a process."
However, this doesn't mean the organization isn't seeking taxpayer money for the arena. The Arizona Republic reported back in April that the Coyotes requested a special taxing district around a potential new facility. The report says the Coyotes' proposal includes $100 million from the team. The team would be seeking between $350 million and $700 million to be raised through sales and excise taxes imposed within a new taxing district, according to a draft of a bill that was obtained by the Republic.
"The plan… also could allow public funds to be used to build a hotel or other commercial real estate within the district, according to those who have examined the proposal," the Republic reported.
Nakladal Terminated
Carolina Hurricanes defenseman Jakub Nakladal has had his contract terminated with the club.
[NEWS] #Canes Terminate Defenseman Jakub Nakladal's Contract → Details: https://t.co/xj3tYzVrua pic.twitter.com/utHdbMTdGz

— Carolina Hurricanes (@Canes) November 14, 2016
The Czech defender spent last season with the Calgary Flames and didn't grab a fresh contract until close to the start of the season when he signed a one-year $600,000 deal with the Hurricanes on Oct. 9.
With the termination, he's free to sign with any team in any league and the Hurricanes are off the hook for his contract, which will not contribute toward their 50-contract limit.
He played 27 games with the Flames last season, his first in the NHL, posting decent possession numbers along with two goals and three assists. So far this season, he's only seen three games, in which he was held without a point and averaged only 14:30 of ice time.
After being waived last week, he was reassigned to the AHL on Friday and chose not to report, according to Cardiac Canes.
Generally, in a situation like this, the player has a contract waiting somewhere overseas. It's not yet clear if that's the case for Nakladal.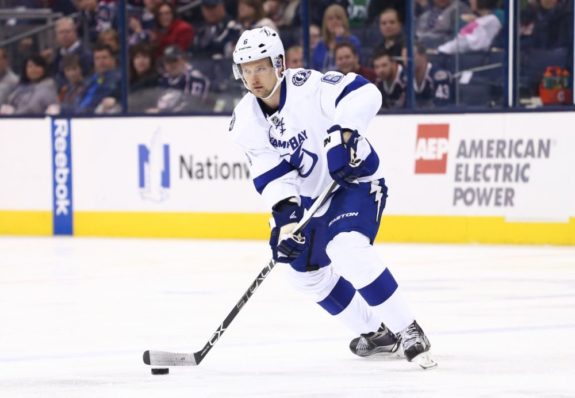 Stralman Update
Tampa Bay defenseman Anton Stralman was already expected to miss Monday's game against the Islanders. Coach Jon Cooper now says Stralman could miss the first three games of the team's road trip, if not more, with an upper-body injury.
"I can't sit here and say [he's out the entire trip], to be honest," Cooper told reporters Monday.
"Definitely not playing in these two, probably won't play in the first three. We'll start making a decision here after a week. It'd be later in the trip if we're going to see Anton."
Earlier Monday, the Lightning recalled AHL defender Luke Witkowski.
Odds & Ends
– The ECHL's Orlando Solar Bears, affiliate of the Toronto Maple Leafs, have replaced head coach Anthony Noreen, the team announced Monday. Maple Leafs alum Drake Berehowsky will take over coaching responsibilities effective immediately. The journeyman spent parts of six seasons with Leafs, one of six NHL clubs he played for.
OFFICIAL: The #SolarBears have made a coaching change – Drake Berehowsky named head coach → https://t.co/ihcR5IA1qV pic.twitter.com/Rdu8QVQwh0

— Orlando Solar Bears (@OrlandoHockey) November 14, 2016
Dustin Nelson is the News Editor for The Hockey Writers. He's a contributor to Hockey Prospectus, Hockey Wilderness, and writes a column for Rotowire. He's also written for Gone Puck Wild, Wild Xtra, InDigest, Electric Literature, The Rumpus, Tiny Mix Tapes, Prefix Magazine & other publications. Have a tip? Email him at dlukenelson[at]gmail[dot]com.