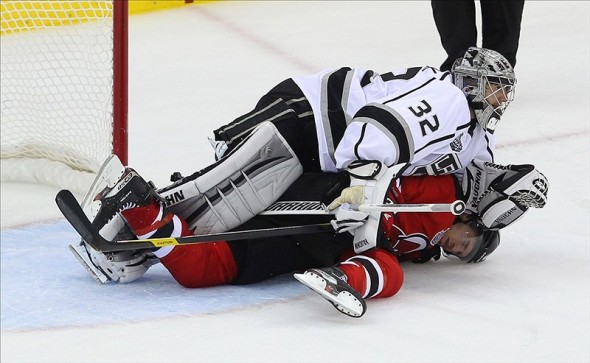 Sometimes there is quick and then there is not so quick. With a packed schedule, there were bound to be fantasy cringe worthy moments. It just seemed there were more than usual on Tuesday night. If you happened to own any of these goalies, we are sorry for your fantasy night but then again, sometimes one can just see it coming. Do you really want to get started here? Naturally its fantasy hockey woof woof time!
Fantasy Hockey Goalie Start Gaffes
There were many fine choices but then of course there was one that topped all the others before a game was even played. It is time to go over what completely went wrong for some fantasy owners on Tuesday.
Jonathan Quick — Los Angeles Kings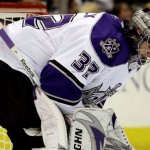 The Conn Smythe winner was starting to get it on track and then he went to Dallas and it went south again in the end. If anyone wants proof at how bad Quick is against Dallas, then here is the skinny. In three starts this year, he has won zero while giving up 11 goals, including a whopping four last night in the third period. His save percentage against a Dallas team that is on the outside looking in is a paltry .849. That is not a misprint! If you even dared to start Quick tonight, shame on you! What the hell were you thinking? Yes after forty minutes, you were probably thinking hey it's 1-1 and this may turn out pretty well. Cue the buzzer! Los Angeles just collapsed and Jonathan Quick led the way. It is no wonder why the Kings kept Jonathan Bernier. It's called insurance. Yet Quick started ten straight times after a tough recovery from back surgery. Somehow Los Angeles won a Stanley Cup. When you think about it, they won despite themselves. Hopefully Quick gets back on track next year. This year is lost!
Antti Niemi — San Jose Sharks
Niemi has been so good this season as he really has kept San Jose in it through its ups and downs. Last night was not one of his finer efforts as he ultimately was pulled after a brutal Marian Gaborik goal early in the third period. San Jose had 30 shots on net just like Columbus but there were just certain points in the game where Antti Niemi really seemed to not be 100% focused. Overall, the stats read four goals given up on 26 shots in just 47:05 of action. Fantasy hockey owners definitely lament this one. Thankfully its only Tuesday will be a common mantra heard near water coolers.
Justin Peters and Dan Ellis — Carolina Hurricanes
Does anyone doubt Dan Ellis problems? No one should! However, people should know to stay away from anything that says goaltender and Carolina in the same sentence for the rest of this season. Ellis injured something unspecified during warm-ups and Peters would be thrown into the fire. For almost 50:00, it looked good for the Hurricanes actually and then Beau Bennett and Evgeni Malkin scored 13 seconds apart. There it was again with the brutal goaltending and breakdowns galore. Carolina had lost again after the empty netter was added by a score of 5-3. Peters wound up with 28 saves on 32 shots (.875 sv%). The numbers are not pretty so we went next level a bit. Thank you Yahoo game log!
 Last 5 Games
GS
MIN
W
L
OTL
EGA
GA
GAA
SA
SV
SV%
SO
Apr 8 (@ BOS)
1
8
0
0
0
0
2
15.06
4
2
.500
0
Apr 6 (NYR)
0
19
0
0
0
1
0
0.00
8
8
1.000
0
Apr 2 (WAS)
0
34
0
1
0
0
2
3.56
12
10
.833
0
Apr 1 (@ MON)
1
59
0
1
0
1
3
3.06
28
25
.893
0
Mar 30 (@ WPG)
1
60
1
0
0
0
1
1.00
35
34
.971
0
Oh boy! This is where Carolina's problems get really scrutinized. These are ugly! You see two mop-ups, a game where Peters lasts 8 minutes and the only win in the last four weeks for Carolina all mixed in. The numbers are just so ugly that why would you even toy with the idea of dancing with either one of these goalies. Besides, everyone knows the "Dan Ellis problems". Now for our feature presentation……
Fantasy F-U POTN
There just needed to be a visual and punctuation mark for tonight's team honor presented to the Philadelphia Flyers. Remember this is the team where expectations were pretty high at the start of the year and now have ultimately crashed and burned. Simply nothing this season has sucked fantasy expectations out the window quite like this Philadelphia squad. While 37 points this year for Claude Giroux is decent, you just expected more as a fantasy owner. He has 11 goals, that's it. You probably expected 15 or so by this juncture. However, this team is painfully slow to watch. At times, they look like they are plodding on the ice. That may work during the playoffs better but you have to get into the dance, to make it last. The Flyers will not be doing that this year and they have killed so many fantasy hockey hopes and dreams this year that I have lost count. That is rare and last night's 4-1 loss to an Islanders team they have mostly handled this year was the exclamation point on fantasy frustration! So owners of Philly players, just flip the bird to them like you don't care and be done with them.
That is it for now. Hey, you can follow me @ChrisWasselTHW and of course do not forget the show twitter @THWLive. Thanks again for reading and send us your nominations for all that is ugly in fantasy hockey.