Fantasy Hockey Mailbag is a weekly column, answering your questions every Tuesday. No question is too big or too small, so if you want advice or feedback on any topic related to fantasy hockey, just ask away in the comments below.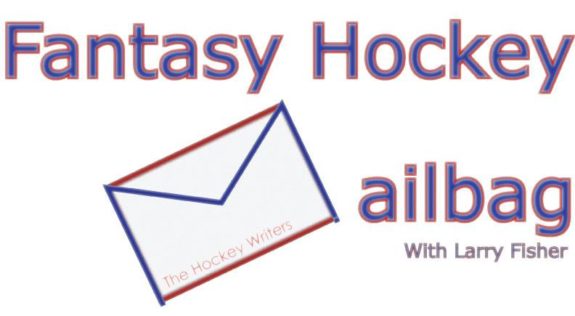 It may be the pre-season, but that means it is draft season.
It's definitely time to get back into hockey mode.
That doesn't mean hop off the Blue Jays' bandwagon or forget about the golf playoffs (no Tiger, no care for this guy), but it does mean you need to start paying attention to hockey headlines or you'll get burned on draft day. Do yourself a favour and download the Rotoworld app to your cellphone and check it often. If you don't have Twitter, you need to get on there too — that's where all the news first breaks.
It is also very important that you fully understand the league you are signing up for — from its format to its scoring categories. Sportsnet, via Dobber, did a good rundown on how to pull off the perfect draft.
If you checked out for the summer and now find yourself a bit out of the loop on player values and off-season transactions, I'm fairly confident in my pre-season rankings of the top 400 forwards, top 160 defencemen and top 75 goaltenders. TSN's Scott Cullen also released his top 300 projected scorers (all positions) this week. Those lists should help, at least as a reference, regardless the type of league(s) you are joining this fall.
I debuted the Fantasy Hockey Mailbag last week with topics ranging from when to pick goalies to who will be this season's breakout players. It was a hit and I ended up getting more questions than I could handle for this week's edition. So if you don't get your answer here, not to worry, it is coming next week. I'm capping the mailbag at five questions per week and trying to prioritize them in terms of timeliness. And we even get to have a little fun this week . . .
Matt Gunn asks via email: In a one-year points-only league, would you pick Sean Monahan, Johnny Gaudreau or Jiri Hudler?
ANSWER: This is a tough one, especially for me, as a guy who avoids Flames players in general on my fantasy teams. Based on point potential, I'm going with Gaudreau. I think Johnny Hockey can build on his impressive 64-point rookie season and avoid the dreaded sophomore slump. If he can stay healthy, Gaudreau has the upside to be a point-per-game player, meaning 82-in-82. That would be a big leap for this season and, as talented as he is, I think you can split the difference and expect 73 to 75 points. Hudler led the Flames with 76 points last season, but I just can't fathom him repeating that total or even topping 70 as an encore. I realize Hudler led the entire league in even-strength scoring — tied with Art Ross winner Jamie Benn at 59 points — but he had never even eclipsed the 60-point plateau prior to last season. His previous career best was 57 points, so I think you can split the difference on him too and pencil Hudler in for 66 to 68 points this season. Monahan, the third member of Calgary's top line, is the guy to pick if you're in a league with additional categories like shots, hits, etc. He's the best of the three as a multi-stat guy, but in terms of points-only, Monahan probably ranks third again. He had 62 points in his sophomore season (31-31) and I would expect much the same this season and for the next decade to come. So if it were a box pool and all three were in the same grouping, I'd take a chance on Gaudreau for this season.
Terri Heuser asks on Facebook: My girlfriends and I are starting a pool and picking players based on looks. Can you help a sister out with that?!
ANSWER: Really Terri? Turns out, she's serious and added "It's less about points and more about having a hockey pool to irritate our husbands." Alrighty then. This isn't my area of expertise (obviously), so I might have to consult with the wife-to-be, but here goes nothing. What I do know is I feel sorry for Alex Ovechkin and Phil Kessel because they're going to feel like they're at another all-star game draft, getting passed over by inferior talents. Poor Evgeni Malkin has a face only a mother can love, and Dustin Byfuglien will probably need to drop a few (dozen) "LBs" to get picked. Then again, the 'dad bod' was a thing this summer, so . . .
As for who to actually select, Tyler Seguin and Ryan Kesler have both posed for ESPN's 'The Body' issue, so that's got to be worth something (see for yourself here and here … you're welcome). Sidney Crosby and Jonathan Toews are bound to be picked based on their boyish good looks, and some might see potential in Connor McDavid's baby-face. If you're into "flow", Erik Karlsson is killing it, and Brent Burns has some serious beard game if that floats your boat. Patrick Kane rocks a mean mullet, but something tells me he's not appealing to women right now, given his ongoing rape investigation. My buddy's wife would have Kevin Bieksa and Scottie Upshall ranked right up there, but if there's any legitimacy to this league, you might want to hold off on them and try for a late-round "steal" there. P.K. Subban is widely considered an attractive black man and he likes to work the red carpet in dapper suits. Sheldon Souray was model material but, unfortunately for you girls, he retired in the off-season. Ditto for George Parros, whose moustache would have been legen-dary in this league. Paul Bissonnette, better known as BizNasty, could be the total package you're looking for — tall, tatted up and funny to boot. Only problem is he's a minor-league plug these days. If those names aren't familiar to you, Google them to get the full effect.
This should be a fun draft with something for everybody, whether you prefer handsome or rugged, studly or cute. But knowing Terri from college back in 2004 when the Red Mile was all the rage, she's probably still taking Jarome (Iggy) Iginla first overall. Kidding aside, all the power to women for getting involved in hockey pools and your husbands might actually like it more than they let on.
Jeff Clarke asks via email: What do you think of this trade, I trade Max Pacioretty and Oliver Ekman-Larsson for Erik Karlsson?
ANSWER: Wow, that's quite the blockbuster. It depends on the scoring categories to some extent, but at face value, it is a pretty fair trade for most leagues. If defencemen have separate scoring categories, then you absolutely pull the trigger. Speaking from experience, my one keeper is set-up that way and I've owned Karlsson for five years now. He's been my most valuable player year in and year out, and arguably the league's MVP too. He's a beast and outscores the vast majority of forwards regardless of the categories, which I'm sure you're well aware of. Ironically, I've also owned Ekman-Larsson for the past five years in that league and have had the pleasure of watching him develop into a fantasy stud. He's not yet on Karlsson's level — nobody is — but Ekman-Larsson could be a top-five fantasy defenceman over the next few years, which makes this deal a lot more tempting if we're talking keeper leagues rather than single-season leagues. I think most expect the Coyotes to struggle this season, so Ekman-Larsson's impact isn't what it would be on a more explosive team like Pittsburgh, Tampa Bay or even Edmonton. The Coyotes have some prospects coming up that should help Ekman-Larsson reach his fantasy potential in time, but that time is not now. If you're living in the now — in a single-season league — and you have the chance to get Karlsson, you do it in my opinion. This deal is all about the defencemen for me. No offence to Pacioretty, but forwards are a dime-a-dozen in fantasy and his inclusion would almost be a throw-in. You could find a way to replace him and Karlsson would make you forget you ever owned Pacioretty. I guess that is offensive, but it's also the truth as I see it. Pacioretty isn't a slouch, but he's no Sidney Crosby. I wouldn't sweat losing him if it meant upgrading Ekman-Larsson into Karlsson, at least not for this season. Pacioretty is rehabbing a knee injury heading into the season too, so I wouldn't count on him repeating his career-high of 67 points either. Even if he does . . . Karlsson my friend, you've got Karlsson now. You landed the best player in the deal and that usually means you win the deal, but I could see this becoming one of those win-win trades for both GMs.
Tyson Gibbons asks via text message: Who do you like better for this season, Matt Duchene or Jordan Eberle?
ANSWER: These pick 'em questions are tricky. This one really could go either way this season. Eberle is the safer bet based on his consistent track record, but Duchene has the higher point potential between the two. I'm quite confident that Nathan MacKinnon is going to bounce back in a big way and Duchene will be able to piggyback some extra points from MacKinnon's increased production. Eberle might do the same if he ends up on Edmonton's top power-play unit with Connor McDavid. Chances are, if both stay healthy, they are separated by five or fewer points at season's end — both in the 60s. I know five points can be quite meaningful, especially in rotisserie leagues, but you probably can't go wrong with either of them. Flip a coin here, or just go with your gut/heart if you prefer one of them or cheer for their teams. Fine, I'm taking Eberle, but it's extremely close — coin-flip close — and I could end up regretting that pick.
Chase Castner asks via email: This is our first year doing a keeper league and I have to decide between Jakub Voracek and Tyler Johnson?
ANSWER: That is a tough enough decision, but there is a catch here. Whoever Chase decides to keep, he loses a pick that corresponds with that player's draft position from last year, then loses the subsequent pick year after year, escalating round by round until he no longer keeps said player. A bit confusing, but Voracek was taken in the eighth round and Johnson in the 15th. Using Voracek as the example, Chase would lose his eighth rounder this year, seventh rounder next year, sixth rounder the year after that and so on, all the way up a first rounder if he kept Voracek for eight years. Hopefully this league's system makes more sense to the rest of our readers now.
It was a new concept to me, but once I gained that understanding, the decision became rather easy. Chase should absolutely keep Johnson over Voracek. I was already leaning in that direction without the discrepancy in draft picks, just because Johnson's a year younger and has more offensive upside in my opinion. Voracek might have peaked at 81 points last season, whereas Johnson definitely has potential to exceed his 72 points. I could see their point totals reversed this season — Johnson with 81 and Voracek with 72. Worst-case scenario, they finish within a couple points of each other, and even if Voracek edges Johnson, I'd think this pick-forfeiting system would offset that advantage. I know I'd much rather relinquish a 15th rounder than an eighth rounder, even if it meant missing out on a couple extra points. That is a seven-round difference and it gets more meaningful with each passing year. Three years from now, when both players should still be in their primes, Voracek would be costing Chase a fifth rounder compared to a 12th rounder for Johnson. Math has never been my forté, but give me the latter guy every day of the week in this equation.
My Fantasy World
---
Keeper 1
We're in a holding pattern here, having submitted our keeper lists on Sept. 1 with the auction still 18 days away — Oct. 3 can't come soon enough!
For now, we're just doing our own draft-day preparations, coming up with game plans and budgets that will likely go out the window within the first few minutes anyway. If you've never participated in a league with an auction draft, you should really try it. Fun times!
In the meantime, I thought I would share some of the blockbuster trades from my keeper leagues this off-season. I know I always like hearing about trades from other leagues and debating who won them, so here are a few from mine:
INCOMING — Tuukka Rask
OUTGOING — Ryan McDonagh, Tomas Hertl and Nic Petan
---
INCOMING — Eric Staal, Mike Smith and Griffin Reinhart
OUTGOING — Sean Couturier and Jimmy Howard
---
INCOMING — Cody Franson
OUTGOING — Mikael Backlund, Brett Connolly and Griffin Reinhart (again)
---
INCOMING — Jason Garrison
OUTGOING — Oscar Klefbom and Victor Rask
---
Keeper 2
This dynasty league was much more active on the off-season trade front, producing some of the wildest deals I've ever seen in my nearly two decades of fantasy hockey experience.
This first one, you almost had to see to believe. I'll elaborate on it in next week's mailbag, so consider this the teaser:
INCOMING — Sidney Crosby and John Tavares
OUTGOING — Two first-rounders (1st, Connor McDavid and 4th, Noah Hanifin), two second-rounders (29th, Joel Eriksson-Ek and 37th, Vince Dunn), two third-rounders (70th, Nicolas Meloche and 72nd, Ryan Gropp), plus 2016 late first-, second- and third-round picks
---
INCOMING — P.K. Subban, second- and third-round picks (43rd, Joe Hicketts and 71st, Andreas Johnson)
OUTGOING — Mark Giordano, Anthony DeAngelo and Patrik Elias
---
INCOMING — Jaroslav Halak, Ondrej Palat and 2016 projected top-five, possibly top-three pick
OUTGOING — Evander Kane, Dave Bolland, 2016 late second- and third-round picks
---
INCOMING — Nathan MacKinnon, Michael Matheson and Chris Bigras
OUTGOING — Rick Nash and that same 2016 top-five/three pick
---
INCOMING — Nicklas Backstrom (Washington forward), 2016 second- and third-round picks
OUTGOING — Darcy Kuemper, Juuse Saros, Nikita Scherbak, Mikael Wikstrand, 2016 late first- and third-round picks
---
INCOMING — Filip Forsberg and Esa Lindell
OUTGOING — Nic Petan, Nikolay Goldobin, Madison Bowey, Dwight King and a 2016 third-round pick
---
INCOMING — Kyle Turris and Nathan Beaulieu
OUTGOING — James Neal, Marian Hossa and Matt Carle
---
INCOMING — Sam Reinhart, Marcus Foligno, Josh Jooris, Zach Trotman and Josh Thrower
OUTGOING — Anthony DeAngelo, Eric Gelinas and Justin Abdelkader
---
INCOMING — Brent Seabrook
OUTGOING — Matt Dumba
---
My big off-season trade saw me part with one of my favourite players, Dougie Hamilton, after he landed on my least favourite team, the Calgary Flames. I dealt Hamilton for Hampus Lindholm, Jon Merrill, Brandon Gormley and Ty Rattie. I then flipped Merrill for Tomas Jurco, and packaged Gormley with second- and third-round picks (47th, Kevin Labanc and 75th, Brandon Montour) for a higher second-round pick (32nd, Artemi Panarin) and Anton Slepyshev. So the deal became:
INCOMING — Hampus Lindholm, Tomas Jurco, Ty Rattie, Anton Slepyshev and Artemi Panarin
OUTGOING — Dougie Hamilton, Jon Merrill, Brandon Gormley, Kevin Labanc and Brandon Montour
Dare I ask, your thoughts on those trades? Kidding, I always welcome your feedback — good, bad or indifferent.
---
Do you have a question for the Fantasy Hockey Mailbag? Ask it in the comments below.
Larry Fisher is a sports reporter for The Daily Courier in Kelowna, British Columbia, Canada. Follow him on Twitter: @LarryFisher_KDC.