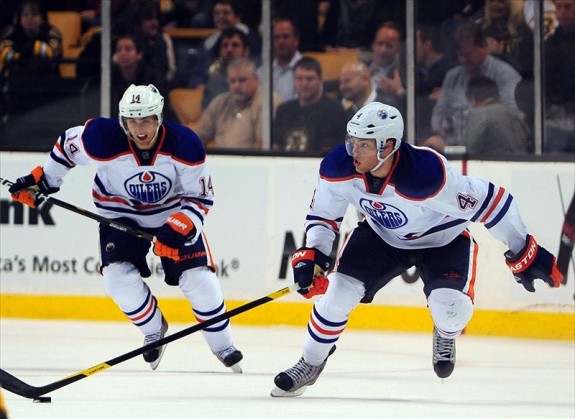 Five years is a long time for any player to spend with the same team — in real life, let alone in fantasy.
With playoffs wrapping up this week for my main keeper league, following our fifth season, I decided to take a trip down memory lane to see which players had stood that test of time. Turns out, there were only three in Taylor Hall, Jakub Voracek and Jordan Eberle, the latter of whom will be the last man standing next season in the final year of his contract extension, assuming he isn't traded this off-season.
Considering this is a 20-team league with 28-man rosters, that is quite the accomplishment. But turnover is inevitable and trading is an integral part of fantasy hockey, even in salary-cap leagues.
Voracek was traded in real life — from Columbus to Philadelphia — while staying put in fantasy as a key contributor for our league's three-time regular-season champion and recently crowned playoff winner. His contract has now expired and he'll re-enter the auction available to the highest bidder in October, but that was an impressive run.
Hall was the first overall nomination from our inaugural auction five years ago, and my team paid a pretty penny to draft him — and to keep him in the fold. He ate up $40 of my $250 cap ceiling on his three-year entry-level contract, then $50 for the past two seasons on an extension. By comparison, Voracek was bought for $8 and extended for $18. Despite that discrepancy, I still felt Hall was money well spent over the years, but it is unlikely I'll be able to afford him again in our fall auction — at least not at that price. So it was nice to see Hall return from injury for our final week of playoffs and chip in a few more points for my team, and it was with a heavy heart that I had to say goodbye by clicking on the drop option.
Eberle was bought for $17 and extended for $32 over three years, which makes him our league's longest-tenured player going forward. That salary remains market value, but also serves as evidence that Oilers fans are extremely loyal — perhaps to a fault, although Hall and Eberle have both earned their keep throughout those contracts.
Doing the math, it seems astonishing that only three of 560 players from our original draft managed to stick with the teams that bought them way back in the fall of 2010. Worth noting, we only have 8 of our original 20 managers left, so technically that player field was limited to 224. Busting out the calculator again, that still equates to a miniscule 0.01 per cent of players staying with the same franchise.
Three of those eight teams were without any familiar faces this season, while three other teams had a handful of players come full circle in Year 5. Brayden Schenn and Ryan Callahan were re-acquired via trade on extensions of their original contracts, Henrik Lundqvist and Bryan Little went back into the auction and were bought by their original owners, who had dealt them away in the meantime, while Mike Fisher was picked up in a reserve draft this season by the team that had purchased him in the 2010 auction.
After next season, it is possible that every player from our original auction will have played for at least two different teams. That is, providing Hall, Voracek and Eberle aren't bought back by their original owners, which remains to be seen.
Now, if you were to examine our inaugural rookie draft from the summer of 2011, you'd find much more loyalty when it comes to developing prospects. Five of those first-round picks — Ryan Nugent-Hopkins (1st overall), Ryan Strome (4th), Dougie Hamilton (12th), Evgeny Kuznetsov (16th) and Braden Holtby (19th) — are still with their original teams, but that is a story for another day.
Larry Fisher is a sports reporter for The Daily Courier in Kelowna, British Columbia, Canada. Follow him on Twitter: @LarryFisher_KDC.
Larry Fisher is a senior writer and head scout for The Hockey Writers, having been an at-large contributor for THW since August 2014. Fisher covers both the NHL and the WHL, specializing in prospects and NHL draft content, including his annual mock drafts that date back to 2012. Fisher has also been a beat writer for the WHL's Kelowna Rockets since 2008, formerly working as a sports reporter/editor for The Daily Courier in Kelowna, British Columbia, Canada from 2008-2019. Follow him on Twitter: @LarryFisher_KDC.