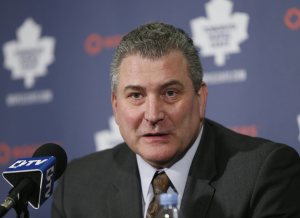 Poor Peter Horachek, the guy can't get a break.
Last year, he was tasked to guide the Panthers to the basement after their coach was fired mid-season, and even though he did a great job, by all accounts, his team's record was deplorable.
This year, with the Leafs clearly crumbling, he was given the reigns after Randy Carlyle was fired. Even though the Leafs were demonstrably and empirically being propped up by good luck under Carlyle for a while, it was clear long before he was fired that the team was not a Playoff caliber hockey team.
So, facing the facts in a commendable fashion, the Leafs fired the man who – if you look at possession stats – was one of, if not the very worst coaches in the NHL over a six year period.  They replaced them with Horachek and he immediately got results: the Leafs improved defensively, they became a better possession team and they allowed less shots per game.
Leafs Are Bad Because of Burke, Nonis, Carlyle
Nothing about what's happened this year can be pinned on Horachek. His only mistake? Not splitting up his insanely horrible top line.  But that doesn't seem to matter to people because unfortunately, their record under Horachek is even worse than it was under Carlyle.
Now, this shouldn't matter, because they didn't even coach the same team, and comparing their records is impossible to do so fairly, but it's the easiest thing to do, so it gets done.
Fact is, Horachek took over a team already on a downward spiral, already mired in multiple controversies, a team that had already given up on the season and to top it off, they began his tenure by going on a brutal west-coast trip against all the best teams in hockey, they lost their best defenseman, they suffered several other injuries and went on a luck-fueled run of offensive ineptitude where they shot about 4% over ten games and barely scored.
Then the team was dismantled.  And, also, there's the pesky little fact that Kessel and JVR went from elite first line wingers to being outscored at even-strength by fourth-liners like Winnik and Panik and bottom-pairing D-men like Polak.
You simply can't blame Kessel's degradation during this half-season on Horachuk, as that defies logic. Babcock, the supposed savior, makes his teams play defense too. Is Kessel only effective if his coach lets him  play a wide-open offense only style? If so, that is the player, not the coach who is the problem. Horachuk inherited a team with two potential 40 goal wingers and they suddenly because 14 goal wingers.  I have as much to do with that as he does. i.e: nothing.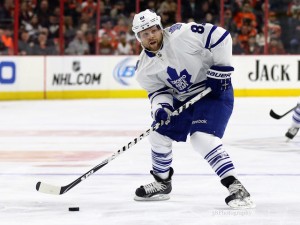 This Team was Done October First
Say what you want, but the Leafs never had a chance to compete this year because they entered the season without a #1 defensemen and even though they had a #1 centre in Nazem Kadri, they refused to utilize him as one and sabotaged their own season by playing the inferior Bozak over him.  Add in the bad luck, the controversies and the complete bailing on the season by the Club's two supposed best players and you have the worst season in modern Leafs' history.
But I don't know where you can blame Peter Horachek for this, unless you're lazy and like easy answers and don't care about the truth.
But, as I am assured almost daily by the mainstream media, Peter Horachek will not be back.
No, the Leafs will attempt to bring in a name-brand coach like Mike Babcock, Todd McLellan or Pete Deboer.
My question is:
WHY?
The Leafs are absolutely, no questions asked, going to be bad for two maybe three seasons after this one,  for sure. Probably more.  So, if that's the case, why bring in a name guy? You can't win regardless, so why not try to develop your own coach?
I mean, what exactly is the point of hiring a top coach to babysit the team through a losing period? Why not hire a young coach who can help your young players develop and maybe make his own name in the process?
There is nothing to lose. If the new coach is not effective, he can be fired and replaced anytime. If he is OK, but you still want a name-brand guy, you can use your unlimited funds to buy one when the team is finally on the verge of being competitive.
I see the need to bring in a Babcock or a McLellan as insecure and placating. The Leafs have three very good choices and in my opinion they would all be superior to the names being bandied about.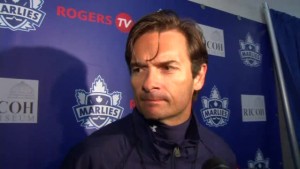 Best Choices for Next Leafs Coach:
Peter Horachek, who they currently employ and who has at least been able to get the team to play a more possession based, defensive, shot-limiting game, despite all the crap that has gone on since he was hired. He deserves a fair shake as a non-interim NHL head coach. Not sure he'll get that in Toronto, but he'd be a brave choice.
Ralph Krueger, who was inexplicably fired from the Oilers job a couple years ago. Innovative and praised by anyone who works with him, Krueger might just be the Mike Babcock of ten years from now.  Obviously, he would be an excellent choice for the Leafs.
Dallas Eakins, who was also fired from Edmonton for virtually no reason other than the management team's incompetence. Eakins is an innovator who learns and adjusts and has all the makings of a future coaching star.
Any one of these coaches would be an intelligent, progressive choice for the Leafs who, if they want to be successful, have to start managing their team the way they want to and stop trying to placate the media by making popular choices.  That is what they did when they hired Burke, when they brought in Wilson and when they hired Carlyle: they hired people who have won elsewhere.
They need to understand that winning isn't always because you're the best, but because you were in fortunate circumstances. Just because someone has won in the past with one team, doesn't mean they have a better chance to win in the future with another team.   The connection is tenuous, at best.
Babcock could not have made the Leafs a Playoff team this year. Hell, Scotty Bowman couldn't have done so. They should realize that and hire someone who might be the next Babcock instead of the one who would come to Toronto and fail to produce miracles.
Covering the Leafs for the Hockey Writers.