According to NHL.com, the Frank J. Selke trophy is awarded to the forward who best excels in the defensive aspects of the game. Recent winners of the award include Patrice Bergeron, Jonathan Toews and Ryan Kesler with Pavel Datsyuk having a three-year run between 2008 and 2010. All of these players are solid on both sides of the puck as they produce offense while being responsible in their own end. This season, Max Pacioretty has taken his game to a new level by displaying a defensive element to his game that didn't exist before. But does he deserve to be in the running for the Selke?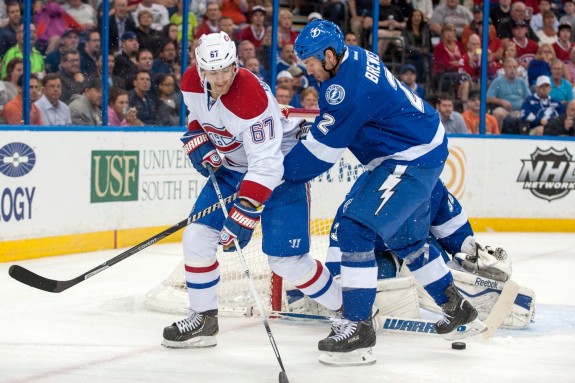 Looking at the numbers
In terms of numbers this season, Pacioretty has collected 65 points in 76 games to go with a staggering plus/minus of +40, which is first in the NHL. He is Montreal's only star forward and plays with a target on his back. His offensive numbers and plus/minus so far this season are better than both Toews and Bergeron and Pacioretty doesn't exactly play with an abundance of elite talent around him. He is a driver of possession and players improve when playing with Pacioretty.
What could be standing in Pacioretty's way is the fact that wingers don't tend to win the award. The last winger to win the Selke was back in 2003 by Dallas Stars right-winger Jere Lehtinen. Some could point to his plus/minus and chalk it up to his offensive abilities or having goalie Carey Price behind him, but it's simply not the case. Pacioretty has teamed with Tomas Plekanec to form a dangerous pairing on the penalty kill, where Montreal ranks eighth in the league.
Contributions to the team
The Montreal Canadiens are one of the best defensive teams in the league as they have the lowest goals against per game in the NHL at 2.18. A big part of that of course is the exceptional play of Price, who looks like the favourite to take home both the Hart and Vezina trophies. Defenceman P.K. Subban has also turned in a very good season and deserves a Norris Trophy nomination at the very least for his efforts. But the Habs wouldn't be in the position they are without the efforts of Pacioretty. He has 10 game winning goals so far this season, one behind league leader Alexander Ovechkin.
When looking at Pacioretty's body of work this season, he has made a very solid case for himself to be nominated for the Selke. Known mostly as a goal scoring sniper, there are probably more than a few people who don't know about Pacioretty's evolution as a player. But with his work in the defensive zone and on the penalty kill for Montreal, alongside his very good offensive totals, there is no reason Pacioretty should be ignored. He already has the Bill Masterton Memorial Trophy from 2012 which is awarded to the player who best exemplifies sportsmanship, perseverance and dedication to the game of hockey. Perhaps the Selke is next for Pacioretty.
I have a Bachelor's Degree in Journalism from Ryerson University. I am a freelance journalist and a Montreal Canadiens writer for The Hockey Writers. I previously wrote for Simcoe.com and Last Word on Sports as well as interned at TSN.