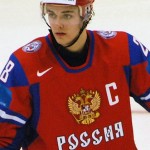 Nikita Filatov skated on the top line for the Ottawa Senators tonight in Winnipeg with Colin Greening and star center Jason Spezza.
Two weeks ago, Filatov let it be known he was not happy playing for the Sens AHL affiliation Binghamton Senators. There was some speculation that he was considering returning to Russia to play in the KHL again.
In response, Sens GM Bryan Murray had a meeting with Filatov and told him to play hard. When Ottawa returned from a road trip and  if he had earned it, Murray would recall him.
At that time, Filatov had played 11 games in Binghamton and scored four goals, and two assists for six points. Since then, he has played four games and scored three goals, and three assists to double his six points to 12 in 15 games total.
Filatov's six points in four games earned him a recall as promised. He played the November 27 home game against Carolina. He played 15:07 minutes in the game producing no points, one shot on goal, and took a hooking penalty. Ottawa won the game and Filatov finished with a plus one rating.
Making room on the roster for Filatov meant center Stephane Da Costa was sent down to Binghamton. Da Costa has had ups and downs all season long. At times, he has shown flashes of sublime passing and playmaking abilities. Other times he has looked defensively lost and vulnerable. In 22 games he has three goals and two assists and is a minus -9.
Coach Paul MacLean was impressed and told Sun reporter Allen Panzeri he did a lot of things the coaches liked. "He skated well, created the odd chance, including a two-on-one he probably should have scored on, and even forechecked."
After a strong first game back, Filatov will be given an opportunity to play on the top line with Jason Spezza. "We're giving him that opportunity again. He's earned it with the way he's gone to Binghamton (of the American Hockey League) and worked on his game." MacLean said.
The coaching and management staff is showing confidence in Filatov's ability to produce in the NHL in a top six role. "He has the skill level of a top-six forward, and we don't have a lot of that on our team, so we want to make sure we give him the opportunity to show that he can do it, and that he wants to." said MacLean.
Filatov has to make the most of his opportunity on the Spezza line by producing some offense and scoring. "I'm still thinking and hoping that I'll start scoring and get some points. It's a pretty different thing to feel confident (in the AHL) and to feel confident here. I feel confident here, also, but it's a good league and goalies are extremely good." In seven games in Ottawa so far, Filatov has no goals and one assist.
"I'm not being really frustrated, but of course it's a big thing and you need to score, especially when you're playing with guys like Spezza and on the power play."
Filatov played with Spezza at times in the preseason and early in the year before being sent to the AHL. For the most part this year, Spezza has played between Colin Greening and Milan Michalek. That line has been extremely successful, but in an attempt to get Filatov scoring, coach MacLean is mixing up the lines.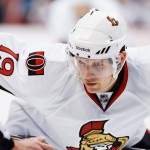 Spezza is looking forward to playing on a line with Filatov and hopes they have immediate chemistry. "Me and (Greening) have great chemistry and have played together now for a good chunk of last season and the start of this year, so we read off each other really well," said Spezza. "If we can help (Filatov) find the back of the net and give him some confidence, we have a chance to be a good line."
Filatov's chance on the Spezza line is his best and probably last chance to live up to expectations. He has been projected to be a star in the NHL drawing comparisons to players like Ilya Kovalchuk. If he is unable to produce on Spezza's line, his chances of staying in the NHL become extremely remote.
After only three minutes of the game, Filatov took a skate to the face and had his nose broken in several places. It is yet another set back in his attempt to establish himself as a star in the NHL. He did not return to the game. If he is going to miss some time, look for Da Costa to return from Binghamton. Ottawa's next game is Thursday in Dallas.